New Year's celebration in Rome may become one of the best experiences of your life! Just imagine the Eternal City full of lights and bright colors. Undoubtedly, it is an excellent idea to visit Rome during New Year's Eve. There are special traditions that italians have for the Christmas and New Year celebrations.
What's Rome Like for This Holiday
There are many different places where to enjoy New Year's Eve dinner (cenone), admire fireworks, party with friends or family. Luckily, everything works in Rome in the period from 24th of December until 6th of January, when there are especially many visitors of the Eternal City. However, most of the spots are closed on 25th of December and 1st of Janury. Be careful if you plan something important for these dates since public transportation and taxis will also work slower and less regularly than usually.
Note: main squares of Rome as Saint Peter's Square, Piazza del Popolo, Piazza Navona and Piazza Venezia are especially colored and festively decorated
How and Where to Celebrate
There is a tradition among Italians to celebrate Christmas with family, while on New Year's night everyone is going out to party with friends in one of the night clubs, restaurants or just to admire fireworks and shows on famous Roman squares. Undoubtedly, there is a reservation needed for any place you are going to visit this night if you want to find a seat for you. Be prepared that the next day, on 1st of January, all Roman points of interest and shops will be closed.
What's the Weather
Roman weather is always amazing since there are mostly sunny days each year. However, better take warm clothes and umbrellas in case of rain. Don't worry, the atmosphere of the Eternal City and the weather are always friendly, warm and charming, so nothing can spoil your impression about Rome. In December-January, an average temperature is 10°C (49°F) – 15°C (59°F). December is one of the coolest months per year. During this month Rome experiences an average of six hours of sunshine each day.
Italian New Year's Traditions
Undoubtedly, one of the main Italian New Year's Eve traditions is to wear red underwear if you want to be lucky. Moreover, in the past, italians threw porcelain out of the window! However, this custom is not common nowadays for safety reasons. Another tradition is to make big New Year's dinner, which is called cenone. It can be at someone's house or restaurant. In addition, in some regions of Italy, people throw away from their windows all old stuff which means that they are throwing out the past.
The most popular tradition is to eat lentils after midnight on New Years because it brings fortune for the coming year
What to Do
New Year's Eve is mostly a street festival in Rome. Romans prefer to eat at home or in the restaurant, but all of them traditionally go out at midnight to the city center, to the Colosseum or any famous Roman square to admire fireworks. Most of the night clubs work to celebrate the New Year, so you can choose among many places where to spend an unforgettable night. Romans will not sleep all night long and this is one of the best holidays of the year!
Rome City Events
There is a big festival for New Year's Eve and New Year in Rome, named "The Moon." Its celebration starts on December 31, 2018 at 9 pm. Importantly, the festival includes 100 events with 1000 artists from different countries. Of course, admission to the festival is free.
Note: Bring your own drinks, but better without glass bottles
Program of La Festa di Roma
9 pm: KITONB is a worldwide known troupe from Rome which organizes musical light show
9:30 pm: Concert of the small orchestra of Tor Pignattara (Piccolo Orchestra di Tor Pignattara) with 20 representatives of 14 countries
10 pm: KITONB Ode alla Luna Performance on the 50th anniversary of the moon landing of Apollo 11 with Armstrong and Aldrin followed by music accompaniment
10:15 pm: In difesa della Luna: instrumental show by Vinicio Capossela, Vincenzo Vasi and Alessandro Asso Stefana
10:45 pm: KITONB Carillon, the flight of the time (Il volo del tempo) – theatrical show
11:50 pm: preparation for the Countdown with the Radio Dimensione Suono Roma
12:00 am: BIG FIREWORKS
12:30 am: Achille Lauro, live performance of the new Roman rap artist
01:30 am: Disco with Radio Dimensione Suono Roma
Free Performances
From 3 am to 8 am there will be many free performances and different art installations around Rome. For instance, you can visit Piazza Sant'Anastasia, Cinema Reale or Teatro India. Moreover, there will be a live concert to salute sunrise of the first day of the year on Ponte della Scienza from 7 am.
Kids Entertainment
The city of Rome organizes amazing kids entertainment events for the New Year. On 1st of January from 10 am until 4 am, your family can take part in a special program of games, music, dance, contests, tales and exhibitions at Giardino degli Aranci at the Biblioteca Centrale Ragazzi.
Indoor Activities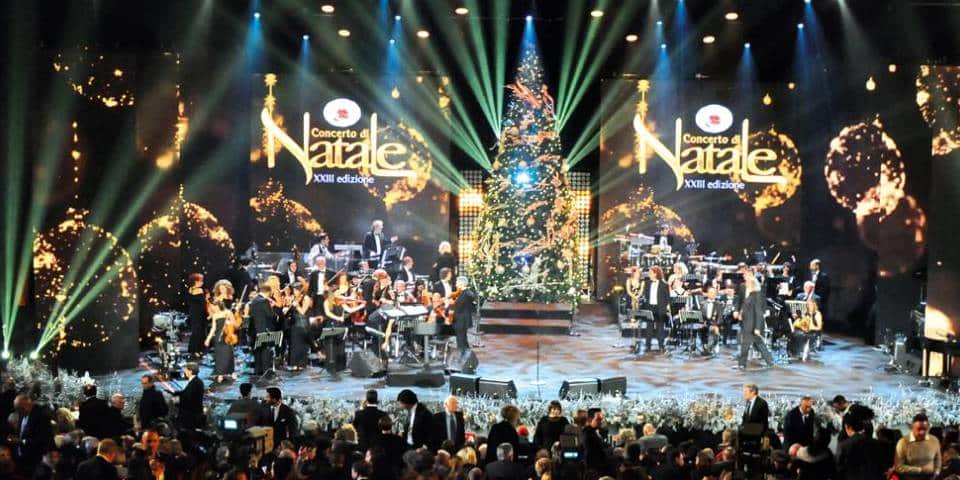 Since it is winter and the weather is cold, there is also a variety of interesting events in Rome indoor.
Night Clubs
Let's party hard! There are many night clubs in Rome with interesting show program for the New Year's night. Prices start from 50 euro per person (better plan to spend at least 100 euro) and find time to sleep before the party because everyone will dance until the sunrise 🙂
Piper Club
New Year's Eve 2019 "A tutta Birra" at Piper night club with typical bavarian menu and plenty of beer! You can starts from 9 pm, where live music will be playing until midnight and then, wait for the Dj set with house music.
Location: Via Tagliamento, Parioli district (Coppede area)
Prices: 60 euro per person for the unlimited buffet and 40 euro per person just for open bar. You can book a disco table (minimum 8 pax) for 90 euro per person
Amore Festival
Amore is one of the most famous festivals of Rome. This year wait for Blawan, Shlomo, Anetha, TBA and other djs. If you like techno, house, trap, electro, industrial, disco and electronic music, this party is for you.
Location: Via del Commercio, 36
Prices: from 35 until 100 euro per person
Art Cafe
Art Cafe is one of the most popular Roman night clubs with famous parties. Of course, this is one of the most fun and memorable options where to celebrate the New Year's night. The club offers different entrance options for its guests with any budget.
Location: Via del Galoppatoio, 33
Prices: from 40 until 1500 euro
Cosmo Festival
Cosmo is the techno festival which connects three big venues of the EUR district: Spazio 900, Room 26 and Salone delle Fontane. You have to buy one ticket to entry each of these locations. This year among djs will be Joseph Capriati, Amelie Lens, Sam Paganini, Marco Faraone, Pan Pot, Ilario Alicante, Apparat dj and others.
Location: Piazza Gugliemo Marconi, 26
Prices: from 50 until 160 euro per person
La Cabala
La Cabala disco and piano bar has three floors: piano bar, restaurant "Hostaria dell'Orso" and disco on the top floor. There are amazing views of Castel Sant'Angelo and Saint Peter's square. It is perfect for people older than 25 years old.
Location: Via dei Soldati, 25 C
Prices: from 50 euro until 240 euro
Restaurants
There are numerous restaurants in Rome that offer a New Year's Eve menu. However, if you want to celebrate this holiday in a restaurant with a nice menu, don't forget to make a reservation at least 1-2 weeks in advance. Of course, one of the main sources where you can find best Roman restaurants is Trip Advisor.
La Griffe
Luxury Celebration of the New Year? Welcome to the Roof Garden Restaurant La Griffe located inside a luxury hotel with amazing panoramic terrace. This is one of the most romantic and wonderful options with live music and mediterranean dishes.
Location: Via Nazionale, 13
Prices: from 80 euro until 180 euro
Zodiaco
Lo Zodiaco is one of the most famous restaurants in Rome. For the New Year it will offer a romantic dinner with two rich menus: vegetarian and classic, including wines, desserts, cotechino with lentils and live music.
Location: Viale del Parco Mellini, 88/92
Prices: from 85 euro until 180 euro
Taverna Cairoli
New Year's Eve at Taverna Cairoli includes dinner and live music. It is a typical restaurant in the city center of Rome, near Campo de' Fiori, Piazza Navona and the Pantheon. There is a really good quality of food and interesting show program prepared for its guests.
Location: Piazza Benedetto Cairoli 2/a
Prices: from 50 euro until 75 euro
La Romantica
La Romantica restaurant offers two set menus (fish or meat) that include starters, first courses and main courses in an authentic Mediterranean tradition. Of course, there will be a special Christmas dessert. Amazing place if you are looking for nice atmosphere and tasty food.
Location: Via Emanuele Filiberto, 52
Prices: from 30 euro until 100 euro
Target
Target is a modern restaurant located in the city center of Rome. It perfectly combines taste and music, where you can order amazing italian dishes and dance all night long at the same time. Its New Year's Eve 2019 menu includes Christmas cakes, wine and other drinks followed by dj set.
Location: Via Torino, 33
Prices: from 50 until 120 euro
Public Transport
On December 31, 2018, the Metro runs from 5:30 am to 3:30 am on January 1, 2019. The same schedule works with the line to Ostia Lido and Roma-Flaminia Montebello. Then, from 3:30 am to 8 am the lines N1, N2, N2L and N28 drive along the metro lines and N3 from Piazza Venezia to Ostia.
The last departure of buses and trams on December 31st will be at 9 pm
From 9 pm to 3:30 am the following lines operate:
Bus H: Termini – Piazza Venezia – Trastevere – Gianicolense – Bravetta / Capasso
Tram 2: Piazzale Flaminio – via Flaminia – Piazza Mancini
Bus 128: Metro B San Paolo – viale Marconi – via della Magliana – via Crocco
Bus 170: Eur Agricoltura – viale Marconi – Piazza Venezia – Nazionale – Termini
Bus 200: Piazza Mancini – Ponte Milvio – Corso Francia – via Flaminia – station Prima Porta
Bus 280: Piazza Mancini – Lepanto Metro A – Piramide Metro B – station Ostiense Fs
Bus 301: Grottarossa via Cassia – Ponte Milvio – Lepanto Metro A – Piazza Augusto Imperatore
Bus 336: Conca d'Oro Metro B1 – Vigne Nuove – Fidene – via Quarrata
Bus 544: Stazione Sant'Agnese / Annibaliano Metro B – Monti Tiburtini – Stazione Gardenia Metro C – stazione Parco di Centocelle Metro C
Bus 766: via Andrea Millevoi – Grottaperfetta – Metro B San Paolo-Stazione Trastevere
Bus 881: via Avanzini – via della Pisana via Gregorio VII via Paola
Bus 905: metro A Cornelia via Boccea via Casal Selce – Casalotti-Malagrotta
Bus N6: Ottavia / via Tarsia via Trionfale – viale delle Medaglie d'Oro
On 1st January 2019 the holiday public transport schedule starts from 8 am. If you are going to use private transfer or taxi, make sure to book a car in advance
So, where are you going to celebrate the New Year's Eve? 🙂