The distance between Rome and Venice is 528 km and the best transportation option for your journey is a fast train. However, you can also travel by bus or by car. Depending on the kind of transportation you choose, travel time will take from 3 hours 35 minutes to 7 hours.
Here's the list of options on how to get from Rome to Venice:
By Train
The best option to get to Venice from Rome is by fast train as it is the most convenient way to reach the city.
Italotreno
Your journey on the high-speed train service ItaloTreno will take 3 hours 45 minutes. Trains from Rome depart daily starting from 6:45 am (Roma Termini and Roma Tiburtina stations). You can reach Santa Lucia railway station in Venice already by 10 am.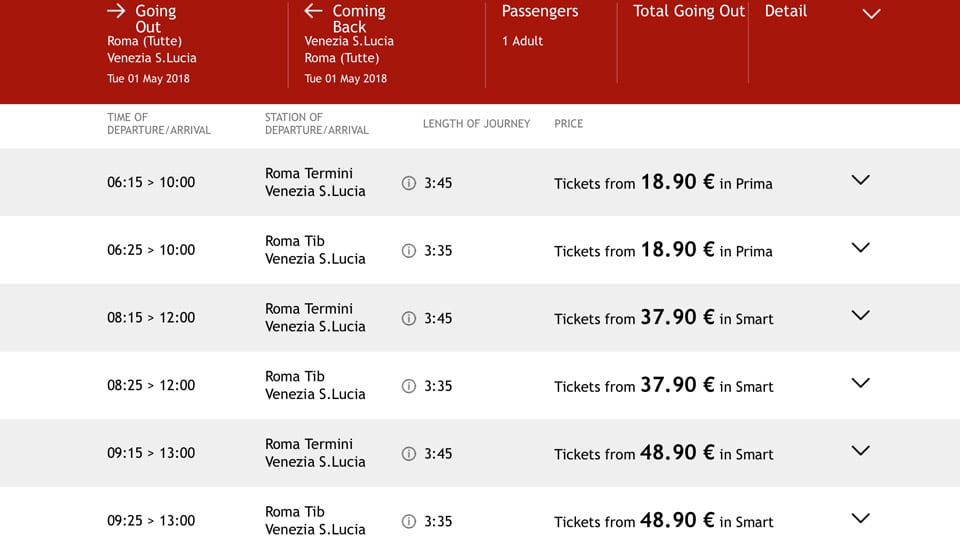 One-way train ticket's cost is from 27.90 euro to 89.90 euro. If you buy last minute ticket, most probably there will be only expensive options. However, if you plan your trip at least one month before the date, there is a high chance to buy convenient and valuable tickets. For example, for the seat in first class (Prima) you can pay only 18,90 euro: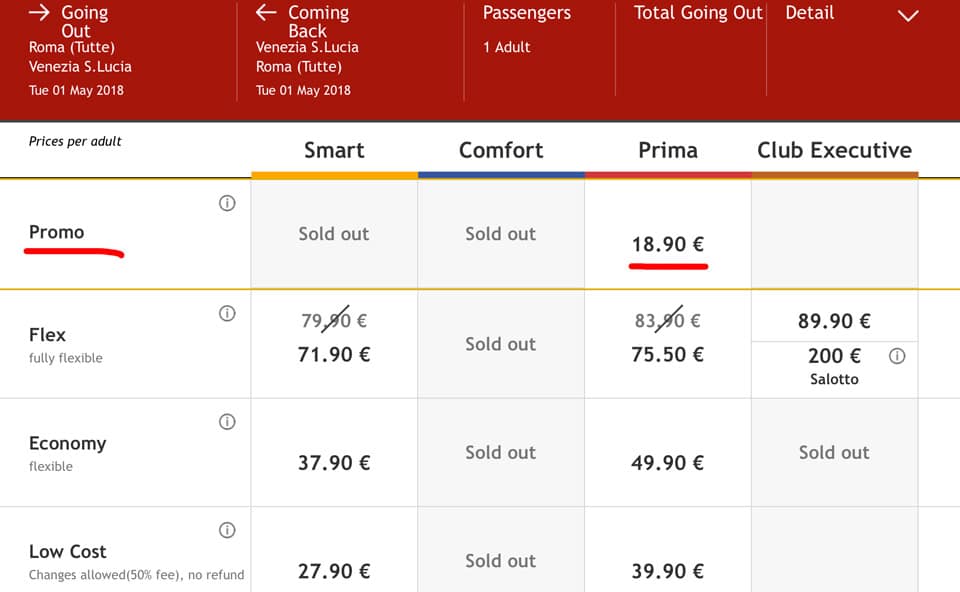 Trenitalia
Trenitalia is a good alternative way to reach Venice from the Eternal City by train. The website has a bit more complicated registration procedure and sometimes there are faults. High-speed trains depart from Roma Termini station daily from 5:35 am.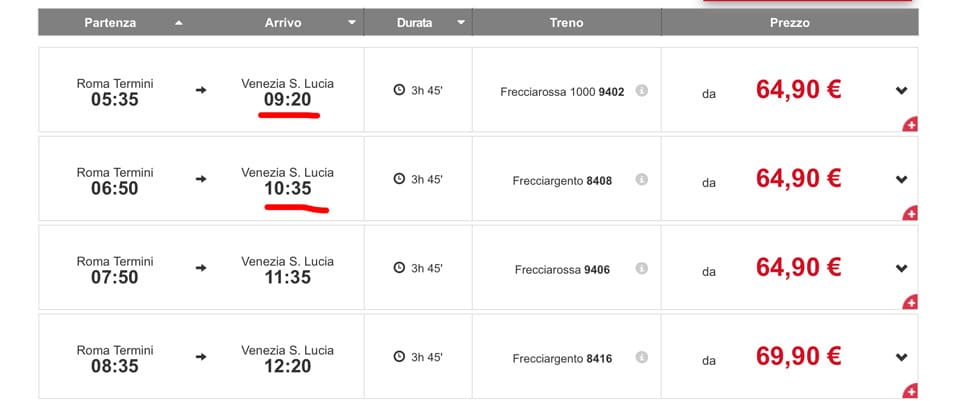 If you buy a ticket in advance, there is a chance to find one of the special ticket fares as Super Economy with the price of only 19.90 euro. Venice is extremely popular route among tourists. Sometimes there are no tickets left for your dates, if you try to find them at the last moment.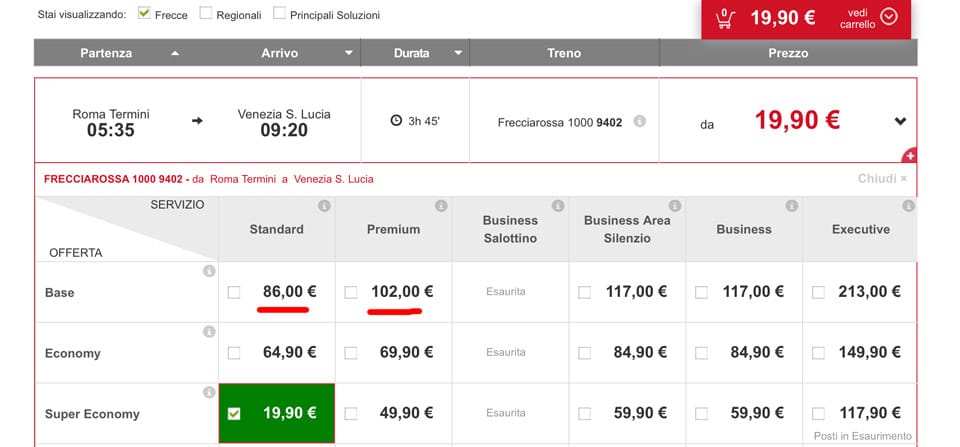 Note: always plan your trip in advance
Night trains
You can also reach Venice from Rome by one of the night trains and save money since you will not have to pay for the hotel. The cheapest ticket's fare in the second class is only 12.90 euro. Price for the male or female coupe will be about 60 euro, while a separate coupe's ticket price will be more than 100 euro. Here's the timetable for night trains, but it is better to consider other transportation options.

By Bus
You can get from Rome to Venice by bus and it is a perfect option for budget tourists. However, the journey will take at least 7 hours. Bus ticket price is from 19.90 euro to 29.90 euro for one-way trip. 
Note: the bus arrives to the station in Mestre area of Venice, which is a bit far from the centre of the city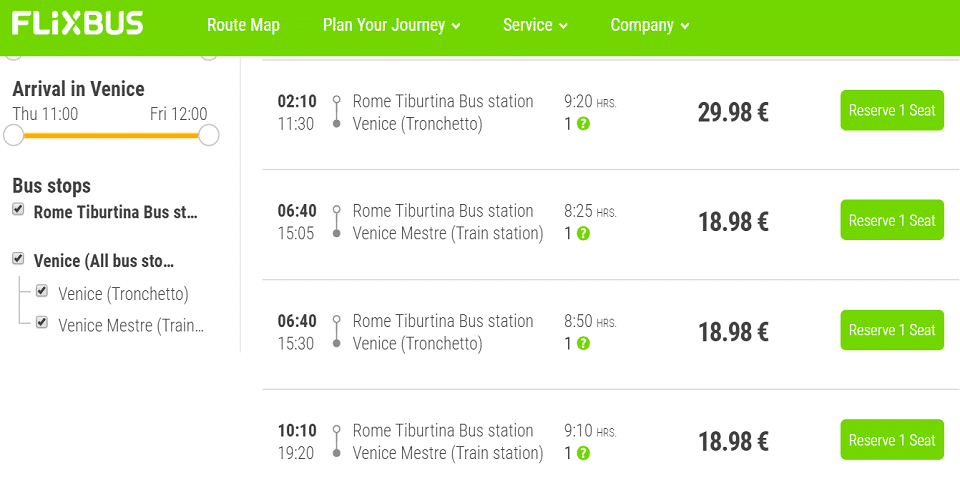 Undoubtedly, if you choose an option of getting to Venice by bus, the best departure time is at night because you will arrive to Venice at 5:30 am. Then, you will have the whole day to explore one of the most beautiful cities of Italy.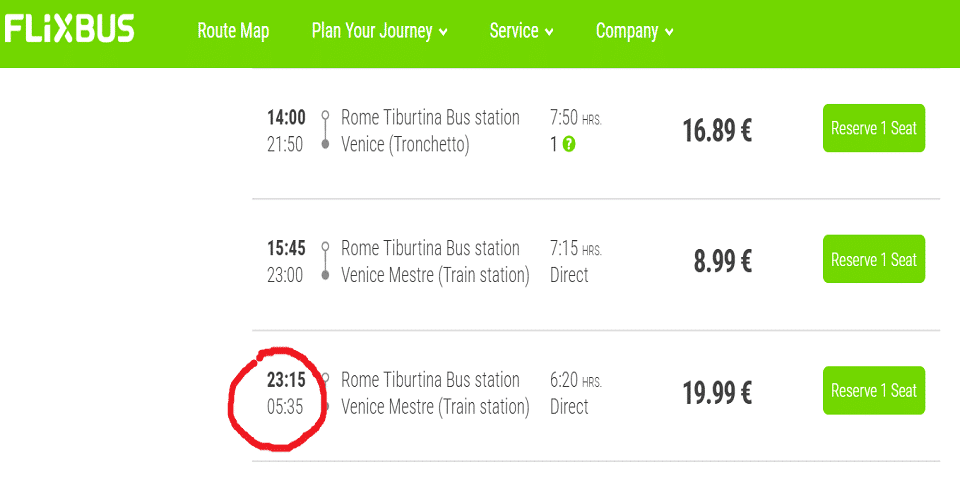 By Plane
Since Rome and Venice located many miles apart, both of the cities have international airports. You can consider an option of buying a ticket from one of the budget airlines and reach Venice in a short period of time, since it is the fastest option. There are two airports in Rome: Ciampino and Fiumicino. For instance, EasyJet and Air One airlines have budget flights to Venice from Rome.
Air fares to Venice are different, since the price depends on the season and airline. Sometimes you can find flights for as low as 15 euro one-way or 50 euro and more
By Car
Journey to Venice from Rome by car should be considered only in case if you are travelling around Italy for at least one week. You can also visit Tuscany for gastronomical purposes or admire green hills of Umbria on your way to Venice. Considering rental price for the car and toll roads, it is better to visit other towns and cities, since direct journey for 6 hours by car does not makes sense in compare to fast train fares.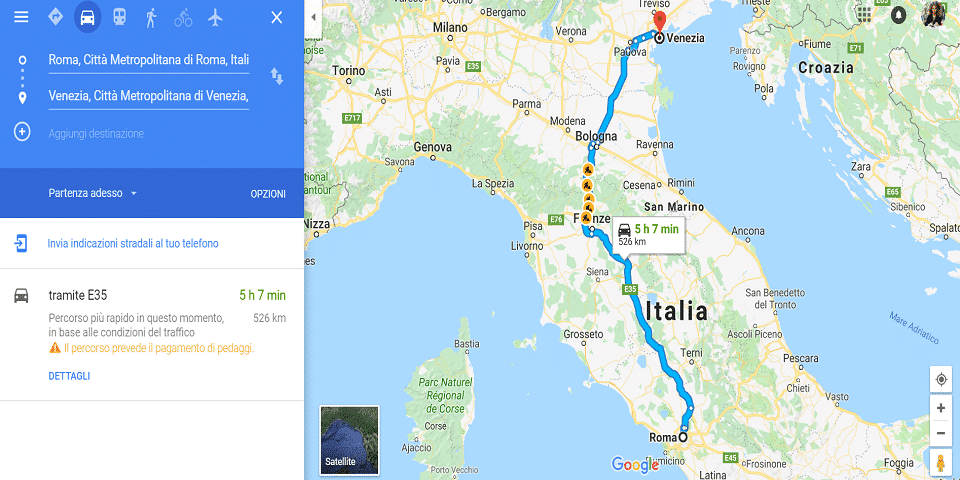 You can rent a car with  rentalcars.com. Prices for car rental from Rome Fiumicino airport start from 10 euro per day
What to Do in Venice
Visit square and Basilica of San Marco (Basilica di San Marco) – it is one of the most important monuments in Italy from the 11th-century with gold ground mosaics and opulent design
Admire Palazzo Ducale from the 9th century, which is a famous masterpiece of Gothic art with different art treasures
Walk along bridges and tiny streets
Experience gondola ride on Canal Grande
Go to Scala Contarini del Bovolo, which is a stairwell of Palazzo Contarini – gothic building with a cylinder perforated like lace
Visit the Galleria dell'Accademia, which is a museum gallery from the 19th century
Visit Murano and Burano colorful islands
Discover small authentical shops in the historical centre of Venice
Visit the famous Carnevale Festival, which takes place in Venice in February
Walk through Rialto Bridge (Ponte di Rialto), which is the most famous bridge in Venice and one of the most beautiful in Italy
Where to Stay in Venice
There are many options on where to stay in Venice. Since there are always many tourists in the city, you should better book an accommodation in advance. Here's the list of nice options that you may consider for your trip:
Carnival Palace Hotel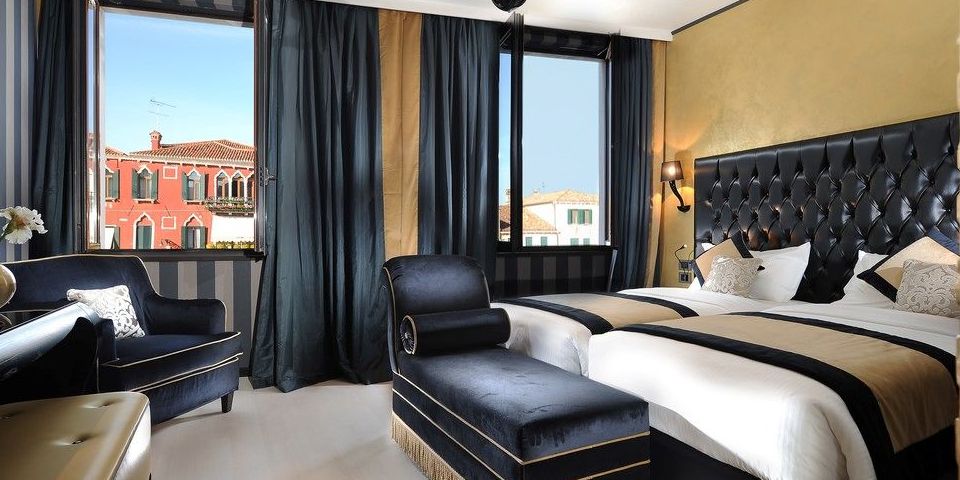 The Carnival Palace Hotel is located in the Jewish Ghetto area of Venice. There are ultra modern rooms with hardwood floors and free WiFi. Moreover, all rooms are soundproof and have an advanced ventilation system.
Prices start from 80 euro per room for 2 people
Splendid Venice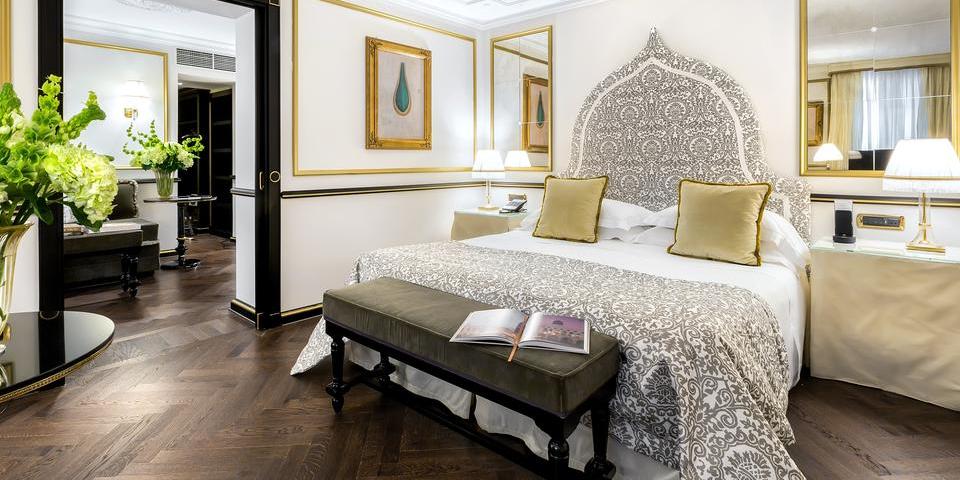 Splendid Venice – Starhotels Collezione is set on a canal in the Mercerie area of Venice. There is a private pier in this 4 stars hotel and an amazing gourmet restaurant. Moreover, the hotel features a rooftop overlooking the city.
Prices start from 150 euro per room for 2 people
Hotel Violino D'Oro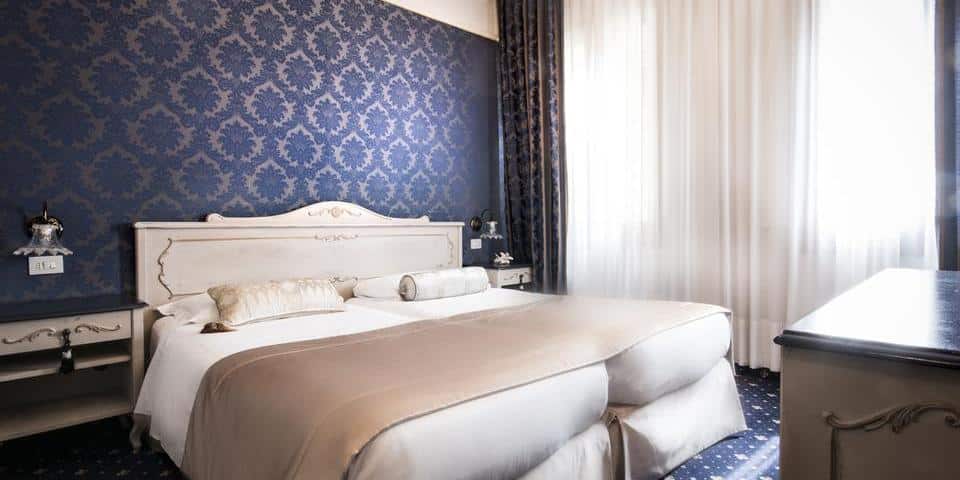 Hotel Violino D'Oro located in an 18th-century building with beautifully decorated rooms, overlooking the San Moise Canal. All rooms of this 3 stars hotel are spacious and air-conditioned. This is a nice property for your stay in Venice.
Prices starts from 70 euro per room for 2 people
Hotel Montecarlo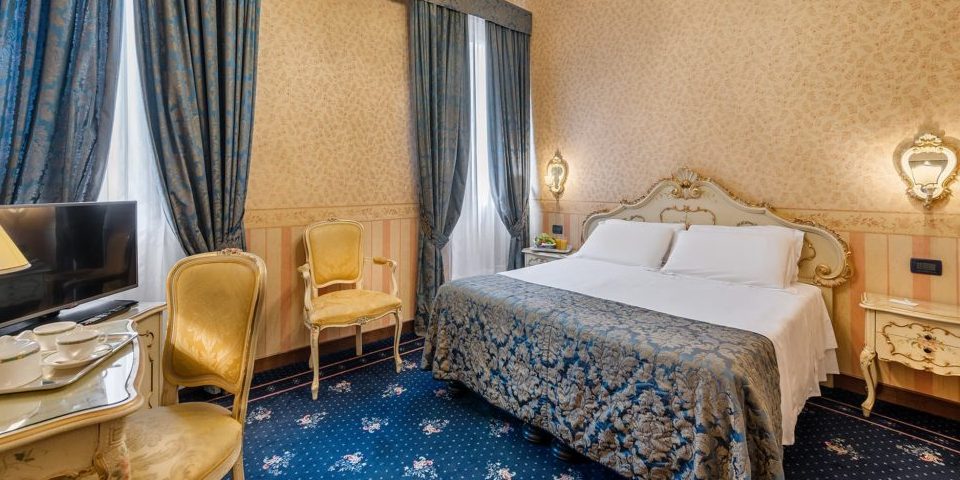 Hotel Montecarlo is a 3 stars hotel in the historical centre of Venice. It is set in a 17th-century building. There are Venetian-style rooms with all amenities.
Prices starts from 70 euro per room for 2 people
Bed and Breakfast Al Saor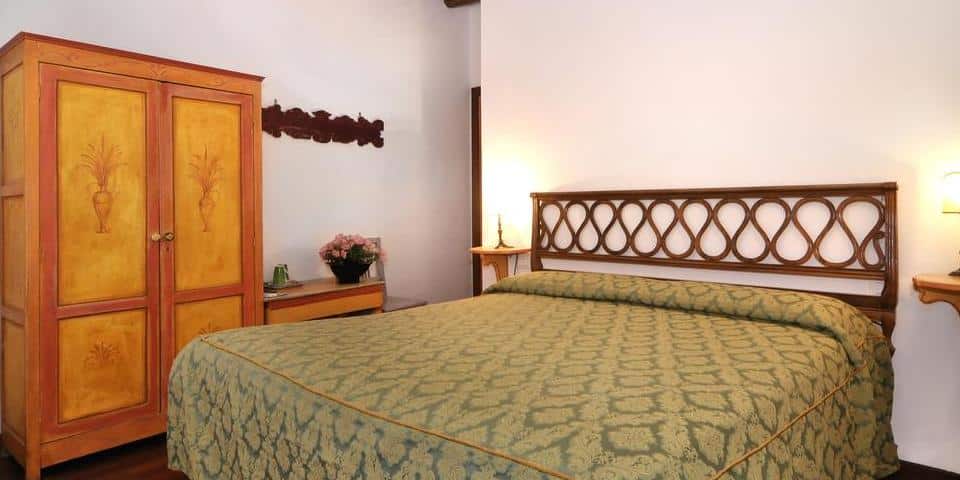 Bed and Breakfast Al Saor located in a 5-minute walk from Rialto Bridge. There is a lovely terrace, where you can have a breakfast. The property is an amazing choice for budget travellers.
Prices start from 40 euro per room for 2 people