Getting from Rome to Naples (Napoli) is one of the most popular routes among travellers. The distance is 226 km. Undoubtedly, the most convenient option is to take a fast train. Also, there are direct buses that go to Naples for a cheap price, but with a longer route. The journey will take from 1 to 4 hours.
Here's the list of options on how to get from Rome to Naples:
By Train
If you are travelling from the Rome Fiumicino Airport, take the Leonardo Express shuttle train to the Termini railway station. Then, you can take a train which goes to Naples (Napoli). The same works with Rome Ciampino airport: once you arrived, take a bus or taxi to Termini station and take a train to Naples from there. Note: there are different types of trains that run between Rome and Naples:
Eurostar Freccia Rossa (TAV): considered as the most convenient option, but also the most expensive. In less than two hours you will arrive to Naples' Piazza Garibaldi station. Moreover, the high-speed train departs every hour and usually it is quite punctual. The ticket price is about 50 euro
Intercity: it takes about two hours to reach Naples by this train with the ticket price starting from 18 euro
Interegional: the feature of these trains is that they stop at every station, so the journey from Rome to Naples will take about four hours. The ticket price is cheap, about 10 euro, so this option is perfect for budget tourists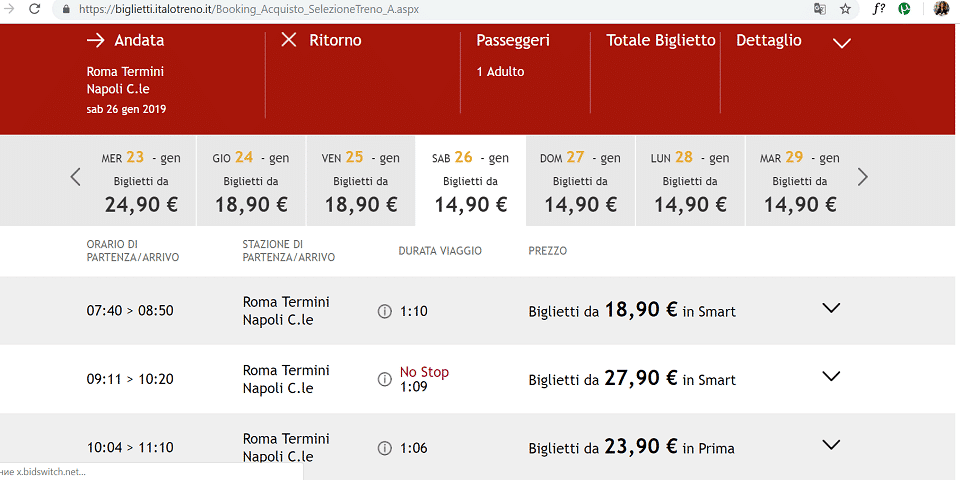 You can purchase tickets in the station or online on the Italo or Trenitalia websites. Prices for tickets are much lower if you buy them in advance. Moreover, if you buy high-speed train tickets in advance, there are often special offers available. However, such kind of tickets is non refundable
By Bus
Getting to Naples from Rome by bus is the cheapest option. One-way ticket prices start from 9 euro. You can buy a ticket with Flix Bus. The journey will take about 3 hours: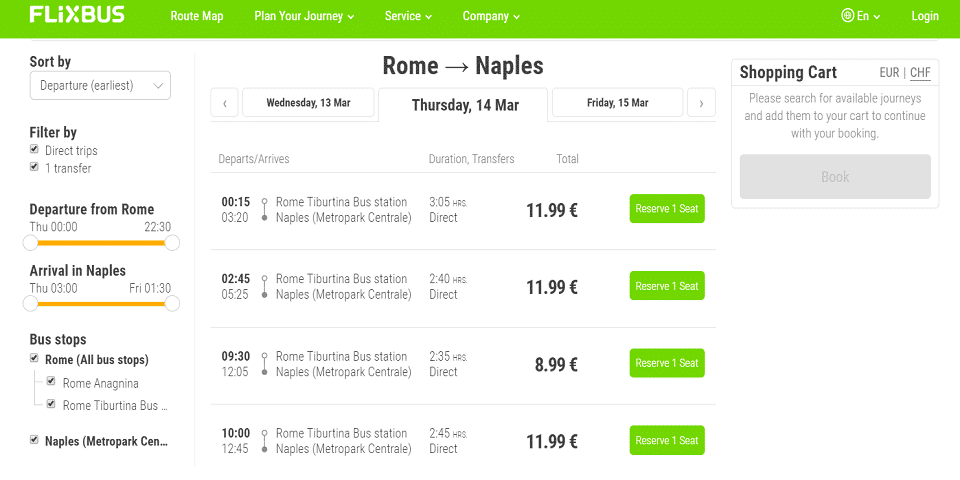 By Car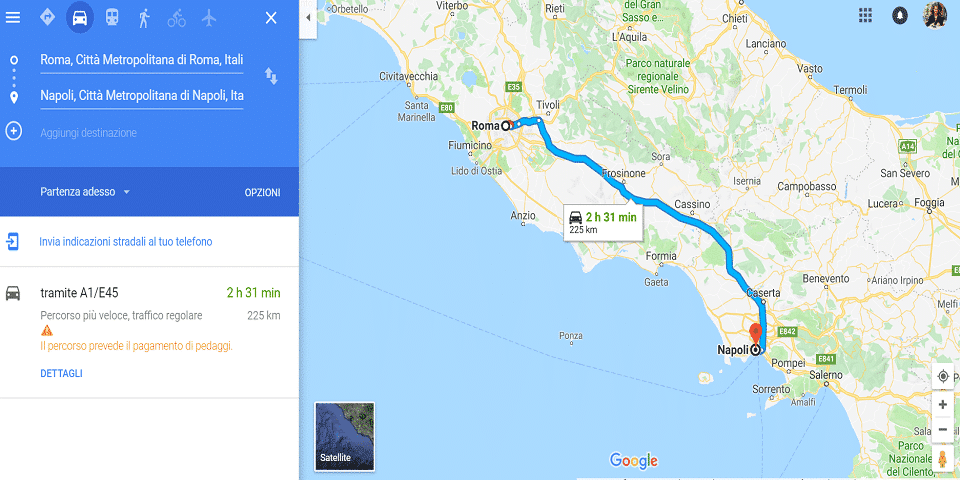 If you plan to get from Rome to Naples by car, the distance is 225 km. The ride will take around 2.5 hours. The option is convenient, but you have to consider toll roads and difficulties with parking, since you are going to visit one of the most touristic Italian spots. 
Transfer
Of course, you can book a private transfer from Rome to Naples. An average price for the private driver from Fiumicino airport to Naples is from 350 to 400 euro. For one of the best transfers you can use the service of Sergio&Partners with the best driver and our close Italian friend Sergio. One-way transfer price is 360 euro.
Things to Do
Visit Pompeii – it is an ancient Roman city near modern Naples, which was buried under the volcanic ash in 79 AD
Try Neapolitan pizza and desserts
Do shopping. There are many local shopping streets with local brands for cheap prices
Drink like locals do in Piazza Bellini
Visit Museo d'Arte Contemporanea. It is a world-class museum of modern art that's named after the gothic 14th century church located inside the building
Visit Fontanelle cemetry. It is an old quarry, which became a burial site in the 17th century when 250.000 citizens died because of a plague
Walk along a 2.5 strip of pedestrianised road which runs along the seafront, called Lungomare
Do one-day trips to the island of Capri and to the Amalfi Coast
Take the funicular to Castel Sant'Elmo
Visit Castel Nuovo, also known as Maschio Angioino, which is a 13th century castle completed in 1282 for the new Charles I of the House of Anjou
Where to Stay
Undoubtedly, it is worth to stay in Naples for several days. You can enjoy towns and islands nearby for a day-trips and eat the best pizza in the world. Here's the list of options on where to stay in Naples:
Grand Hotel Vesuvio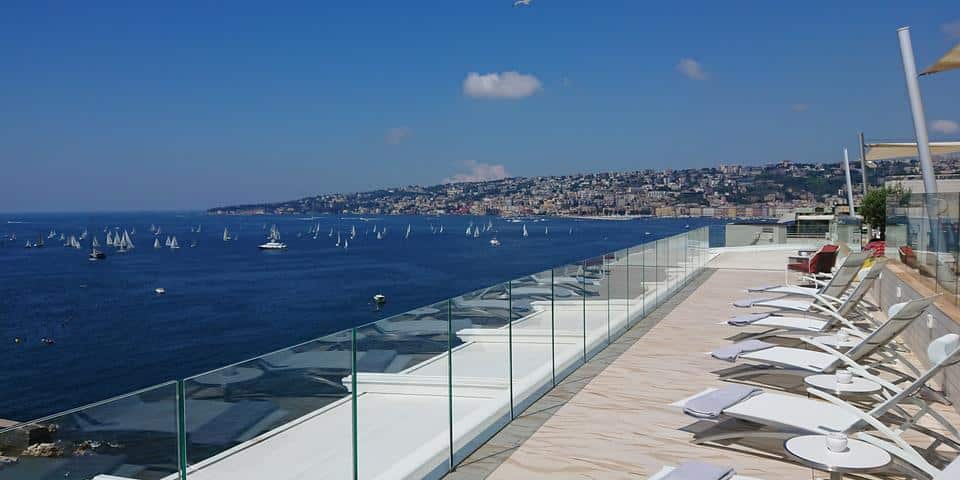 Grand Hotel Vesuvio located on the seafront and overlooks the Gulf of Naples, the island of Capri and Mount Vesuvius. It is a 5 stars hotel with a luxury indoor pool, fitness center and a wellness area with hot tub, sauna and steam bath. All rooms are elegantly decorated and spacious.
Prices per night for 2 people start from 250 euro
Hotel Romeo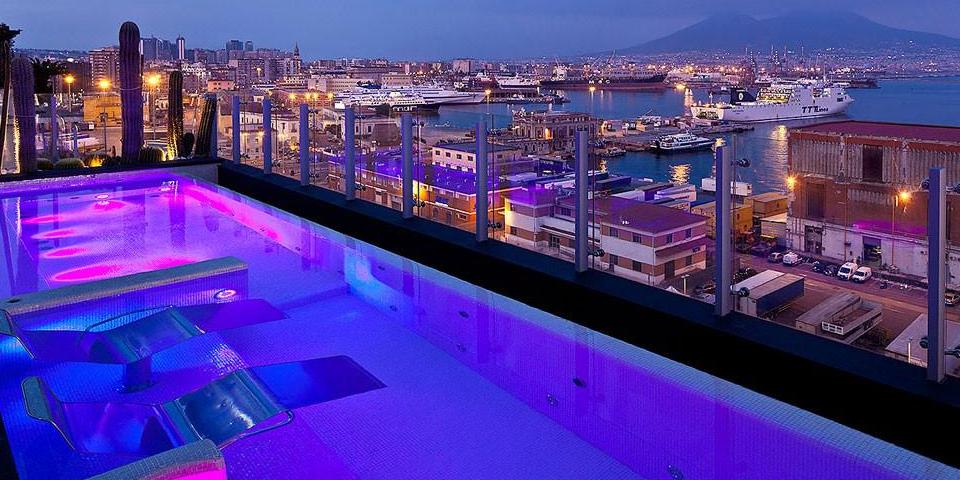 Hotel Romeo located right nearby the ferry port for Capri and Ischia. The 5 stars hotel features stylish and spacious rooms, a rooftop pool overlooking Naples Harbor, and a modern spa. Moreover, there are the cigar room and games lounge in the lobby of the property.
Prices per night for 2 people start from 300 euro
Renaissance Naples Hotel Mediterraneo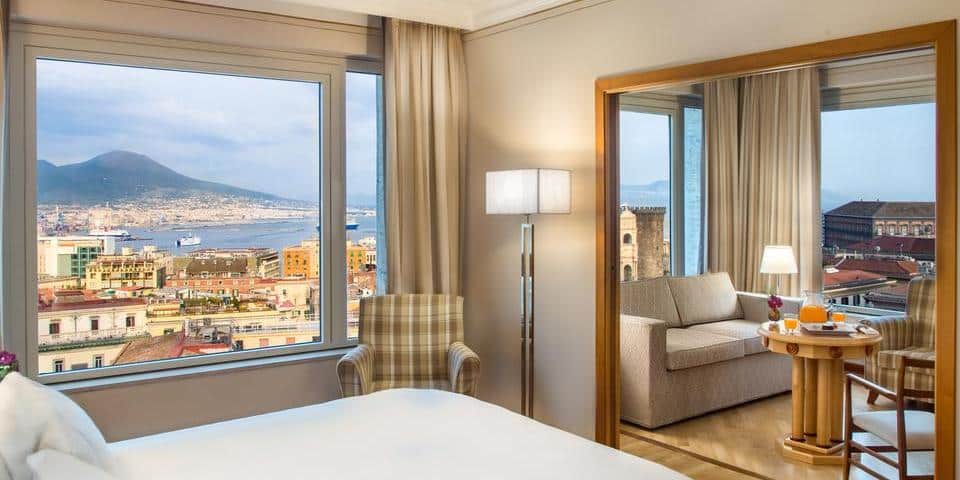 Renaissance Naples Hotel Mediterraneo is a 4 stars located in the city center and features a rooftop terrace. Moreover, it is located in the main shopping area and business district. Guests can enjoy an American breakfast on the terrace with views of the mount Vesuvius.
Prices per night for 2 people start from 250 euro
Joy Naples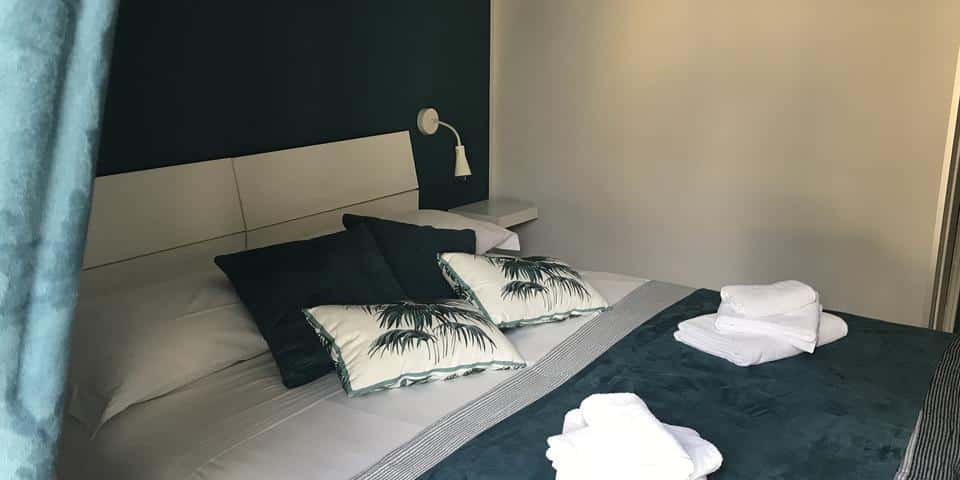 Joy Naples is a bed and breakfast with free WiFi, located near the Central Station. There is a buffet breakfast served each morning in the property. This is a great choice for guests of the city interested in pizza, shopping and museums.
Prices per night for 2 people start from 50 euro
Dolce Vita Rooms and Breakfast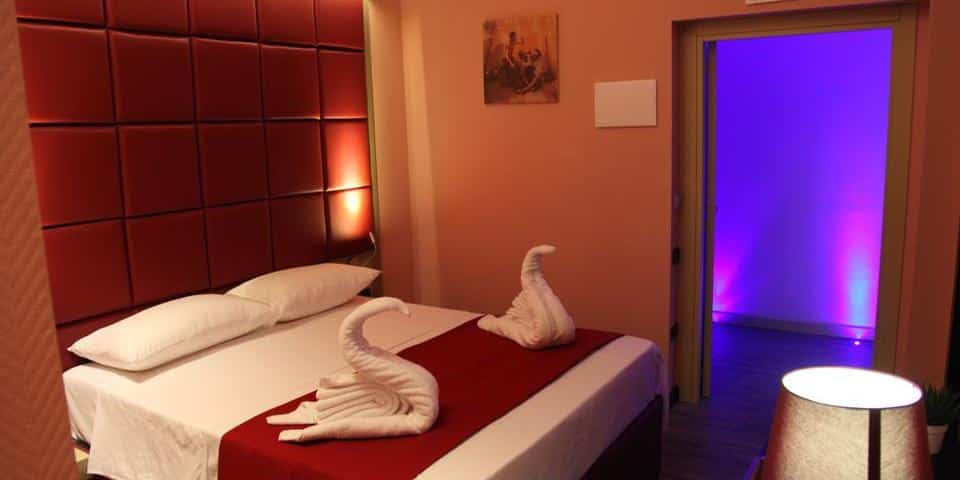 Dolce Vita Rooms & Breakfast located in the city center and features a terrace. All rooms are spacious and have modern furnishings, a Smart TV and parquet floors. Moreover, you can enjoy a sweet and savory breakfast there.
Prices per night for 2 people start from 60 euro