The official site www.ItaloTreno.it has a version in 2 languages: English and Italian. Italotreno is a private company and the website works much better than the one of Trenitalia.com. I always check tickets for ItaloTreno first and only then go to Trenitalia.
If you plan to travel between major destinations such as Torino, Milan, Florence, Naples, Venice, and Rome, Italo may be more competitive than TrenItalia
Where to Go
ItaloTreno high-speed trains run on the route Turin – Milan – Reggio Emilia – Bologna – Florence – Rome – Naples – Salerno with a branch in Bologna to Padua and Venice. From Rome to Milan at an average speed of 250-300 km per hour the train arrives non-stop in just 2 hours and 50 minutes. For comparison, by car this distance of almost 600 km can be overcome at best in 6-7 hours, and on the bus it takes about 8 hours.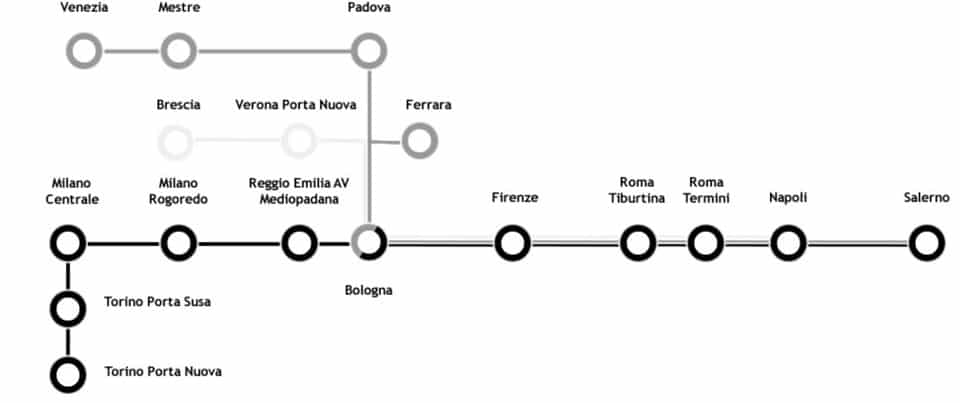 Registration
It is not necessary to register for the purchase of tickets on the ItaloTreno website, but it will save you time if you plan to return to Italy or purchase tickets again. Moreover, all purchased tickets will remain in your profile.
Let's try to create a profile on ItaloTreno step by step. We start from the main page of the official site, I chose the English version. In the upper right corner, press LOGIN.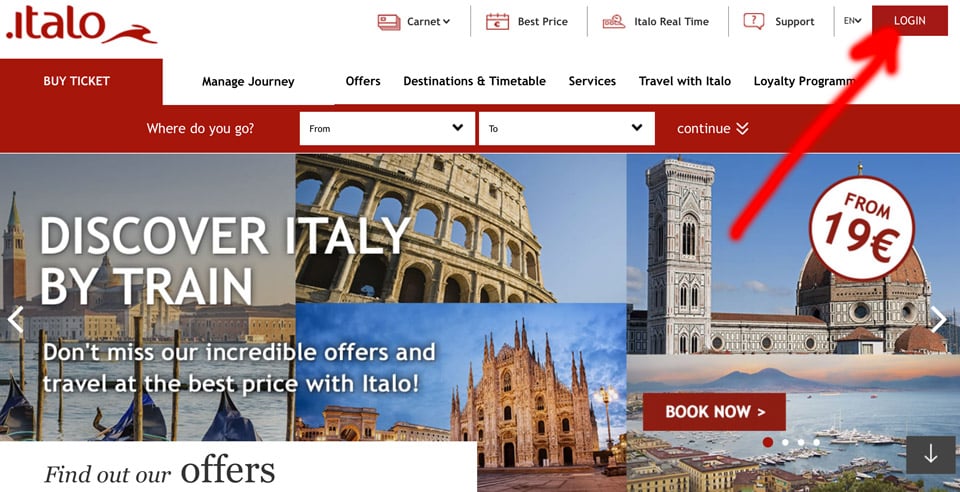 A pop-up window offers us to log in via Facebook or Twitter. So, you can also authorize through a social network. Select Sign-Up.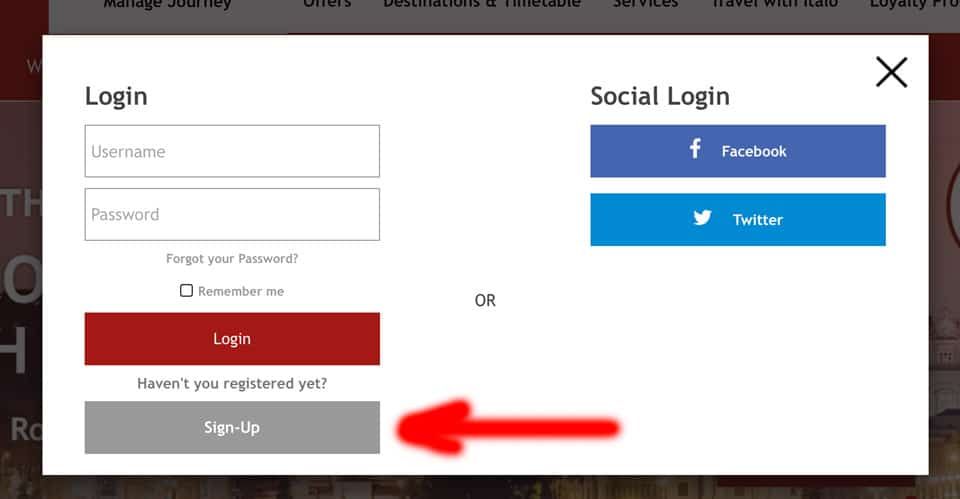 After, you will have to fill in all the information about yourself and receive your Customer ID. When you finish with the registration, you will receive all details to your mail. Right after the registration process you can start to purchase high speed train tickets!
Note: Italo sometimes offers coupon codes to buy discounted train tickets. I recommend signing up for their free newsletter (only in Italian) to be notified of sales
Buying a Ticket
Let's see how to buy a tickets on the website of ItaloTreno. In the example we suppose your journey begins in Rome, and the next city of travel is fabulous Venice. Choose a one way ticket. Fill in the fields.

Then, you will see have to choose among tickets with different departure time and prices: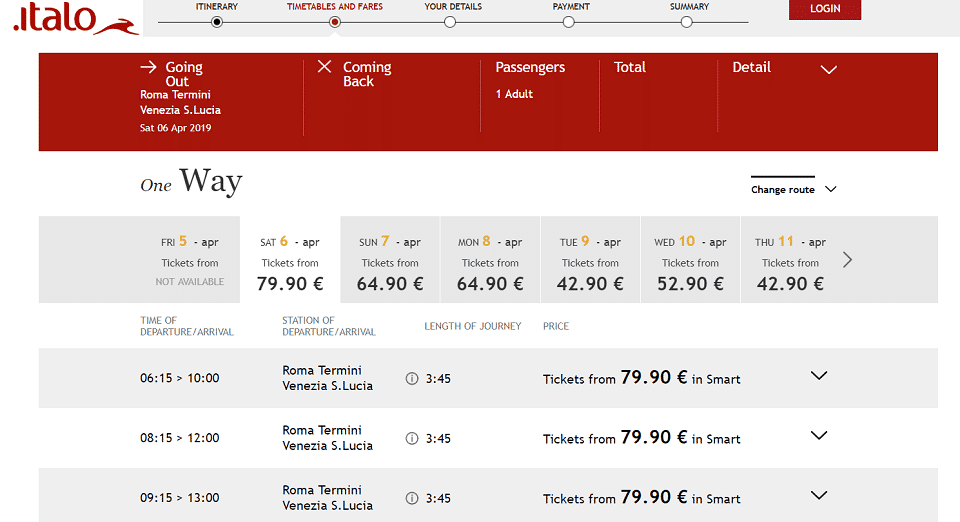 But, pay attention to the class of ticket you choose because price depends on it: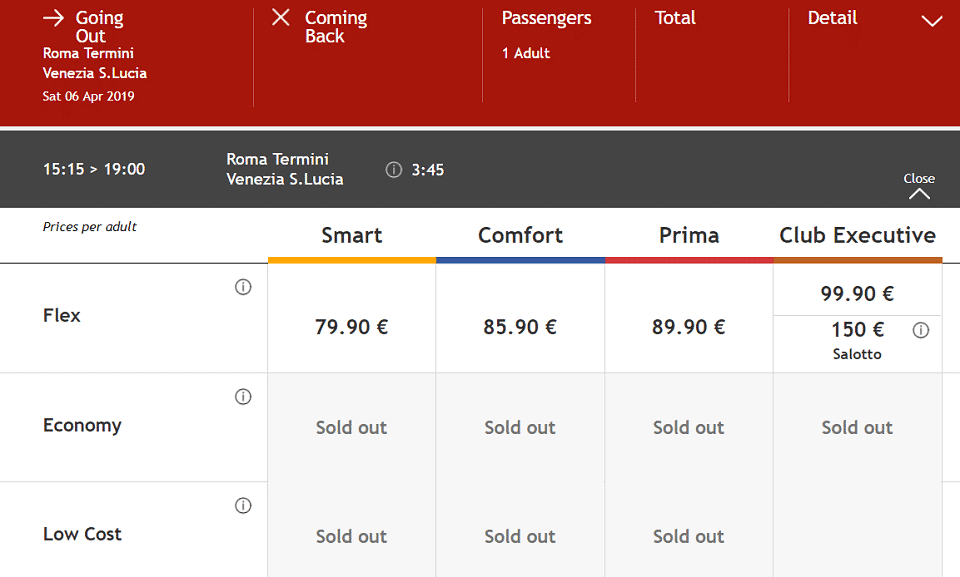 Sometimes you can get a seat in "Prima" for a really nice price because of the special discounts that the company offers. If you buy a ticket right before your trip, be ready that the prices will be higher.
So, if you chose your ticket, the website will ask you about your personal details and payment: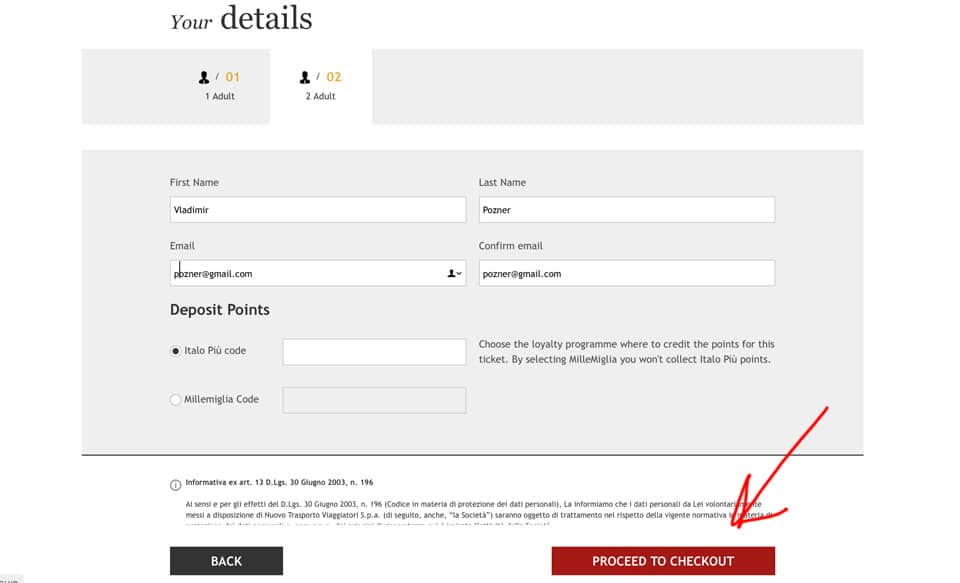 Of course, if you buy your ticket at least 1-2 weeks prior to the trip, there will be more available seats to choose in the train.
When planning a trip in advance (at least 1 month), it is possible to buy a ticket, for example, from Rome to Milan for 19.90 euro, and from Venice to Rome for only 9.9 euro. The table below shows the best deals – the cheapest ticket prices.
Special Offers

I always go to the official ItaloTreno Facebook group before searching for a ticket, where they post promotional codes on specific dates. This method saved me up to 50% of the ticket price several times, but still the most proven option is to simply buy a ticket in advance. Also e-mails with promotions and discounts regularly come to registered users.
How to Return or Change Tickets
If your ticket is not purchased at the Low Cost rate, you can change it. To do this, go to the trip management page, enter your name, surname and reservation code: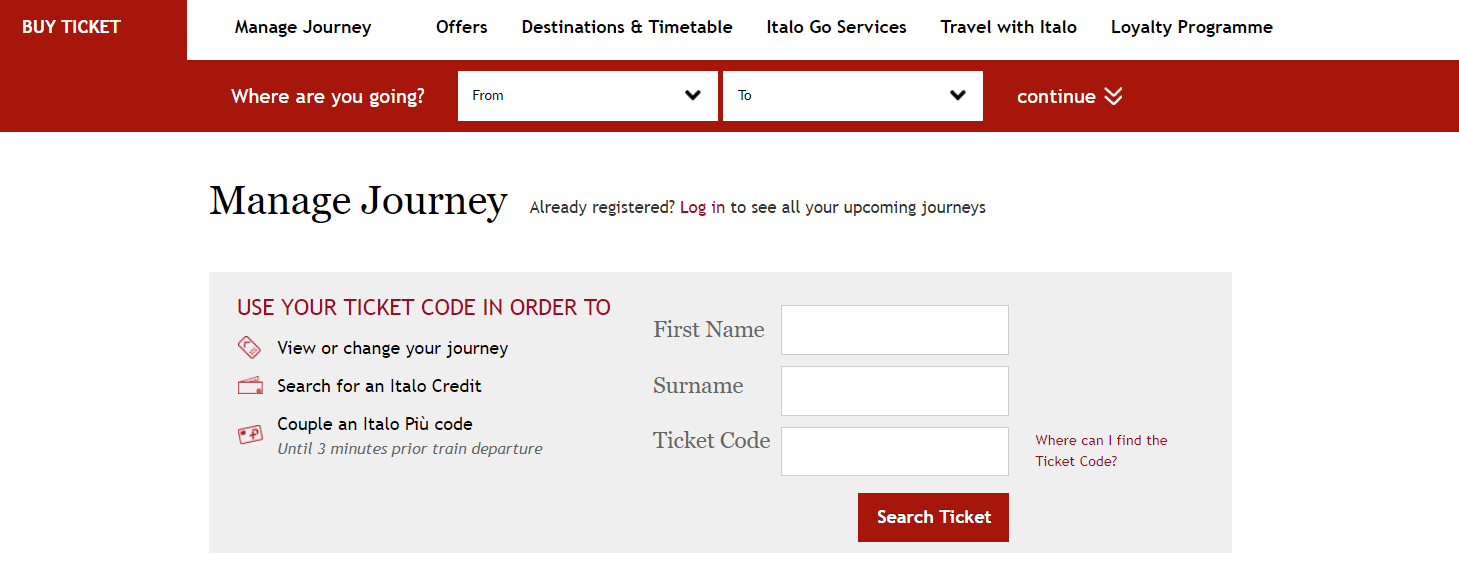 If you are registered on the site, then you can find your ticket and change it in your account. You can change a ticket a maximum of 3 minutes before departure, although it is possible that only the most expensive options will remain.
Tips
Buying tickets only on the official site of Italotreno.it
Planning a trip in advance is much more profitable plus gives an opportunity to choose seats in the train
Italotreno is great for exploring large cities, especially if you are in Italy for the first time and want to see the maximum
ItaloTreno is more comfortable, modern and at least as expensive as Trenitalia
You don't have to validate or print your ticket in a ticket machine before your trip, just show your ticket code if you will be asked in the train