Rome Weather by Month – How to Dress in Different Seasons?
Written by: Kate Zusmann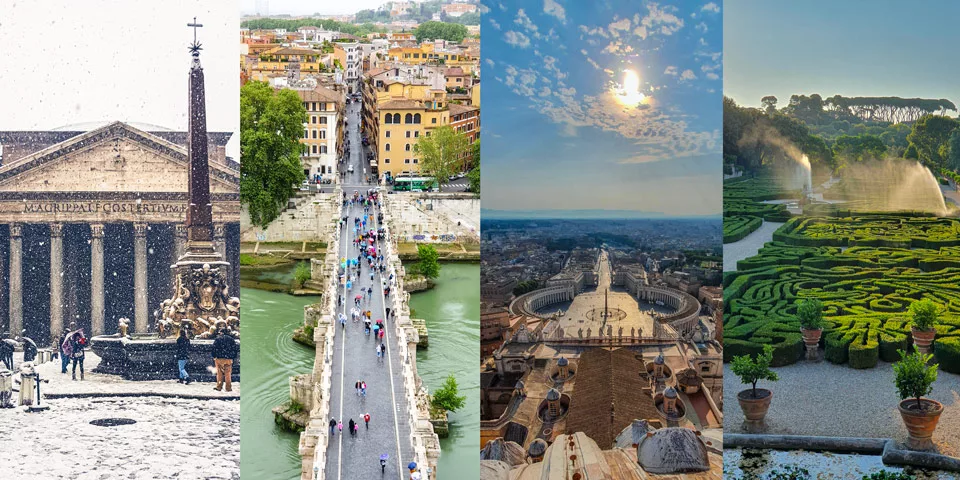 What is the weather like in Rome? What to wear? How to stop worrying? We've got you covered! Plan your perfect vacation in the Eternal City with our comprehensive guide to Rome's weather. From seasonal attire suggestions to insider tips on enjoying the city's charm come rain or shine, we're here to help you make the most of your Roman holiday.
If you're in the mood for more, read our full guide to the monthly weather in Rome and be fully prepared for your unforgettable Italian adventure!
What to Wear in Rome and What to Pack to Italy?
Italy is a beautiful country with various landscapes and climates, so what to pack will depend on when and where you are traveling within the country. However, since you mentioned Rome specifically, here are some tips on what to wear and pack for Rome.
Comfortable shoes: Rome is a city made for walking, so pack your comfiest shoes to explore the charming streets and breathtaking ruins.
Breathable clothing: The Italian sun can be scorching, so choose clothes made of light and breathable fabrics like cotton and linen to keep cool.
Modest clothing: You don't want to get kicked out of the Vatican City or other religious sites, so make sure to pack some modest clothing like a long skirt or pants and a shawl or scarf to cover your shoulders.
Sunglasses and hat: Look cool and stay cool by packing a stylish pair of sunglasses and a fashionable hat to shade your face.
Sunscreen: Don't let a sunburn ruin your trip. Pack sunscreen with a high SPF to protect your skin from the Mediterranean sun.
Water bottle: Stay hydrated while you're out and about by packing a reusable water bottle to refill at the many public water fountains around the city.
Camera: Rome is a beautiful city full of Instagram-worthy photo ops, so make sure to bring your camera or smartphone to snap some shots.
Crossbody bag: Keep your belongings safe and hands-free with a chic crossbody bag that can hold your essentials while you explore the city.
Italian phrasebook: Impress the locals by learning a few key Italian phrases before you go, and pack a phrasebook to help you communicate in a pinch.
A sense of adventure: Above all, pack a positive attitude and a sense of adventure to fully embrace the Italian culture and all that Rome has to offer!
Overall, dress casually but respectfully. Avoid wearing flashy or expensive jewelry, and leave your valuables at home. By packing appropriately, you can enjoy your trip to Rome to the fullest.
Here are links to articles where you will find detailed tips on what to wear in Rome, depending on the month of the year:
January, February, March,
April, May, June,
July, August, September,
October, November, and December.
FAQ about the Weather in Rome
When is the best weather in Rome?
Is there winter in Rome?
How often does it snow in Rome?
What is the coldest month in Rome?
What is the hottest month in Rome?
Does it rain a lot in Rome?
In which cities weather is similar to Rome?
Reasons Not to Worry
Rome always has good weather, compared to most other cities. Statistically, there are more than 270 sunny days per year!
To know the exact weather forecast, I advise you to install Roma Meteo App in App Store for iPhone or in Google Play for Android.

From November to March, when there is a higher possibility of rain in Rome, there are fewer tourists, which means you will feel more comfortable. The heat in July-August can reach up to 40 degrees, but during these months, we walk at dawn from 5 to 11 am, then we sleep at home and go to the night promenade at the Tiber from 9 pm.
It is impossible to predict the weather for more than 6 hours with a probability of more than 50%, which means that any forecast is fortune-telling even for a day. More than once, I was convinced that "according to the forecast, it will be raining" was an excellent sunny day.
Worrying about the weather is a sign of weakness. All "weather" is only in your head. I always think about the temperature from the positive side – if it is forecasted to rain, there will be sun, rainbow, and beautiful reflections in puddles.
From May to October, there comes a period when in Rome, for months, there may not be a single drop of rainfall.
Rome is just 30 kilometers from the sea, so the weather often changes here. There are no more than 5 days per year when the rain pours without interruption for the whole day. Usually, "in Rome, it rains" means rain for 10-15 minutes, but several times a day. You can always go to one of the thousands of magnificent churches or the nearest bar for a coffee if it is raining.
Snow? The last time when I saw snow in Rome was in February 2018. Next time it will be snowing in the Eternal City in 10 or even 20 years.
Weather Averages and Websites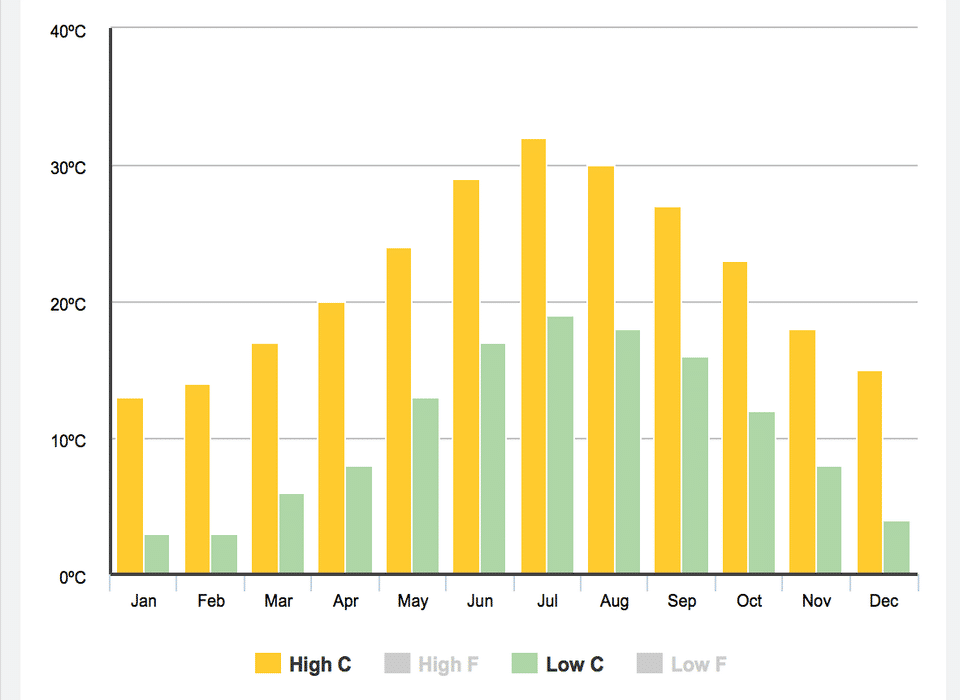 As you can see, even during wintertime, weather temperature rarely exceeds 0 degrees Celsius. Sometimes winter is more comfortable to stay in Rome than summer, primarily if you are not used to the heat. Summer months are scorching during the daytime. If you plan to visit Rome in the summer, I recommend booking our sightseeing tour at sunrise without crowds of tourists and heat.
It is worth mentioning that April, May, and September are the best months to choose for your Roman holiday since all days on average are sunny; there is no heat; Rome celebrates its birthday in April so that you can participate in events and, of course, you can go to one of the beaches nearby Rome to enjoy the sun and relax.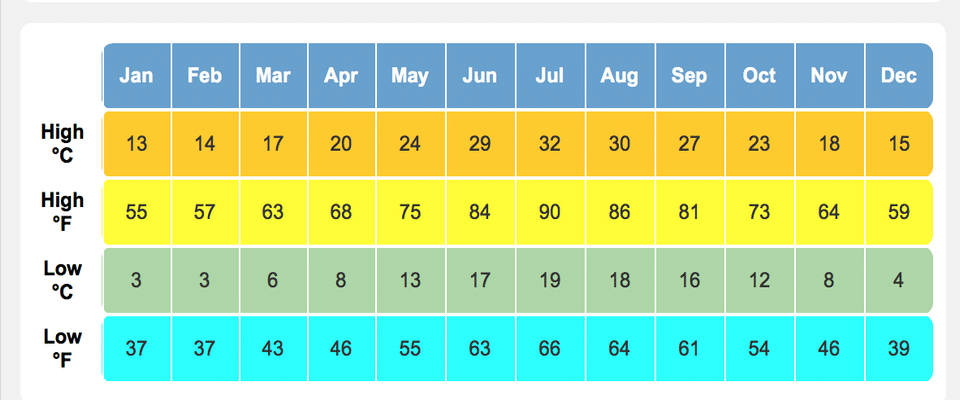 July is the hottest month in Rome with an average temperature of 78°F (26°C). And the coldest is January at 46°F (8°C) with the most daily sunshine hours at 11 in July. The wettest month is December with an average of 96mm of rain
For those who like to waste their time and worry, here is a list of websites with weather forecasts in Rome. Remember that your chance to guess the exact forecast for tomorrow is 50% to 50%:
Online Web Cameras
If your trip is soon and you worry about what to wear in Rome, watch online what Romans and visitors of the capital wear: