Siena is one of the most charming Italian cities, located in Tuscany and easy reachable from Rome. It is famous for its cuisine, art, museums, medieval cityscape and worldwide known Palio, which is a horse race held twice a year.
The distance between two cities is 230 km. On average, it takes about 3-4 hours to reach Siena from Rome. Moreover, there are 25 trains per day travelling from Rome to Siena. The journey time may be longer, depending on the type of train you choose. You can travel by fast train, bus or car. The most convenient option is to take a direct bus. Also, I would recommend to take a train with a stop in Florence and then to take a bus from Florence to Siena, so you will be able to discover these two amazing cities together.
Here's the list of options on how to get from Rome to Siena:
By Train
You can get from Rome to Siena from Roma Termini, Roma Tiburtina or Roma Ostiense train stations. One-way ticket prices start from 15 euro and an average time of journey is 3 hours. Also, you will have a short stop in Florence. The train station in Siena located in about 2 km from the city center, so you can catch a bus. Look out for buses 3, 8, 10, 17 or 77 to reach the historic center of Siena. You can purchase tickets in advance with trenitalia.com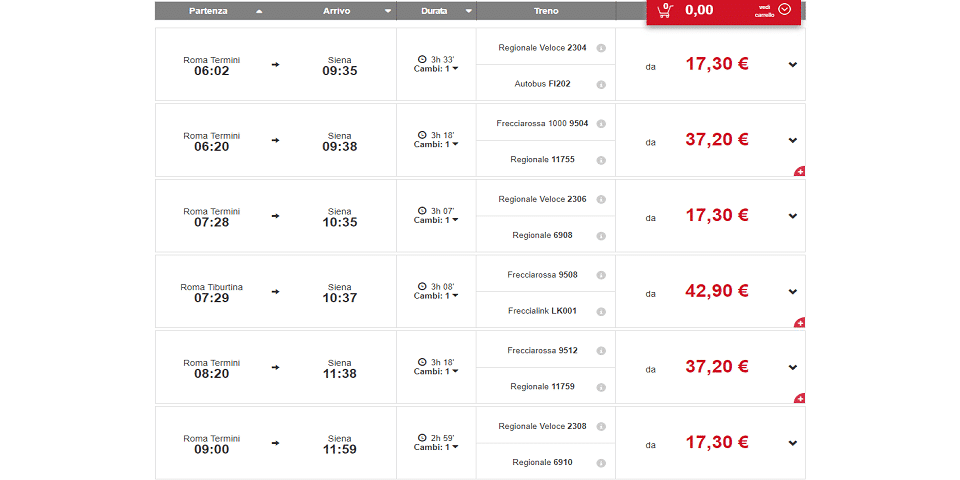 By Bus
There are many buses from different companies that depart from Roma Tiburtina bus station every 2.5 hours. You can buy tickets on the website of Flix Bus. Prices for one-way ticket start from 10 euro. The journey from Rome to Siena will take about 3 hours by the direct bus. This option is definitely convenient.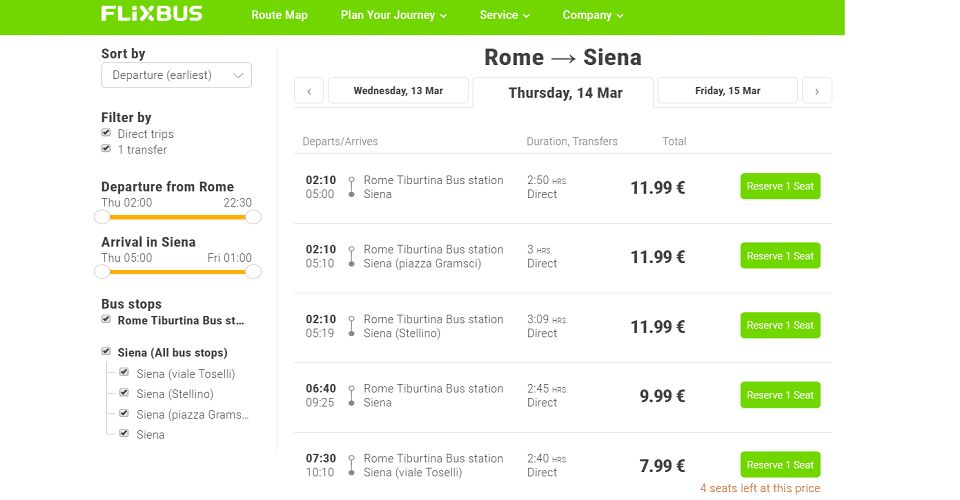 By Car
If you are going to drive from Rome to Siena, be ready for traffic in big cities on your way and possible problems with parking. However, this option is nice since you can explore cities nearby as Florence and Montepulciano. Siena is on 231 km far from Rome. It takes around 3 hours to drive from one city to another.
What to See
Piazza del Campo. It is unique square in a shell shape with bricks pavement. This piazza hosts the famous Palio di Siena
Fonte Gaia. The largest fountain of the city, located on Piazza del Campo. It is the copy of the fountain made of Carrara marble, while the original is in the museum complex of Santa Maria della Scala
Torre del Mangia. It has the height of 87 meters and you can admire the most beautiful views of the city from this tower. There are more than 400 steps to climb!
Piazza del Duomo. There you can visit the Cathedral, the Crypt and the Piccolomini Library
Cathedral of Santa Maria Assunta. This is a Romanesque-Gothic church with works signed by famous artists like Donatello, Nicolla Pisano, Michelangelo and Pinturicchio
The Piccolomini Library. The library is dedicated to Pope Pius II and is painted by Pinturicchio and his pupils, including Raphael Sanzio in 1500s.
The Baptisery. It is dedicated to Saint John (San Giovanni) and was built in 1300. The building is easy recognizable since it has incomplete facade. However, the interior is impressive and there are many frescoes by Sienese artists of the Renaissance
The Museo dell'Opera del Duomo. It is one of the oldest private museums in Italy, located inside the Cathedral
Santa Maria della Scala. It is one of the oldest hospitals in Europe, where pilgrims and poors were welcomed
The Civic Museum of Siena. It is famous for the masterpiece "the Bad and the Good Government" by Amborgio Lorenzetti
What is Palio
Palio actually is not a horse race. A palio is a banner or cloth won by the winner of a competition. Usually, it is won in a race or contest, often a horse race.
Palio competition in Siena is held on July 2 and August 16 each year
There are 10 districts out of 17 competing in the first race. Moreover, each district has their own jockey and a horse chosen at random. In August, there are the other 7 contrade race along with 3 from the first race. The competition takes place on the central square of Siena, Piazza del Campo.
Where to Stay
Siena has a really charming atmosphere and there are many nice places where to stay.
Grand Hotel Continental Siena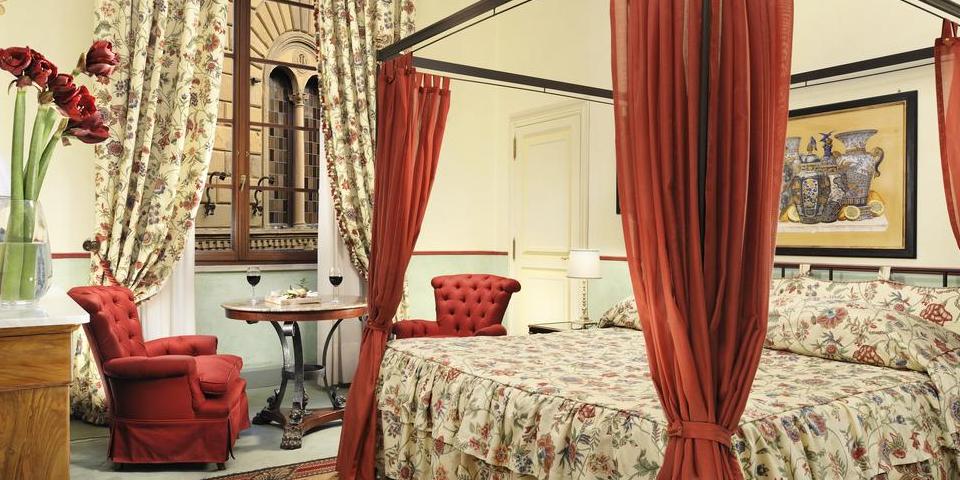 Grand Hotel Continental Siena – Starhotels Collezione is a luxury 5-star hotel right in the historical center of Siena. There are elegant rooms with frescoed ceilings and period furnishings. Moreover, there is the elegant Sapordivino restaurant, which offers gourmet traditional cuisine with the Lounge Bar which offers aperitifs and cocktails.
Price per night for 2 people starts from 350 euro
Hotel Athena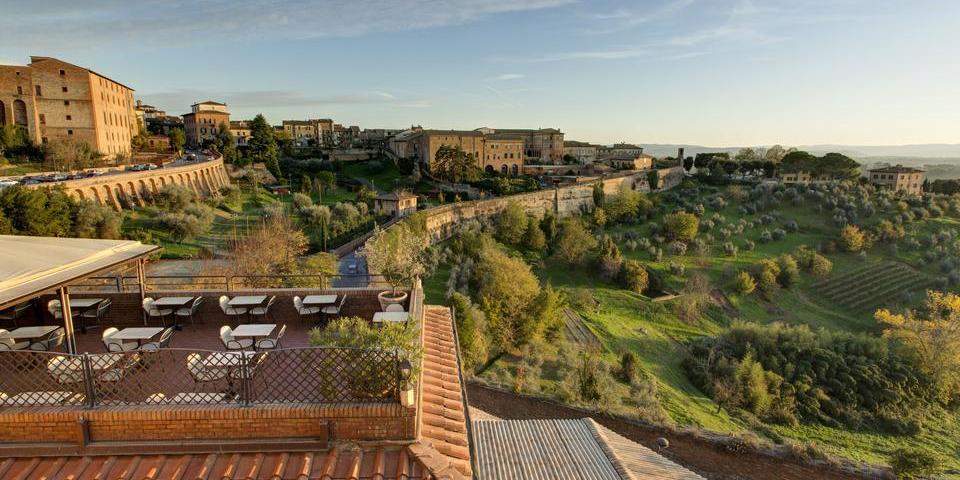 Hotel Athena is a 4-star hotel, located in the historic walls of Siena. There is a free parking, an elegant Italian restaurant and a furnished terrace with views of the town and valley. Moreover, all rooms are spacious and air conditioned.
Price per night for 2 people starts from 120 euro
Palazzo dei Vecchi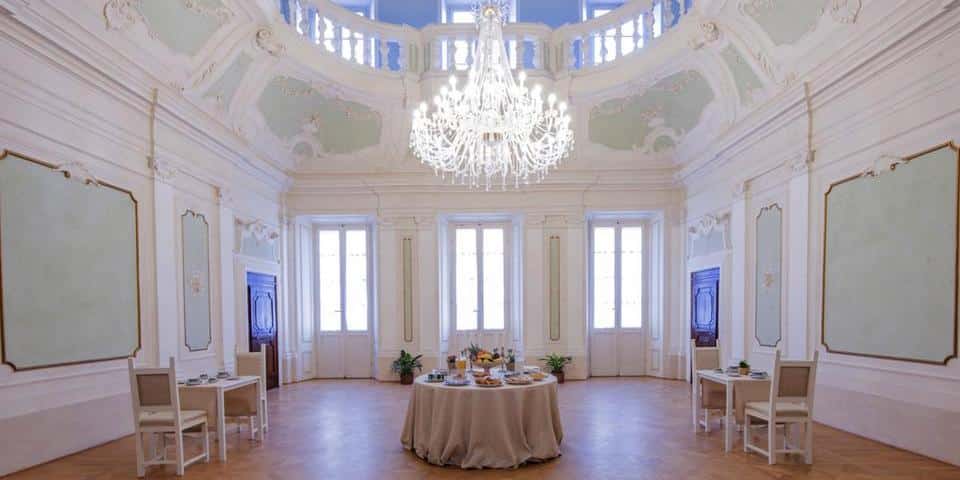 Palazzo de' Vecchi located in the historical center of Siena. It is inside the 15th century building with free WiFi access and private parking. There is a shared lounge in the property.
Price per night for 2 people starts from 200 euro
Palazzetto Rosso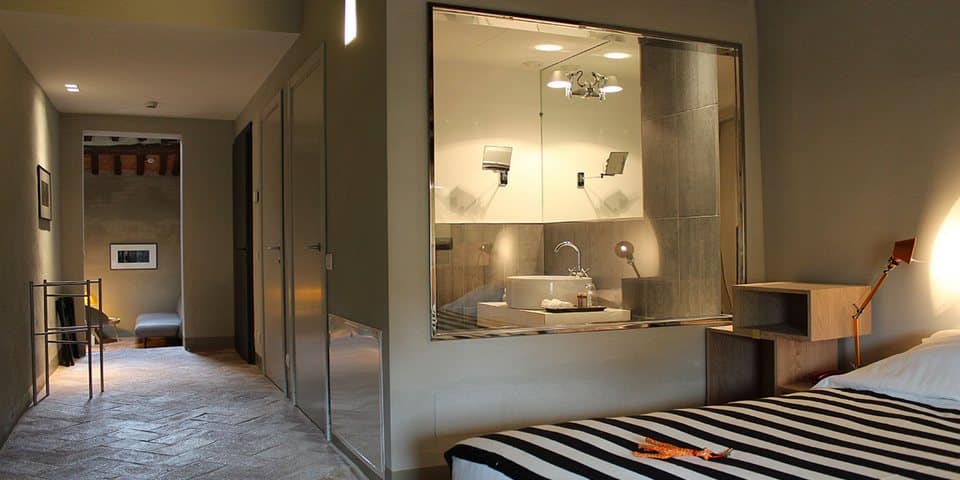 Palazzetto Rosso is a 3-star hotel. It features a shared lounge and is close to several noted attractions of Siena. All rooms are beautiful and spacious. It is a nice choice for travelers interested in Italian traditional food and history.
Price per night for 2 people starts from 150 euro
La Terrazza Sul Campo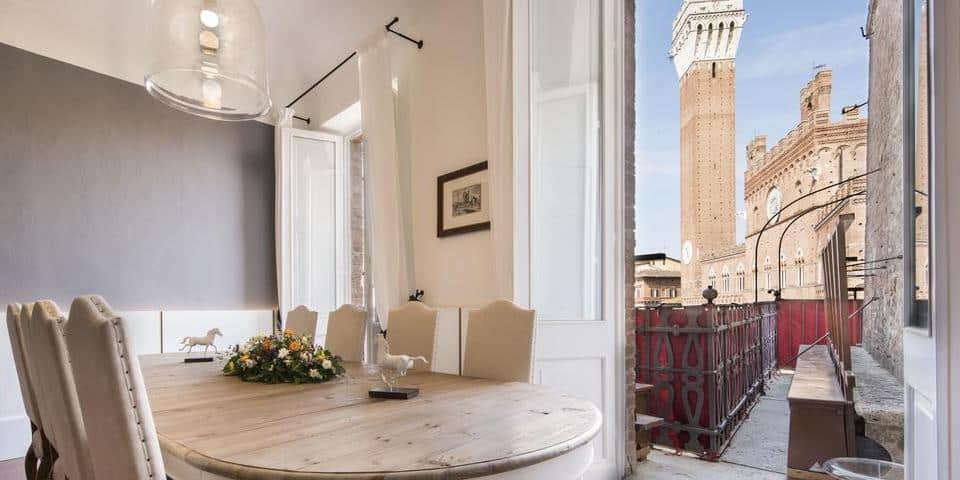 La Terrazza Sul Campo is set in a historical building, only in few steps from Piazza del Campo. There is a free WiFi and rooms with a flat-screen TV with satellite channels. Moreover, there is a sweet and savory breakfast served daily in the rooms.
Price per night for 2 people starts from 90 euro