The fastest and most comfortable way to get from Rome to Florence is by high-speed train service. Alternatively, you can take a regional train or bus for a cheaper price. High-speed train ride will take you to the destination in 1.5 hours with the one-way ticket cost starting from 19 euro. Distance from Rome to Florence is short and even by bus you will reach the destination in 3.5 hours with the one-way ticket cost starting from 12 euro. Despite the fact that two famous Italian cities located near each other, you can also reach Florence by plain. The journey will take 55 minutes with a minimum cost of 90 euro (round trip). For tourists interested in travelling by taxi or private transfer, the journey cost will start from 400 euro.
The distance between Rome and Florence is 344 km by road and 276 km by the direct air
Let's consider all transport options:
By Train
The most convenient way of getting from Rome to Florence is by high-speed train. Train fare for the one-way ticket starts from 19 euro and you will reach the city in 1.5 hours. It is one of the best options for day trips from Rome. Just imagine, you can visit the Uffizi Gallery, have a walk around the city, tasty dinner and then easily come back to Rome in the evening.
This kind of transportation goes from Roma Termini station to Florence Santa Maria Novella
The best train operator is ItaloTreno for its high class service and all amenities to travel with comfort. If you wonder how to go from Rome to Florence, I recommend you to choose this option.
How Long and How Much?
Since getting to Florence from Rome by train is the best and fastest way, it is also the most expensive one. As mentioned above, price for the one-way ticket for express train starts from 19 euro and duration is 1.5 hours to reach the destination. Moreover, do not forget to plan your journey to the station in Rome from which you will have a train to Florence. Usually, trains depart from Roma Termini and it is the central station of Rome. If you live nearby any Roman train station, you will easily reach Roma Termini. Also, there are many buses that will get you to this station, but I recommend using trains or metro, for not to be late.
ItaloTreno
ItaloTreno's prices for the one-way ticket start from 19 euro. You can easily purchase a ticket from their official website. Also, it is always better to plan your trip in advance, so you can find cheaper tickets.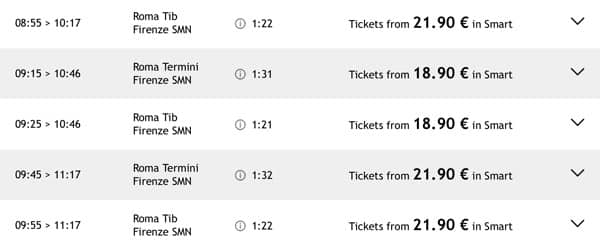 Here you can see different prices for the tickets. As it is shown on the screenshots, the cost vary according to the time of departure and class. "Prima" means the first class, which is dedicated to the travellers seeking for journeys with maximum comfort. "Smart" option gives the best deals, but don't worry, its level of comfort is still amazing.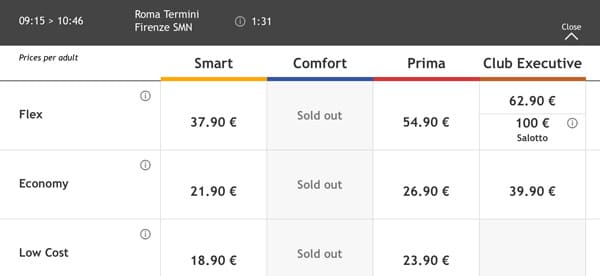 When you return from Florence to Rome, better book tickets in advance. You have to stay sure that there are available spots left in the train for the time that you chose in the eurail schedule. Usually, the best option is to take a return bullet train at 7-8 pm, so you will have enough time to discover Florence in one day. Moreover, you will come back to Rome until midnight.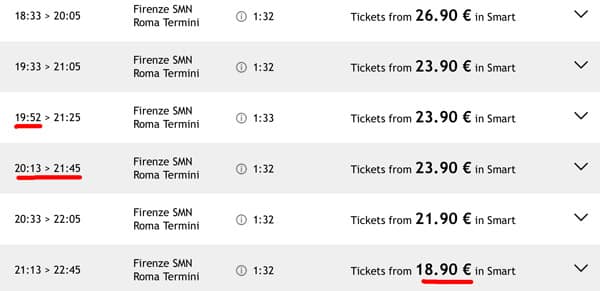 This is my suggestion for the plan for one day trip from Rome to Florence (using ItaloTreno). Even if these two cities are not far from each other, it is always a good idea to come earlier and start exploring new destinations without crowds of tourists.

Trenitalia
Trenitalia is a good alternative way to reach Florence from the Eternal City. The website has a bit more complicated registration procedure and sometimes there are faults. Trains from this service departure once in an hour and I suggest you to take high speed trains Frecciarossa. Regional trains' rides have the same price, but it will take almost four hours to reach the city.
Direct Train from Fiumicino Airport
There is only one direct train from Rome Fiumicino airport to Florence. According to the timetable, it departs daily at 3:08 pm. Be ready, ticket price goes up if you book it right before your journey or if you plan your trip on holidays. You can get to the Fiumicino by taking a taxi, ordering private transfer, by bus or bullet train Leonardo Express.

Ticket price starts from 19.90 euro if you book it several months in advance. Average cost is 45.90 euro in economy class and 62.90 euro in business class.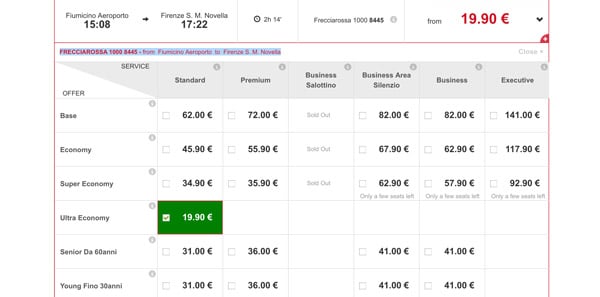 By Bus
FlixBus company is one of the most popular services for budget travelers, who want to visit Florence from Rome, since it is the cheapest kind of transportation to travel. Buses depart from Rome Tiburtina Station once in 1-2 hours. You can book tickets online or buy directly on the bus station. The journey will take 3 hours 15 minutes. Bus fare starts from 9.99 euro.
Buses arrive to Villa Costanza Tram T1 stop in Florence

By Car
Driving to Florence by car is also convenient way. Distance from Rome to Florence by car is about 300 km. The idea to travel in this way is amazing if you are interested in visiting small cities of Lazio and Tuscany regions. For instance, you can visit Civita di Bagnoreggio, Spoleto, Orvieto, San Gimignano, Arezzo on your road from one city to another. Moreover, it is better plan such kind of trips for 3-5 days.
You can also drive to Bracciano or Lago di Bolsena lakes on your way to Florence from Rome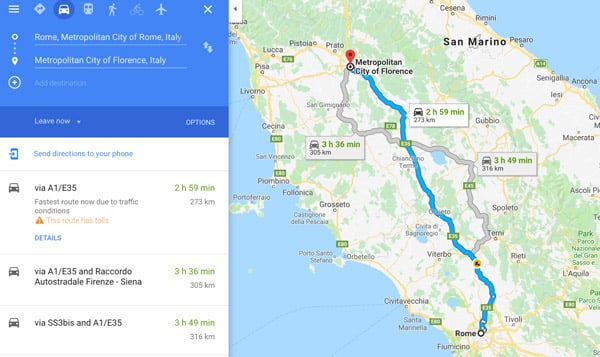 Flight
Yes, there is also a possibility to fly from Rome to Florence. Flights to Florence, Italy are frequent: 4 times per day and they are provided by Alitalia company. On average, the price is 93$.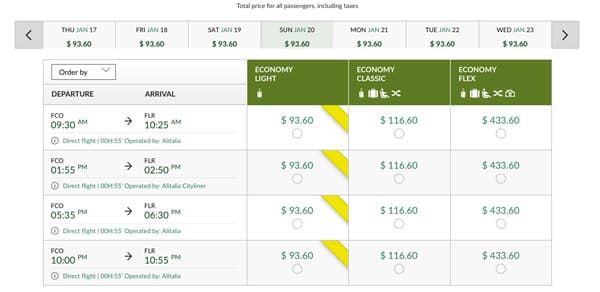 By Taxi
Taxi from Rome to Florence is one of the most expensive options. For instance, private transfer from Rome to Florence costs 430 euro for one-way trip. However, it is the most comfortable way to reach the city and enjoy your journey with a maximum comfort. As an alternative, you can book taxi online.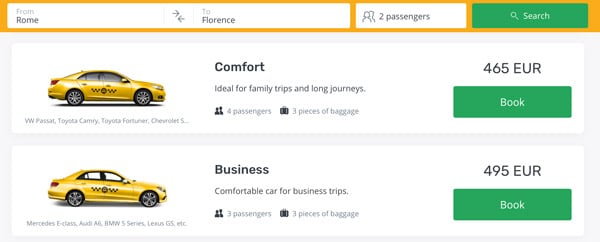 7 Things to Do in Florence During One Day Trip
Visit the Gallery Uffizi which is a prominent art museum located next to Piazza della Signoria in the historic center of the city. It is considered one of the most popular and important museums of Italy and the world. There are many important works, mostly from the period of the Italian Renaissance.
Admire David by Michelangelo – it is a masterpiece of Renaissance sculpture created in marble between 1501 and 1504. It represents a standing male nude, who is a Biblical hero David
Try the Florentine steak – you will come to the city of meat lovers with many different specialties! T-bone steak is one of the most famous dishes in Florence, known as bistecca alla Fiorentina. According to the rules, it should be from Chianina cow, which is a breed coming from the Valdichiana in Tuscany
Walk over Ponte Vecchio – one of the most fascinating and notable bridges of Florence. Don't miss an opportunity to visit it during your trip
Admire sculptures in Piazza Signoria – there are copies of famous masterpieces. Also, one of sculptures is original – "Perseus with the head of Medusa" by Cellini
Climb up to Giotto's bell tower – one of the four main monuments on the Piazza del Duomo. The tower is 84.7 meters high and is an example of 14th century Gothic architecture in Florence
Buy a leather product – there are many luxury boutiques, raucous street bazaars, private workshops and sidewalk trinket sellers in Florence. It is one of the best souvenir options of the city
Where to Stay in Florence
There are many luxury hotels, hostels, bed and breakfast and other accommodation options in the city centre. Here's the list of several best 4* hotels, boutique hotel and hostel to stay in Florence:
C-Hotels Ambasciatori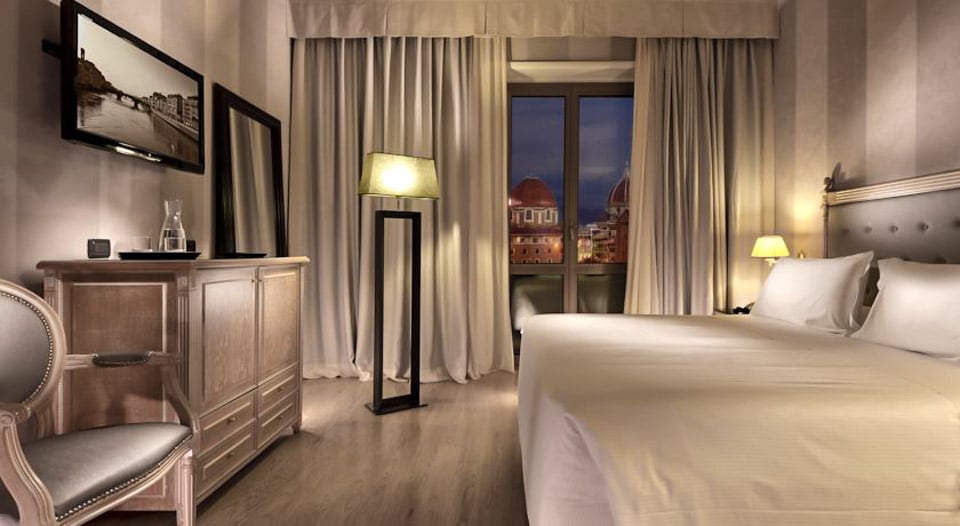 C-Hotels Ambasciatori is an elegant hotel right near Santa Maria Novella Church in the historic center of Florence. There are spacious rooms, mini-bar, LCD TV. Some rooms include balcony, a hydromassage bath and wellness kit.
Price: from 180 to 400 euro for 2 people per day
Atlantic Palace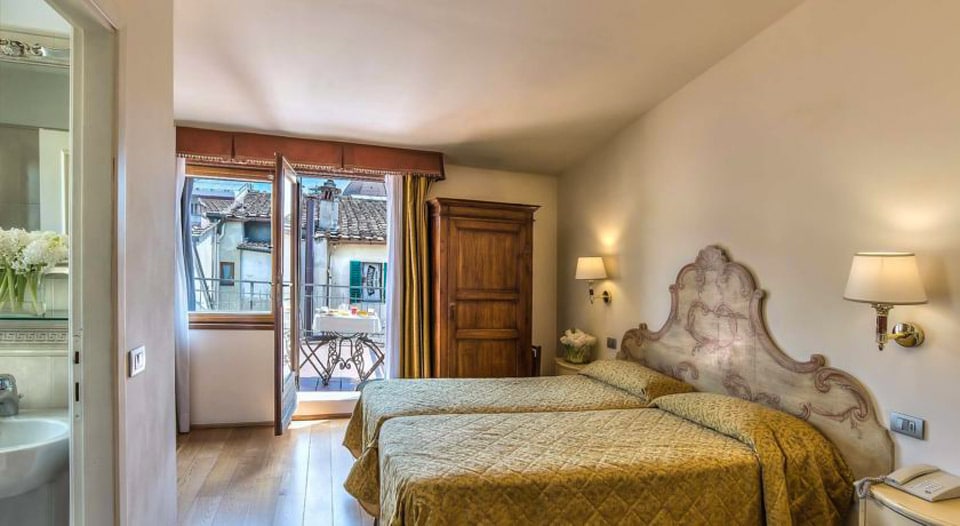 The Atlantic Palace is a charming hotel next to Florence Santa Maria Novella train station. There are the rooms of the restored 14th-century monastery in a classic style. Moreover, there you will find all amenities and good service.
Price: from 150 to 450 euro per day for 2 persons
Grand Hotel Minerva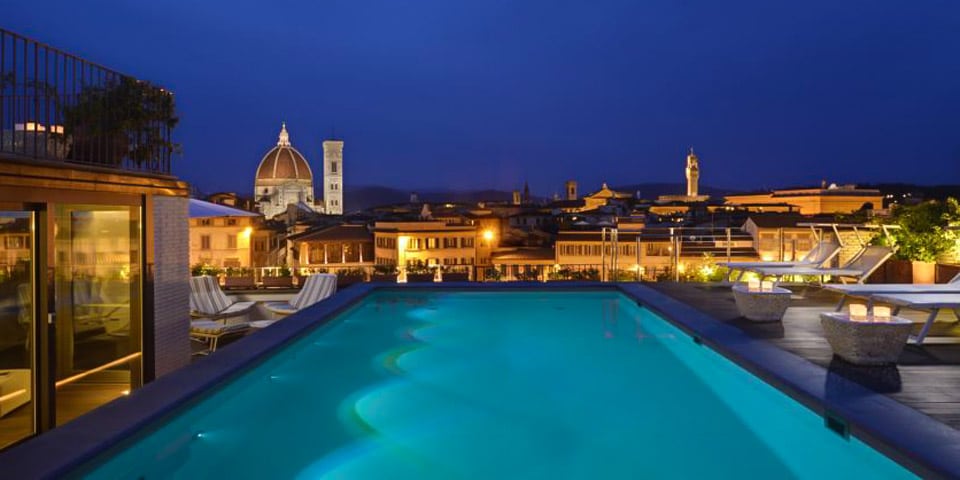 Grand Hotel Minerva is an accommodation which features a rooftop, swimming pool and sun terrace with amazing views of the city. It is located nearby SMN train station. Its rooms are charming and with all amenities.
Price: from 335 to 645 euro per day for 2 persons
Grand Hotel Baglioni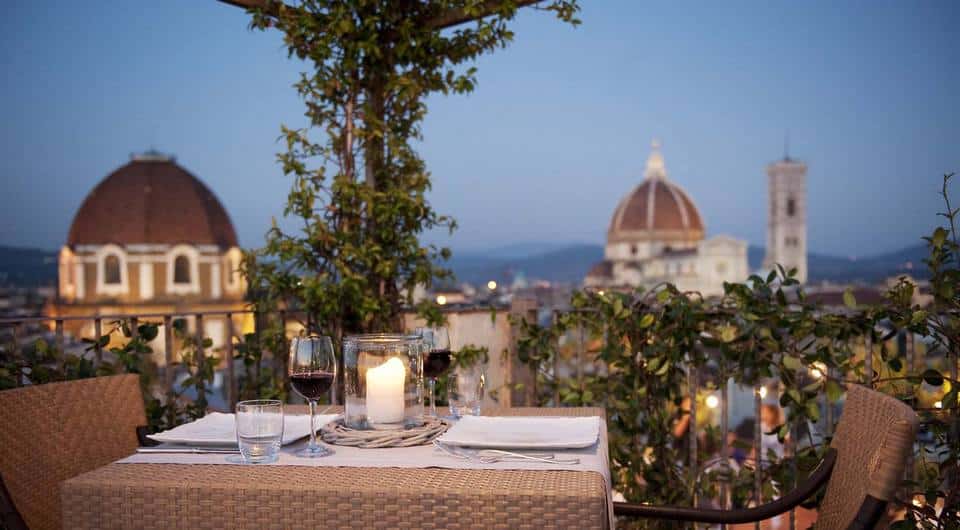 Grand Hotel Baglioni is a former residence of the Carrega Bertolini Princes. It is located near Santa Maria Novella train station. All rooms are spacious and there is a free Wi-Fi, rooftop restaurant and a smartphone is provided in each room, so you can do free local and international calls and use mobile internet.
Price: from 250 to 370 euro per day for 2 persons
Grand Hotel Cavour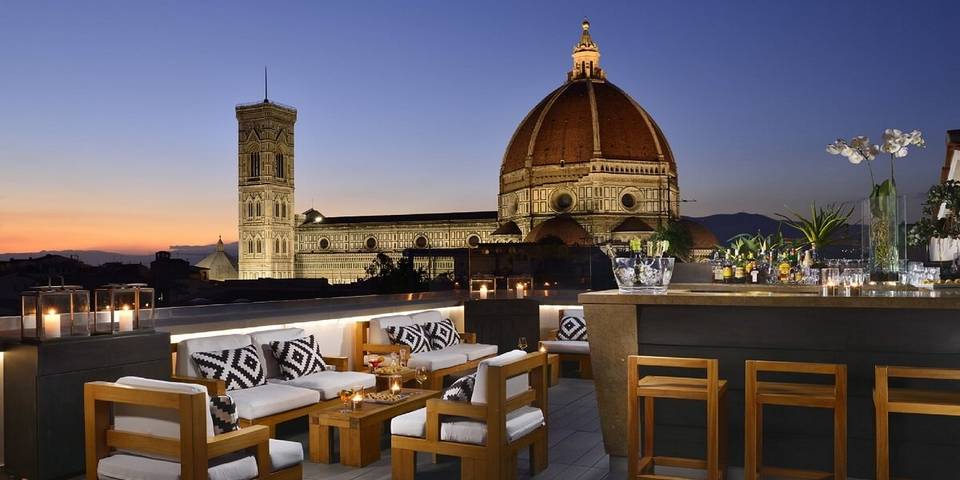 Grand Hotel Cavour has a rooftop terrace with fascinating views over Florence Cathedral. The Uffizi Gallery and Ponte Vecchio are nearby the hotel. Moreover, there is a restaurant and cocktail bar which works daily until midnight.
Price: from 100 euro to 300 euro per day for 2 persons
Hostel My Friends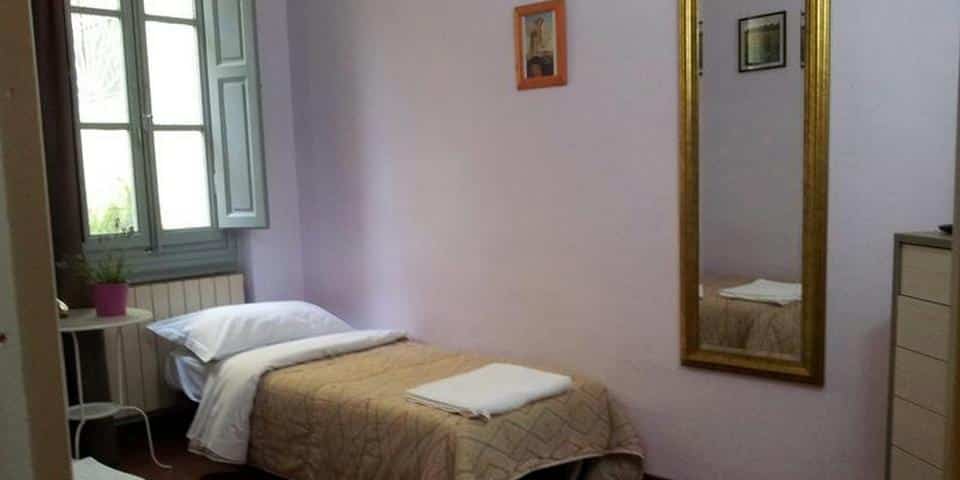 My Friends is one of the top rated hostels of Florence. It is located only 45 meters from Santa Maria Novella train station. The hostel provides an accommodation with free WiFi. There are classic-style rooms with air conditioner. You can choose among rooms with private or shared bathrooms with free toiletries.
Price: from 35 euro per person per night
Dedo Boutique Hotel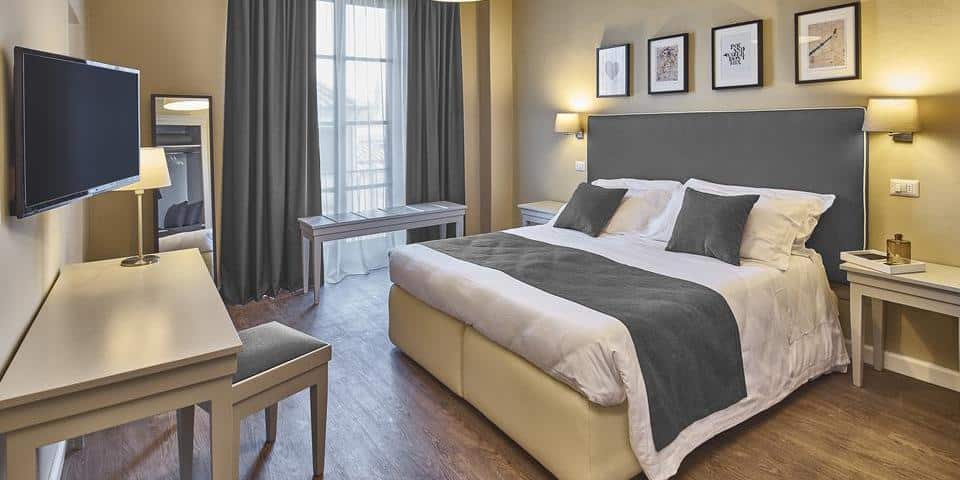 Dedo Boutique Hotel has an amazing location right near the central station of Florence. There are classic-style rooms with air conditioner, free WiFi and parquet floors. Moreover, all rooms come with a satellite flat-screen TV, minibar and electric kettle.
Price: from 70 euro per night for room for 2 people
Have you ever been in Florence? 🙂