Rome has plenty of rooftop bars and restaurants for romantic dates, special events or regular evenings with a dinner or a drink. Moreover, terraces in the eternal city offer you a fantastic overlooking many monuments as the Colosseum, Saint Peter's Basilica and many other views. Likewise, prices in such kind of places are higher than in any regular restaurant, but undoubtedly, you will enjoy the evening with the view of the breathtaking sunset of the Eternal City, while sipping a cocktail.
Terrazza San Pancrazio
San Pancrazio is a lively terrace just above Trastevere, on via Garibaldi. Together with a beautiful view, there is a lot of fun, sushi, and music. Moreover, the menu of the rooftop bar offers not only sushi but tartare, carpaccio, anchovies, stracciatella and many other tasty specialties. The price for a glass of wine or beer is 5 euro, while cocktails cost from 8 to 12 euro.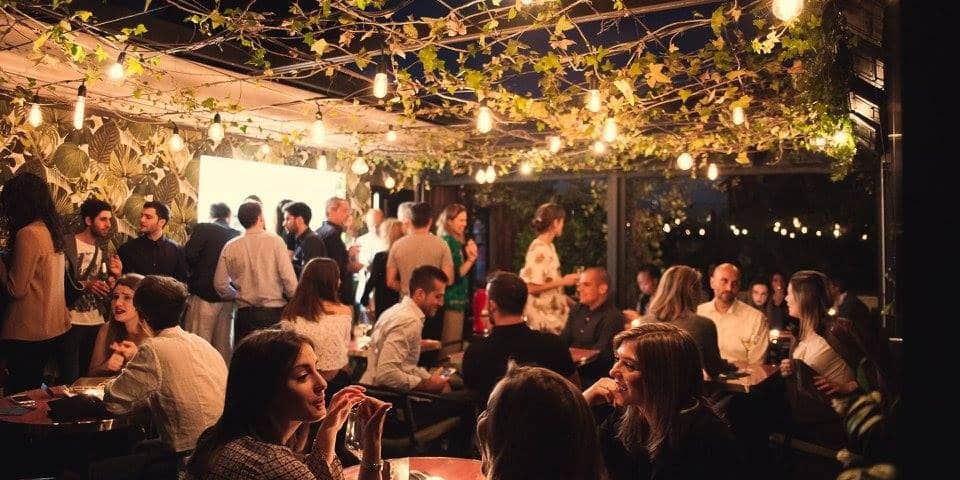 Terrazza Caffarelli
The rooftop bar is near the entrance to the Capitoline Museum, at Piazzale Caffarelli. It has a breathtaking view and is an excellent spot to spend a couple of hours on a sunny day. If you meet a museum guard on your way, just explain that you would like to go to the bar and they will help you to reach an elevator. This is an amazing option where to have a drink, coffee or just to enjoy the view.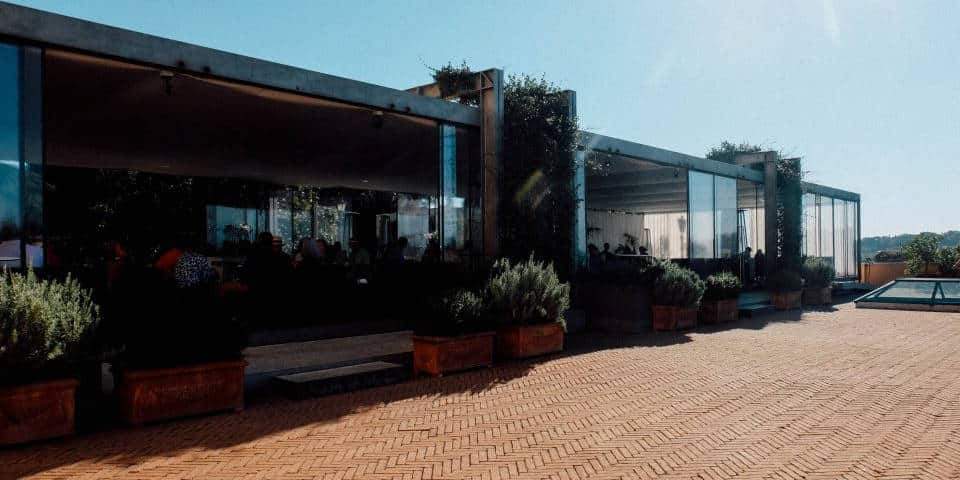 Bramante Terrace
Bramante Terrace is an excellent choice to visit during the days with good weather. At first, this place has one of the most breathtaking views in Rome. Secondly, Raphael Hotel created a menu with creative, bio and vegetarian cuisine with seasonal products.
You might also like: Best Vegeterian and Vegan Restaurants in Rome
The philosophy of the rooftop restaurant is in caring about allergies or food intolerances of their guests and melding together unusual ingredients, showing visitors unique food harmonies. Additionally, the dishes of Bramante Terrace have been conceived by Pietro Leemann, founder of Joia Restaurant in Milan, and Chef Ettore Moliteo.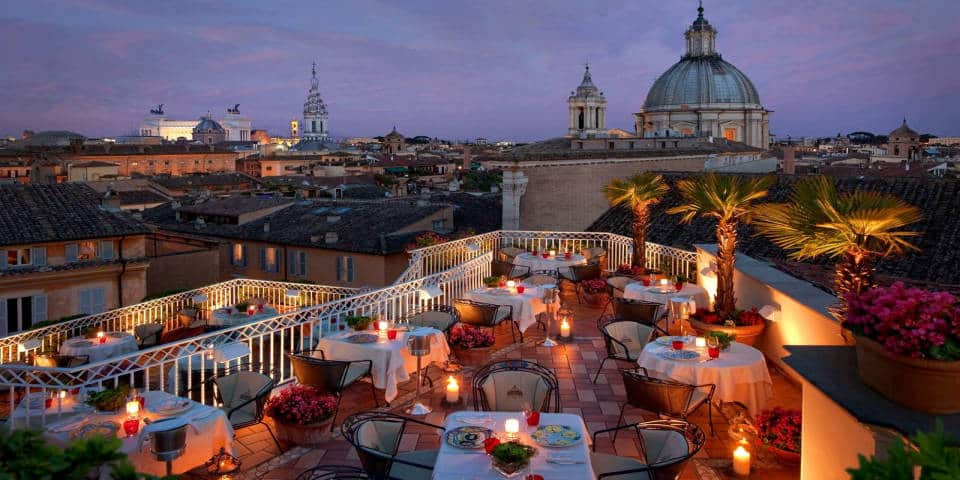 Restaurant Sette
Restaurant Sette offers fresh seafood and gourmet pasta main courses. Together with dishes from Italian cuisine, you can choose among a wide selection of wines and the desserts. Moreover, the rooftop restaurant is a perfect choice for a romantic date or business dinner.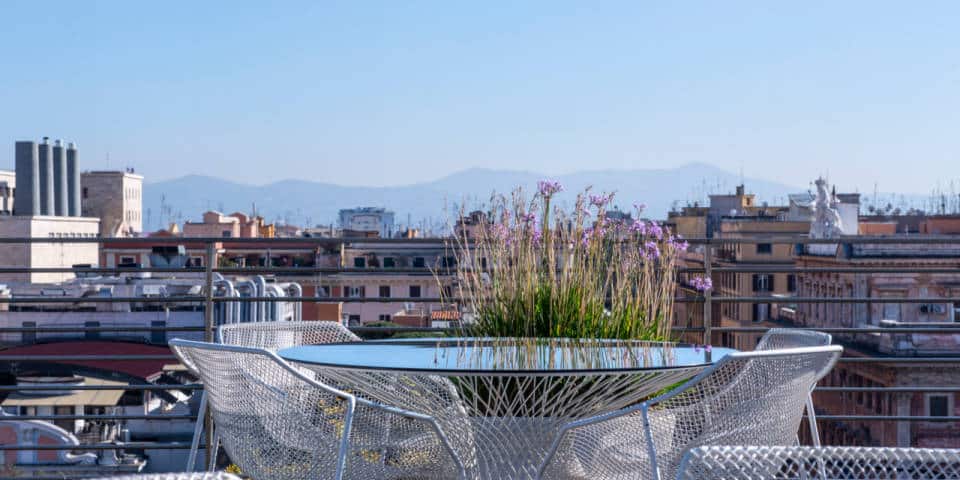 La Terrasse Cuisine & Lounge
You can admire a breathtaking view from the terrace of the restaurant "La Terrasse Cuisine & Lounge," located on the seventh floor of the Sofitel Hotel, a few steps from Via Veneto. Usually, there are a lot of events organized by international brands. The feature of this restaurant is in its attentive and professional service and a wide selection of wines.
Moreover, the chef Giuseppe D'Alessio has structured a varied culinary offer, which includes four menus: dedicated to children, vegetarians, a menu with gourmet dishes, and "without salt."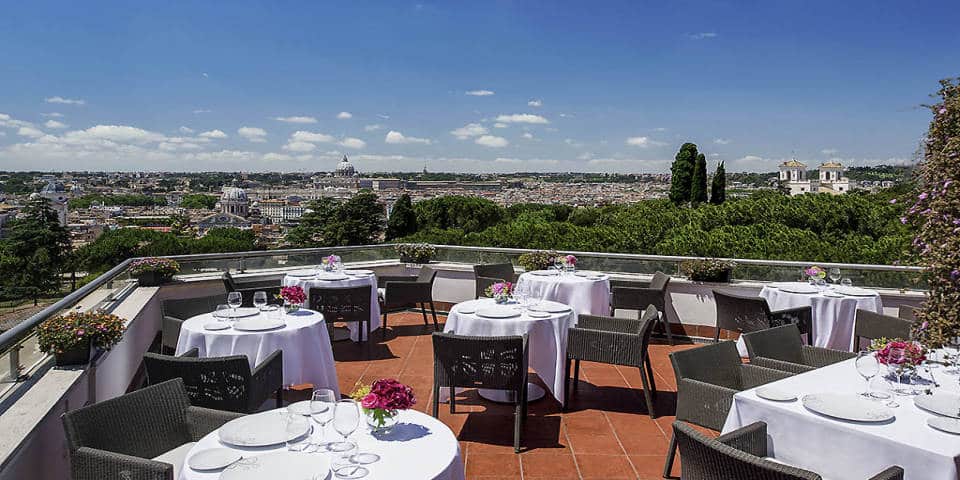 Les Etoiles
The top floor of the Hotel Atlante Star is the restaurant Les Etoiles with open-air panoramic to the Vatican City and surroundings. The rooftop restaurant offers traditional Italian cuisine with some international specialties. Moreover, there is a wide selection of the best Italian regional wines. This place is ideal for the evening with a cocktail in a good company, in a like manner for any special events like wedding or birthday celebration.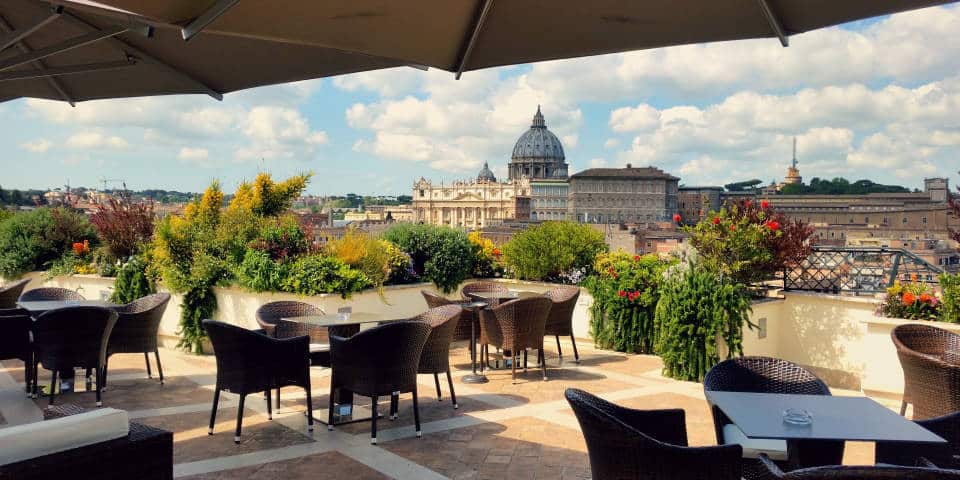 The First Luxury Art Hotel Roma
Located on the sixth floor, the rooftop bar with a two-level terrace offers the 360 degree view of Rome and is the perfect place to overlook a Roman sunset. You can order one of the cocktails with a price from 15 to 20 euro or a glass of wine for 12 euro.  Moreover, the rooftop is open to guests all year. Also, you are always welcome to visit the terrace of the First Luxury Art Hotel for an aperitif (from 7 pm to 12 am) or a dinner.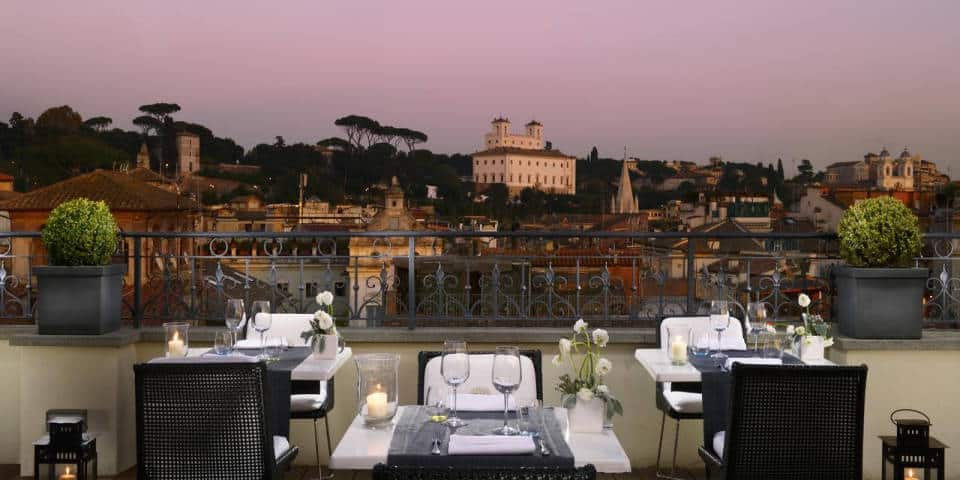 Circus 47
The rooftop restaurant Circus 47 located in Forty Seven Hotel in Piazza Venezia offers the delicacies  of the best Mediterranean cuisine. Moreover, it is a great place to spend the evening with your second half or to celebrate any event in a company of closest people. The rooftop restaurant works during the warmest months of Rome and is waiting for you for lunch and dinner!
Note: Reservations required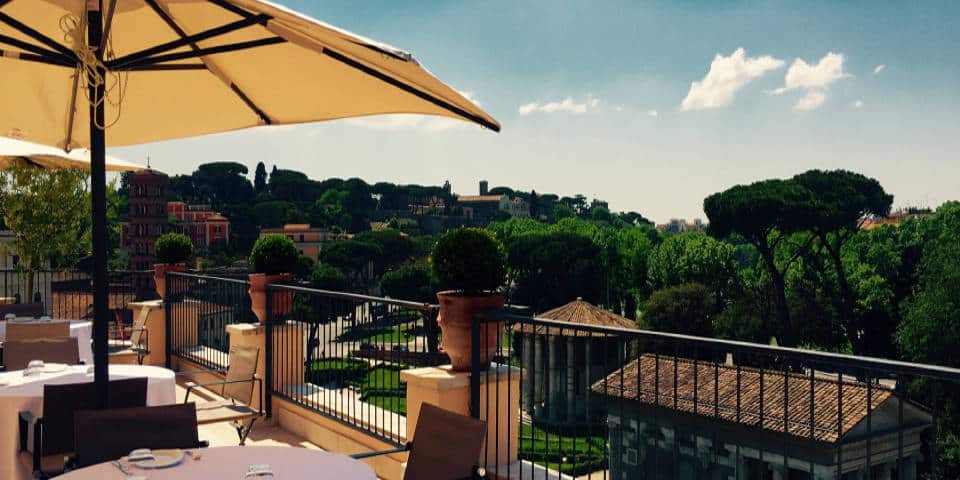 Hotel Forum Rooftop
The four stars Hotel Forum has a terrace full of greenery on the top floor, which is mainly famous as the place for the perfect romantic date. Moreover, the restaurant has a beautiful view of the Colosseum and three Roman Forums. It is worth to mention the variety of dishes that Hotel Forum Rooftop offers to its guests, where each can find something that matches his tastes.
La Terrazza del Cesari
La Terrazza del Cesari is the rooftop bar in the center of Rome with an elegant atmosphere and exclusive service. Here, you can taste unique cocktails while watching the sunset of the eternal city. Moreover, to see the magnificent panorama, you have to go up to the sixth floor of the 9 Hotel Cesari. The rooftop restaurant & bar perfectly fits for any event, whether lunch or dinner, relax alone or a romantic date.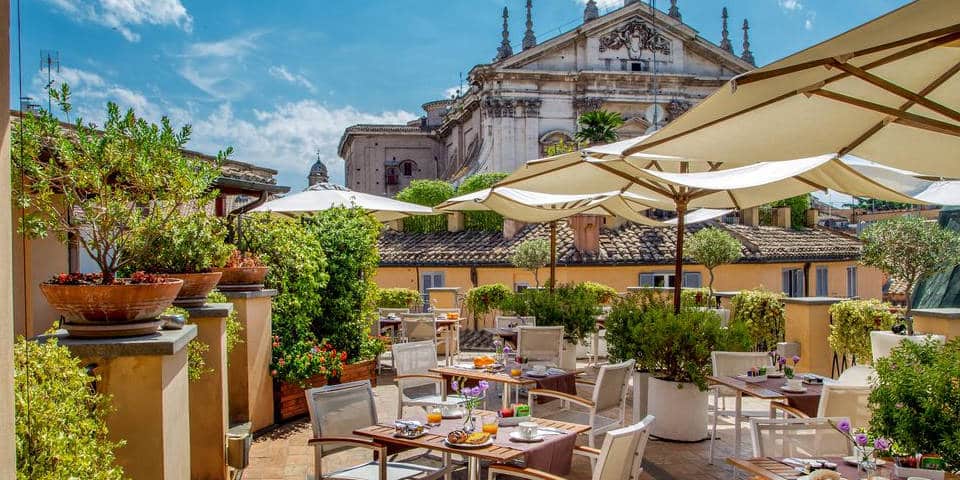 La Terrazza Dei Papi
The Roof Garden of Mecenate Palace Hotel offers a beautiful view of the Piazza di Santa Maria Maggiore and the panoramic view of Rome. Importantly, this rooftop restaurant & bar is perfect for romantic candlelit dinners, evening with friends and cocktails, and any kind of parties or celebrations as birthday, anniversary, wedding, business brunch and other. Moreover, from the menu you can order specialties of Mediterranean and interregional cuisine.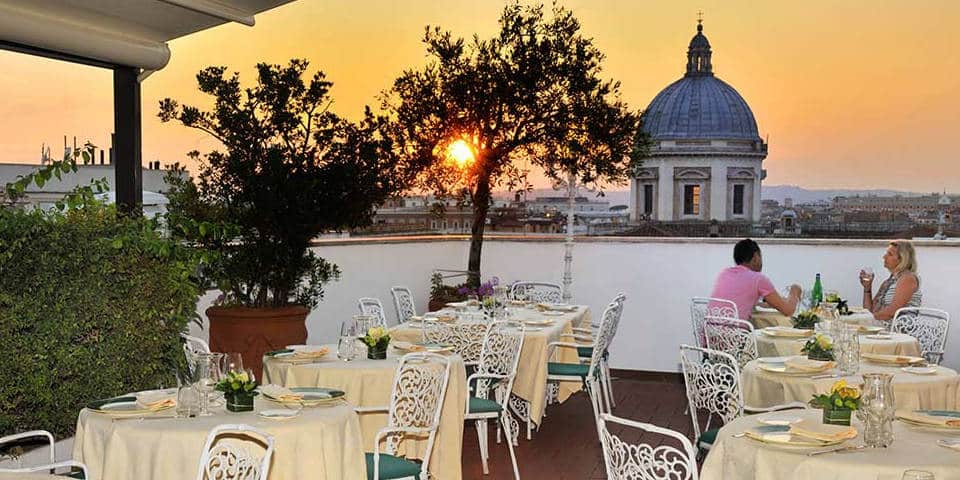 Rooftop restaurants and bars are special places in Rome because you can enjoy a view to monuments and historic corners of the eternal city, while relaxing in a good company. Have you ever been in a rooftop bar or restaurant?