Rome located in the region of Lazio, right nearby famous Tuscany region. Tuscany is worldwide known for its medieval towns, cuisine, art, and wine. It is definitely worth to explore the region of green hills from Rome, at least for a day-trip. Moreover, the distance between Tuscany and Rome is 280 km. Your journey to the final destination will take from 1 to 5 hours. There are many transportation options on how to get from Rome to Tuscany, where the most convenient are a high-speed train or car.
Here's the list of options on how to get from Rome to Tuscany:
By Train
Getting from Rome to Tuscany region by high-speed train is easy, convenient, fast and not expensive. There are many fast train options functioning daily from 6 am to midnight with different journey time and prices, depending on the city of your final destination. Most popular and visited cities of Tuscany are Florence, Pisa, Lucca, Siena, and San Gimignano.
The main route that passes through Tuscany from Rome is through Florence
You should better buy train tickets in advance, so there is a high chance to purchase them for discounted prices. You can book tickets online on ItaloTreno or Trenitalia websites. There is a direct train which goes from Roma Termini station to Santa Maria Novella in Florence and the journey takes only 1.5 hour. Here's the example of schedule and prices from Rome to Florence by train:
Trains from Rome to Florence are the most frequent and prices for-one way ticket start from 15 euro. Another option is to go to Siena with stop in Florence because most of the high-speed train tickets to Siena are not direct. Prices also start from 15 euro. Here's the example: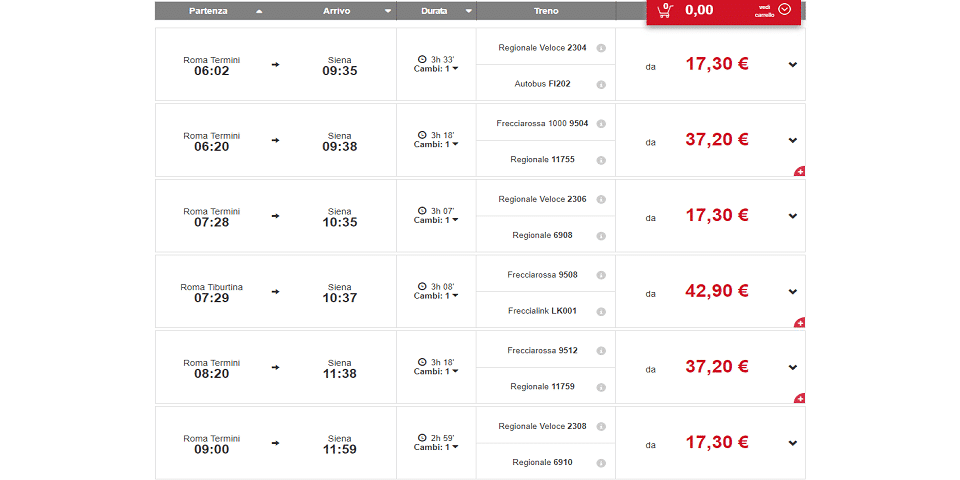 If you want to see the Leaning Tower, you can go directly to Pisa by fast train. There are both direct trains and with stop on Florence. Prices start from 20 euro: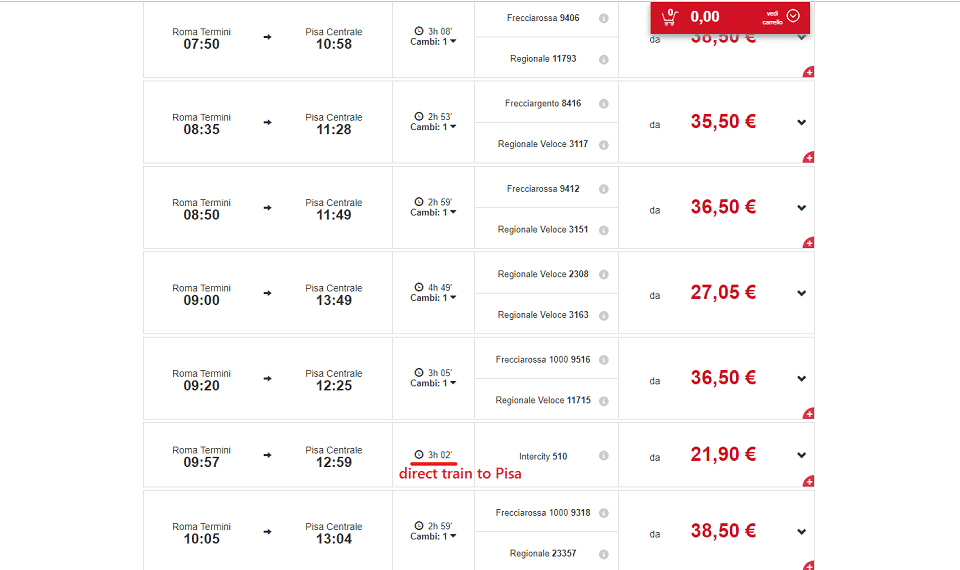 Also, Trenitalia offers fast trains to Lucca with train change in Florence central station. The journey takes about 3 hours and prices start from 25 euro: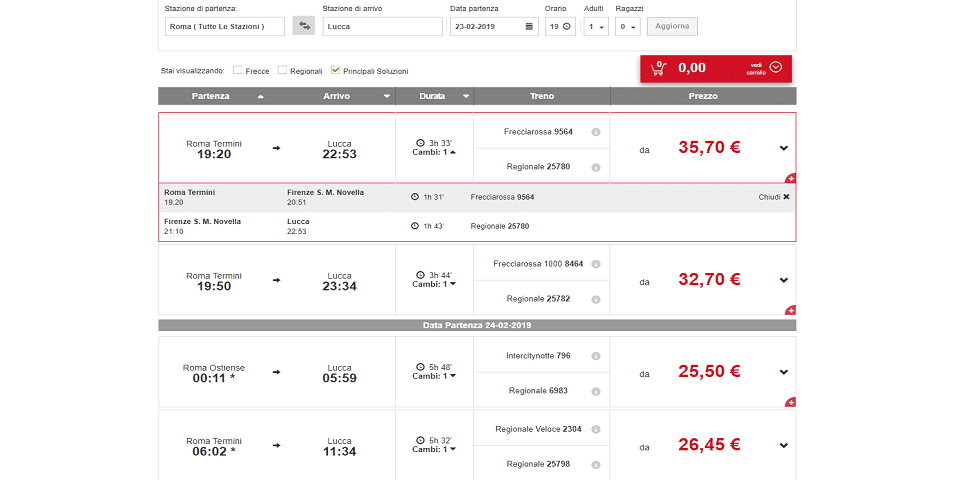 By Bus
Getting from Rome Tiburtina bus station to any of cities in Tuscany may take more time, but there are direct buses to Pisa, Siena, Florence and several interesting cities. You can buy bus tickets on the website of Flix Bus company. Prices to different destinations start from 9.99 euro one-way. This option is nice since you can wake up earlier and make a day-trip from Rome to Tuscany for a really good price. For instance, here's the schedule and prices of Flix Buses from Rome to Florence: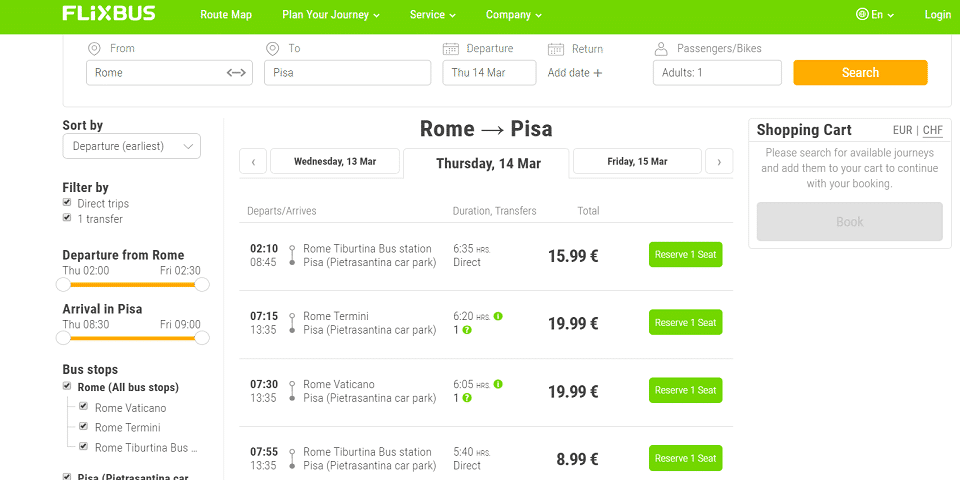 By Car
The distance between Rome and Tuscany is around 280 km by car. This option is the most convenient in a way that you can easily explore towns and cities of the region. Tuscany is famous for its greenery, beautiful views and charming valleys.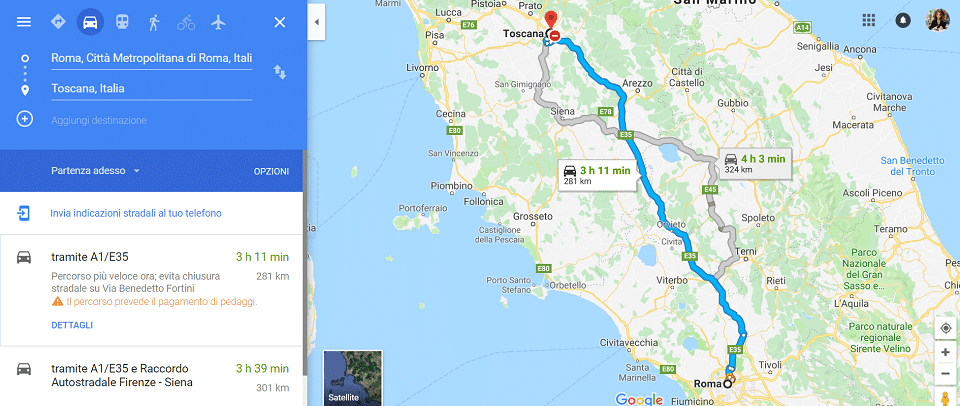 By Plane
There are airports in Pisa and Florence, so you can travel from Rome to Tuscany by plane. This option is not cheap despite the fact that the flight takes less than 1 hour. However, do not forget to consider time for the road to/from airports. For instance, one-way ticket price from Rome to Pisa by plane starts from 30 euro and most popular airlines that offer flights between two cities are: Alitalia.com (80-100 euro for one-way ticket) and Ryanair.com (30-50 euro for one-way ticket). It takes only 55 minutes to reach your final destination by air. Flights to Florence are frequent: 4 times per day and they are provided by Alitalia company. On average, the price is 80 euro.
Things to Do
Climb to the Leaning Tower in Pisa
Visit the Uffizi Gallery in Florence
Visit wine tasting in Chianti or try Montalcino wine in Montalcino
Try famous Florentine steak (bistecca)
Explore the movie scenes of "Twilight" in Montepulciano
Climb the clock tower in San Gimignano
Admire the Florentine Duomo
Admire masterpieces of Michelangelo and other famous artists in Florence
Try truffle hunting in San Miniato
Visit the Palio competition in Siena
Walk along medieval streets of Lucca
Rent a real castle for your holiday
Visit famous valleys as Val d'Orcia of the Tuscany
Try local dishes and olive oil
Pass by charming Volterra city
Where to Stay
Tuscany is not small, but it is convenient to discover it by train, bus or car. There are so many options where to stay on any budget. Depending on your preferences, there are several options that we suggest in different cities of Tuscany:
Villa La Principessa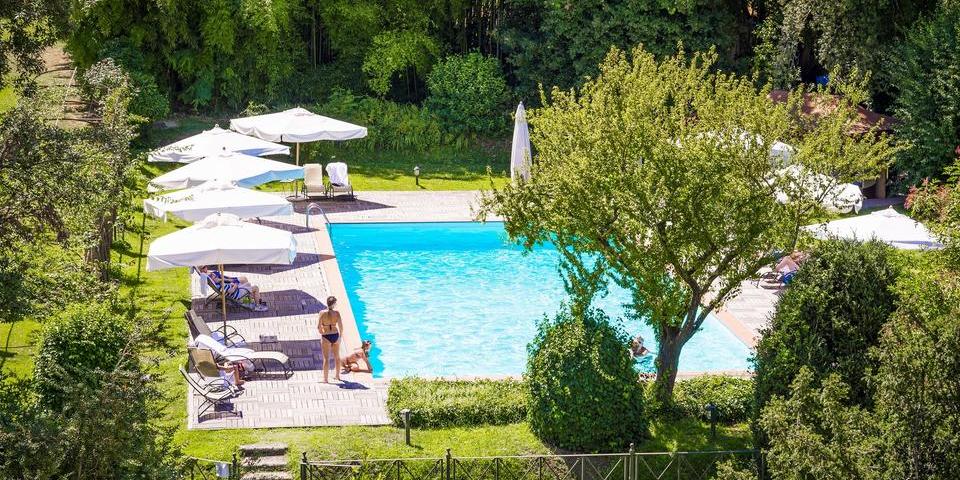 Hotel Villa La Principessa is an elegant hotel with a relaxing pool area, located in Lucca. There is a restaurant with traditional food of Tuscany and traditionally-furnished rooms. Moreover, this 13th century house once belonged to the Duke of Lucca. All rooms include air conditioning, WiFi and a minibar.
Price for 2 people per night starts from 120 euro
Grand Hotel Minerva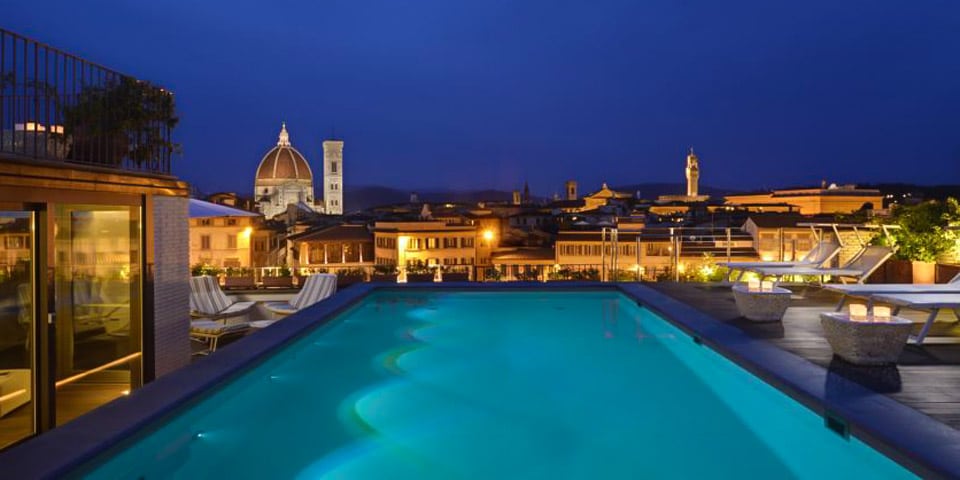 Grand Hotel Minerva is an accommodation in Florence which features a rooftop, swimming pool and sun terrace with amazing views of the city. It is located nearby SMN train station. Its rooms are charming and with all amenities.
Price: from 335 to 645 euro per day for 2 persons
Hotel Athena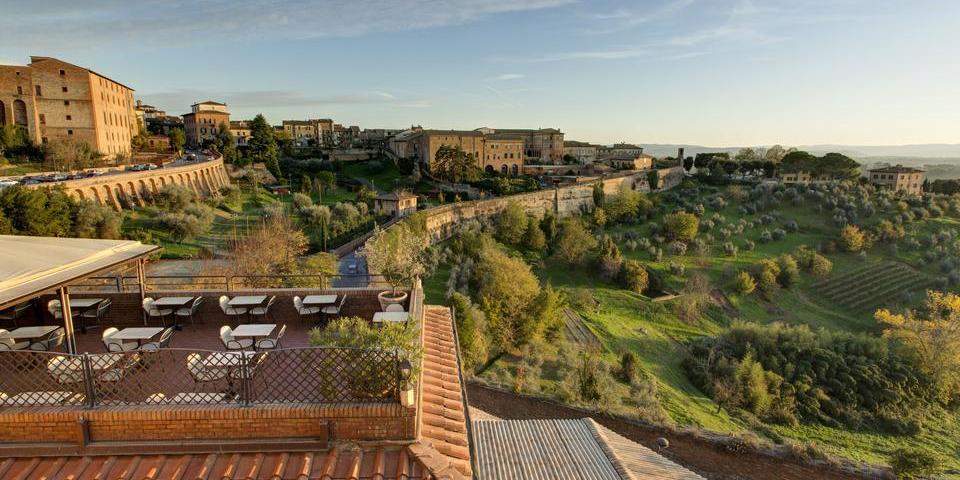 Hotel Athena is a 4-star hotel, located in the historic walls of Siena. There is a free parking, an elegant Italian restaurant and a furnished terrace with views of the town and valley. Moreover, all rooms are spacious and air conditioned.
Price per night for 2 people starts from 120 euro
Dedo Boutique Hotel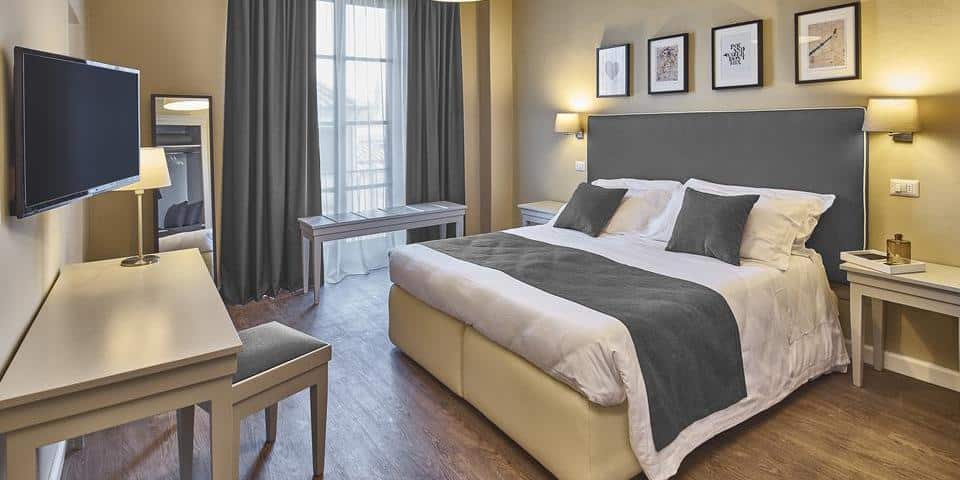 Dedo Boutique Hotel has an amazing location right near the central station of Florence. There are classic-style rooms with air conditioner, free WiFi and parquet floors. Moreover, all rooms come with a satellite flat-screen TV, minibar and electric kettle.
Price: from 70 euro per night for room for 2 people
Pisa City Lodge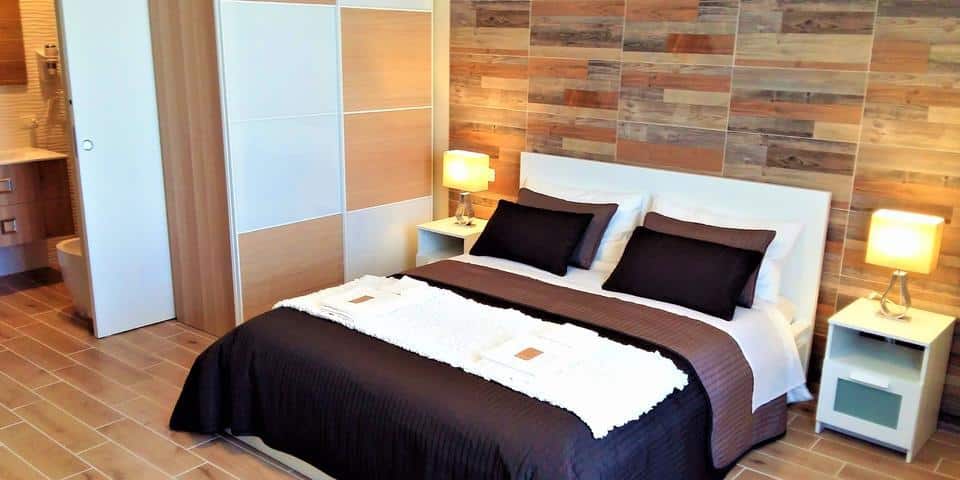 Pisa City Lodge located near Piazza dei Miracoli and Pisa Cathedral. This bed and breakfast offers a flat-screen TV and a private bathroom with free toiletries. Moreover, an Italian breakfast is served daily in the property. The B&B is high-rated by its guests.
Price for 2 people per night starts from 80 euro
Hotel Panoramic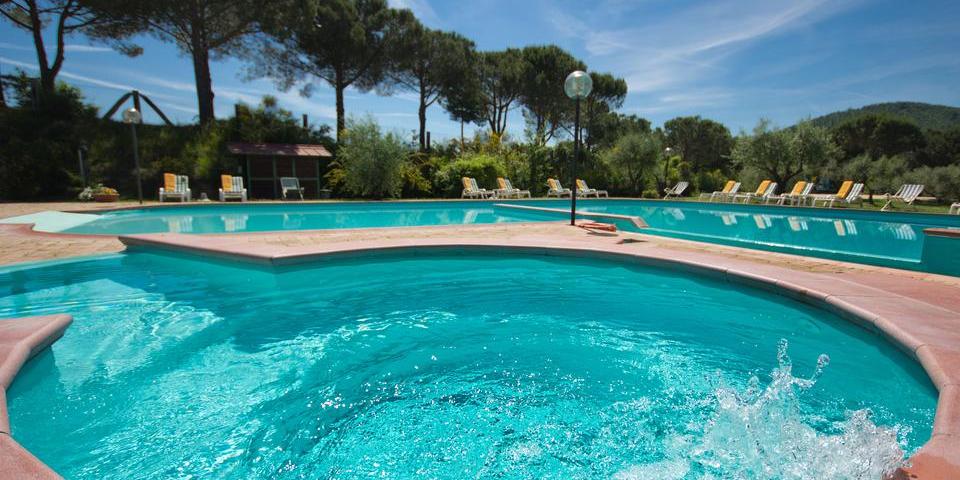 Hotel Panoramic located in Montepulciano. It is overlooking the Tuscan countryside from an altitude of 1969 feet. There is a large garden and an outdoor pool with hydromassage area. It is a really nice option to relax in a quite area full of greenery.