Positano is one of the most famous towns in Italy, located on the Amalfi coast. The Amalfi is part of Campania region, south of Naples. The distance between Rome and Positano is 274 km. The most popular transportation hubs of the coast are Naples, Sorrento, and Salerno. Among transportation options for getting from Rome to Positano are bus, train, private transfer and then coaches or ferries.
If you are flying into Rome, remember that the journey from Rome to the Amalfi coast will take at least four hours from your landing time
Moreover, if your flight lands at night, you should better consider an option of spending a night in Rome or Naples and continuing your journey to the coast the next day.
Here's the list of options on how to get from Rome to Positano:
By Train
Undoubtedly, going to Positano by train is one of the most convenient and fastest options. Moreover, you can also discover cities nearby your final destination.
First Option
If you are travelling from the Rome Fiumicino Airport, take the Leonardo Express shuttle train to the Termini railway station. Then, you can take a train which goes to Naples (Napoli). The same works with Rome Ciampino airport: once you arrived, take a bus or taxi to Termini station and take a train to Naples from there. Note: there are different types of trains that run between Rome and Naples:
Eurostar Freccia Rossa (TAV): considered as the most convenient option, but also the most expensive. In less than two hours you will arrive to Naples' Piazza Garibaldi station. Moreover, the train departs every hour and usually it is quite punctual. The ticket price is about 50 euro
Intercity: it takes about two hours to reach Naples by this train with the ticket price starting from 18 euro
Interegional: the feature of these trains is that they stop at every station, so the journey from Rome to Naples will take about four hours. The ticket price is cheap, about 10 euro, so this option is perfect for budget tourists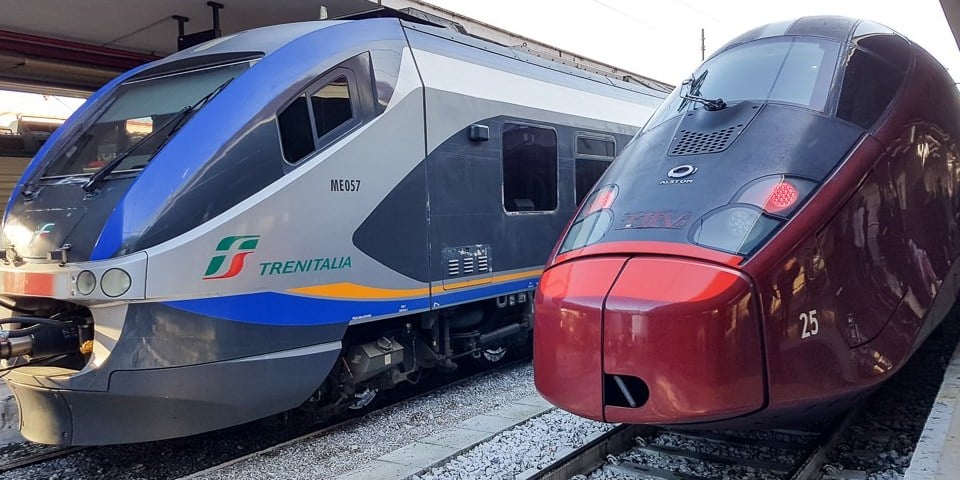 You can purchase tickets in the station or online on the Italo or Trenitalia websites. Prices for tickets are much lower if you buy them in advance. Moreover, if you buy train tickets in advance, there are often special offers available. However, such kind of tickets in non refundable
Once you arrive at the Naples Stazione Centrale station, you have to follow the sign which leads to the Circumvesuviana, which is the regional railway line located under the main railway station. From there you have to take the train to Sorrento. The journey from Naples to Sorrento will take about an hour. Outside the Sorrento railway station will be the stop for the autobus Sita buses headed to Positano-Amalfi or to Sant'Agata-Nerano.
Here's the Naples-Sorrento train schedule. Ticket price is 4.50 euro
Do not forget to validate your ticket before getting to the train
Second Option
The Freccia Rossa TAV trains also go to Salerno. So, you can go directly there and after, take a bus to Amalfi or one of the ferries to Amalfi and Positano. Considering the option with ItaloTreno: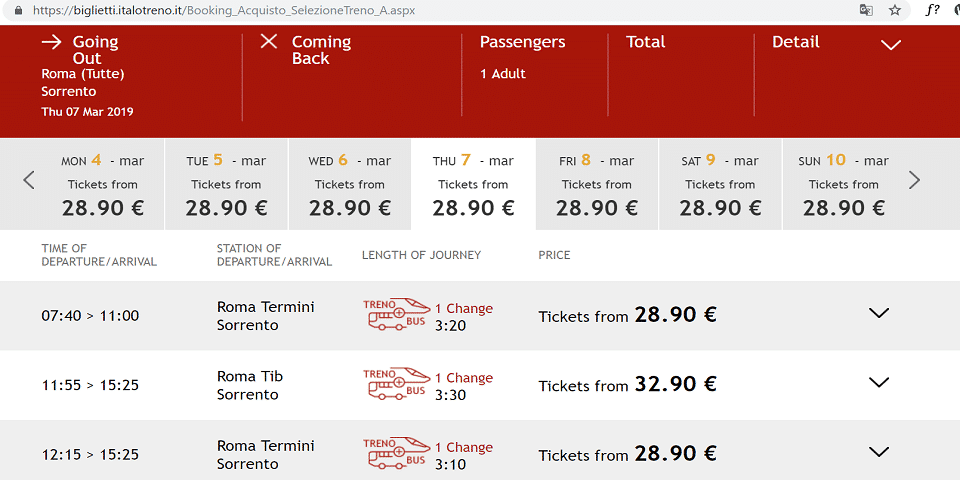 Directly opposite the train station in Salerno you will find the Molo Concordia pier. There is also the Molo Manfredi pier, located a few kilometers from the station and you will need to take a taxi to reach it
By Bus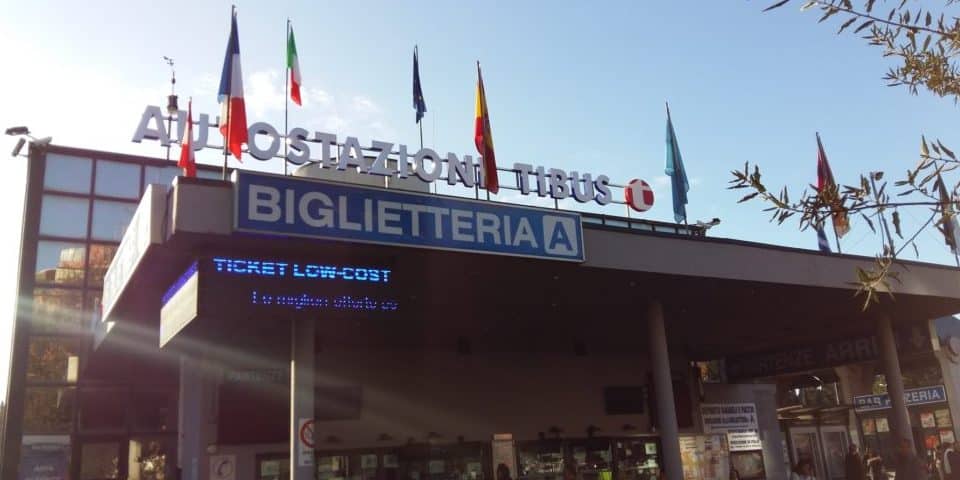 You can reach Positano from Rome by travelling from the Rome Tiburtina train station (on the Metropolitana subway blue line) by bus. One-way price starts from 8 euro.
For Amalfi the single route bus departs daily at 7 am and arrives at noon
For Sorrento there are two routes, one of them departs at 7 am and another one at 3 pm
By Car
The road from Rome to Positano by car will take about 3.5 hours (273 km).
To drive from Rome, take the A1 Autostrada (toll road) to Naples and then the A3 Autostrada
Follow the direction toward Sorrento and then take the SS 163 (Via Nastro Azzuro) to Positano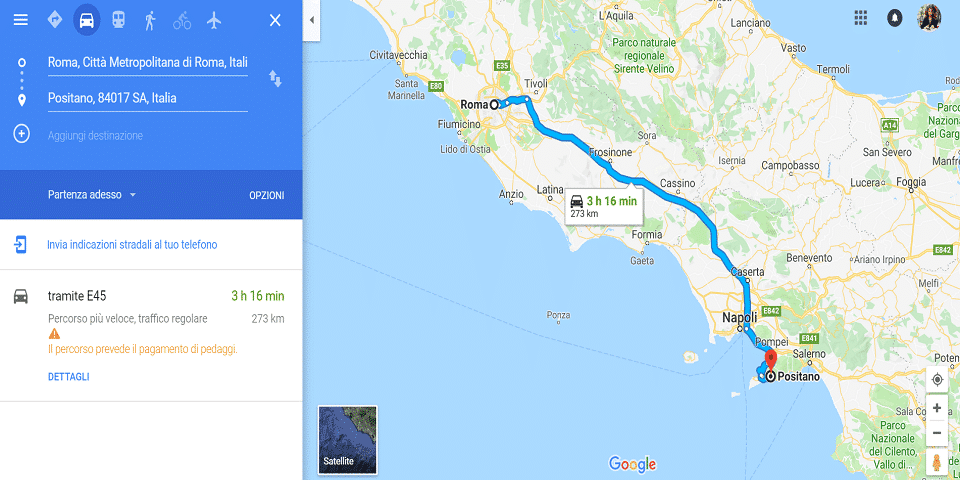 You can rent a car with rentalcars.com. Prices for car rental from Rome Fiumicino airport start from 10 euro per day
Private Transfer
Of course, you can book a private transfer from Rome to Positano. For instance, an average price for the private driver from Fiumicino airport to Positano is from 350 to 400 euro. For one of the best transfers from Rome to Naples you can use the service of Sergio&Partners with the best driver and our close Italian friend Sergio. One-way transfer price is 360 euro.
Things to Do in Positano
Visit the Art Galleries: the town is full of small beautiful art galleries with amazing
sculptures, paintings and statues made by local and international artists
Shop in Positano: yes, the town is full of different shops with local or international brands, so you can buy unique things during your trip
Visit the Church of Santa Maria (Chiesa di Santa Maria Assunta): this is the catholic church located nearby the beach, in the center of Positano. The entrance is free of admission and the church is very beautiful and impressive
Try Lemon Sorbet: Positano is one of the lemon heavens in Italy, so this dessert is quite famous and delicious in the town
Tan and Swim: laying under the sun and enjoying weather are top popular and important things in the town
Visit Amalfi or Capri: if you have more than one day in Positano, it'll be an amazing idea to see such favorite Italian spots located nearby Positano
Paddle boarding or kayaking are extremely popular attractions in Positano
Rent a boat: for making your experience more unforgettable, it is an amazing idea to rent a boat and see places nearby the town and enjoy boat walk with your friends or family
Explore the Grottos. There are an impressive grottos near Positano: the green grotto, white grotto, and mermaid grotto. You can reach them by private boat or group tour
Snorkel of Scuba Dive: since the clarity of the water along the Amalfi Coast is amazing, you can see a series of coves and grottoes. Positano is a perfect choice for such kind of experience
Hotels
Positano is full of charming hotels with impressive views of the town. It is important to note that from the pier adjacent to the beach, you will have to climb up for more than 10 minutes to reach the upper part of town. Moreover, walking is the only option to go there. However, the luggage porters at the pier for your bags are always there.
Here's the list of nice options where to stay during your trip to Positano for any budget:
Pompei Hostel Deluxe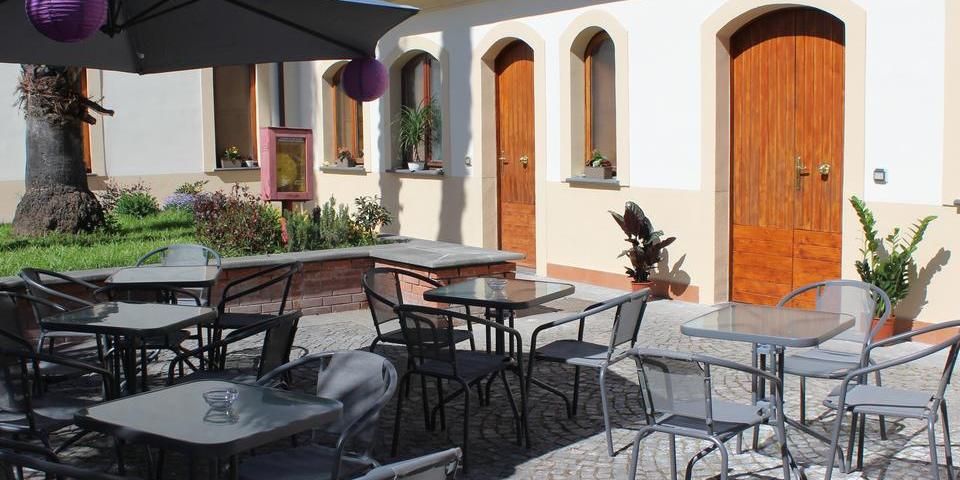 Pompei Hostel Deluxe – if you are interested in a budget trip and want to visit all surrounding towns of Amalfi coast, including Naples and Pompeii, this hostel is the right choice. It is located only 641 m from Pompeii ruins. Moreover, an Italian breakfast is available each morning.
Prices start from 40 euro per night
Art Hotel Pasitea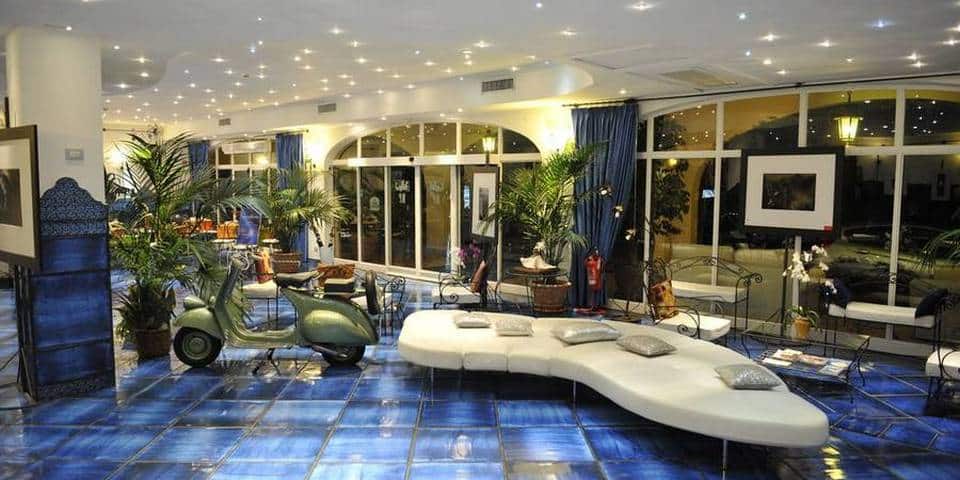 Art Hotel Pasitea is overlooking the bay of Positano. There are beautiful air-conditioned rooms with a private sea-view balcony and free Wi-Fi. The hotel is one of the most modern and famous properties of the town.
Prices start from 150 euro per night per room for 2 persons
Villa Gabrisa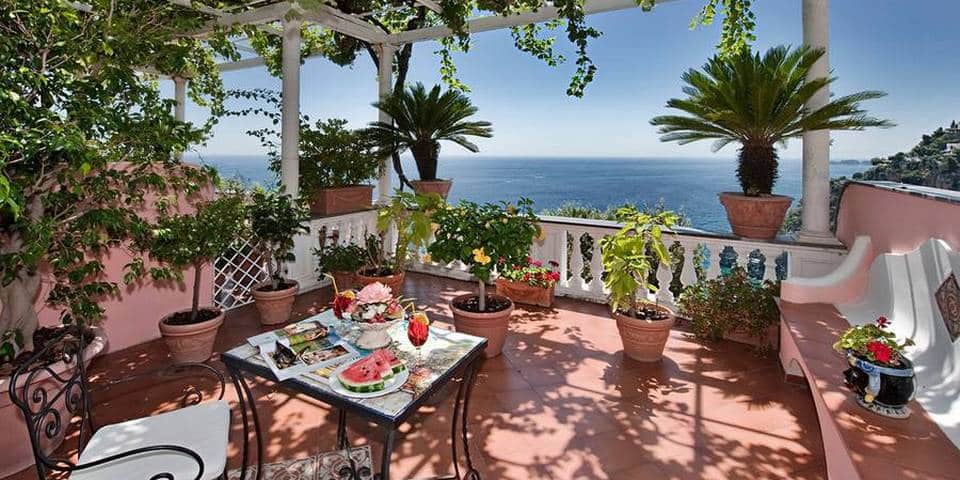 Villa Gabrisa is a 4-star hotel with amazing panoramic views of the sea, located in upper Positano. It was formerly a private villa and the hotel offers 12 guest rooms with air conditioning and Sky TV. Breakfast is included in the room rate and you can enjoy it out on the terrace.
Prices start from 150 euro per night per room for 2 persons
Casa Palassalacqua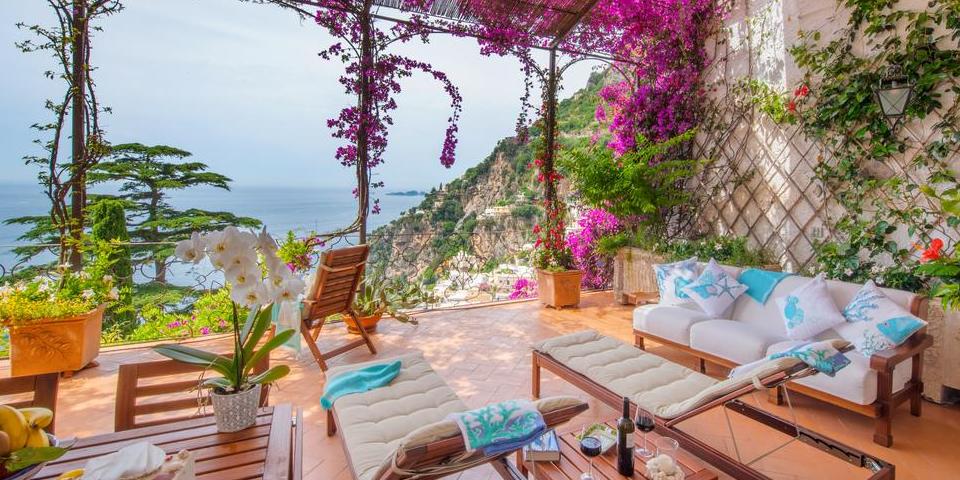 Casa Palassalacqua in Positano is one of the most beautiful and impressive properties of the town. If you are looking for the experience with the maximum comfort and fascinating views, this holiday home is the right choice. It consists of two separate bedrooms, two bathrooms and a sitting area.
Prices start from 300 euro for the holiday home per night
Positano BB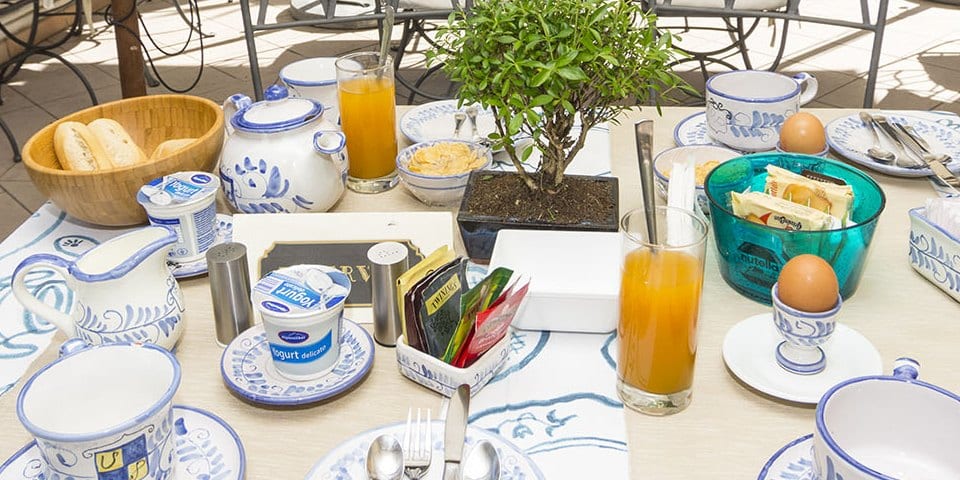 Positano BB located in the centre of town and offers spacious rooms with a balcony or terrace overlooking Piazza dei Mulini square. You can reach the beach in a 10-minute walk from the property. Moreover, a continental breakfast is served daily in your room.
Prices start from 80 euro per room for 2 people per night
Have you ever visited Positano before? 🙂