Amalfi coast is one of the most famous spots in Italy, which is part of Campania region, south of Naples. The distance between Rome and the Amalfi coast is 276,4 km. The most popular transportation hubs of the coast are Naples, Sorrento, and Salerno. Among transportation options for getting from Rome to Amalfi are bus, train, private transfer and then coaches or ferries. It is definitely an amazing option for a day trip from Rome.
If you are flying into Rome, remember that the journey from Rome to the Amalfi coast will take at least four hours from your landing time
Moreover, if your flight lands at night, you should better consider an option of spending a night in Rome or Naples and continuing your journey to the coast the next day.
Here's the list of options on how to get from Rome to the Amalfi Coast:
By Train
Undoubtedly, going to the Amalfi Coast by high speed train is among most convenient options. Besides Naples, there are many small towns to discover nearby your final destination.
Rome-Naples-Amalfi
If you are travelling from the Rome Fiumicino Airport, you have to take the Leonardo Express shuttle train to the Termini railway station. Then, you need a train which goes to Naples (Napoli). Talking about Rome Ciampino airport: take a bus or taxi to Termini station and then a train to Naples.
There are different types of trains that run between Rome and Naples:
Eurostar Freccia Rossa (TAV): is the most convenient and fastest option, but also the most expensive. In less than two hours you will arrive to Naples' Piazza Garibaldi station. Also, the train departs every hour and usually it is quite punctual. The ticket price is about 50 euro one-way
Intercity: the ride takes about two hours to reach Naples by this train with the ticket cost starting from 18 euro
Interegional: these trains stop at every station, so the journey from Rome to Naples takes about four hours. The ticket price is cheap – about 10 euro, so this option is perfect for budget tourists
There are two main companies that provide train tickets: Italo and  Trenitalia
You can easily purchase train tickets online or at any station. Note: prices for tickets are much lower if you buy them in advance. In addition, both companies often provide customers with special offers and discounts. However, such kind of tickets is not refundable.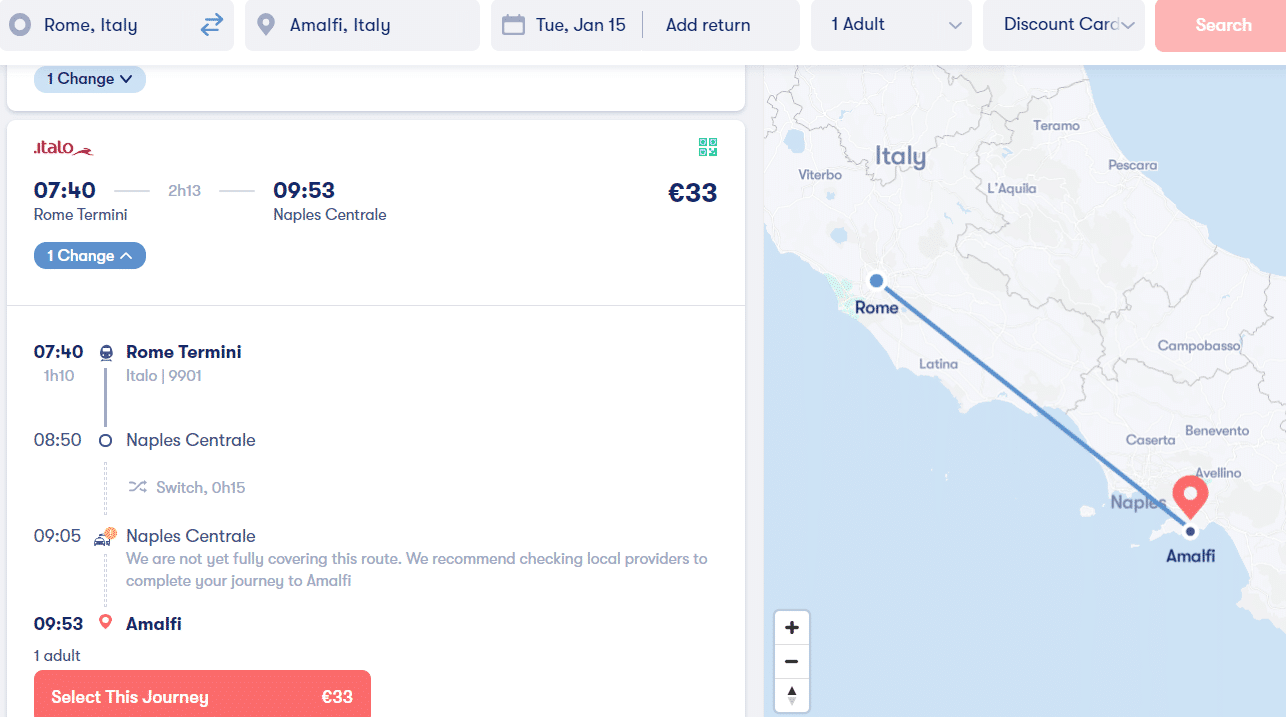 Once you arrive at the Naples "Stazione Centrale" station, you have to follow the sign which leads to the Circumvesuviana, which is the regional railway line located under the main railway station. Then, take the train to Sorrento. The journey from Naples to Sorrento will take about an hour. Outside the Sorrento railway station will be the stop for the autobus Sita buses headed to Positano-Amalfi or to Sant'Agata-Nerano. Depending on the town you would like to see first.
You can buy tickets to Sorrento at the ticket office located next to the platform or at the newspaper/tobacco shops in the train station. Trains leave every 30 minutes on average
Here's the Naples-Sorrento train schedule
Rome-Salerno-Amalfi
The Freccia Rossa TAV trains also go to Salerno. So, you can go directly there and after, take the bus to Amalfi or one of the ferries to Amalfi and Positano. Below is the option with ItaloTreno: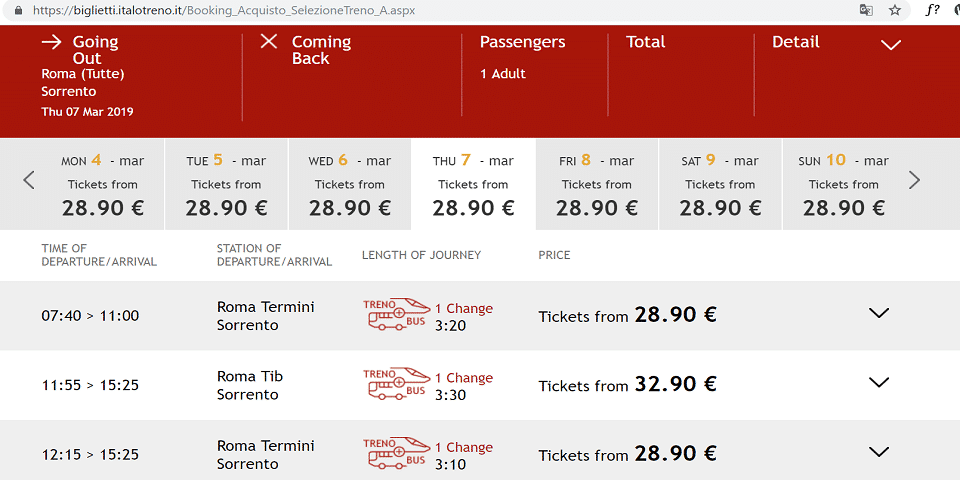 Note: directly opposite to the train station in Salerno you will find the Molo Concordia pier. There is also the Molo Manfredi pier, located a few kilometers from the station and you will need to take a taxi to reach it
By Bus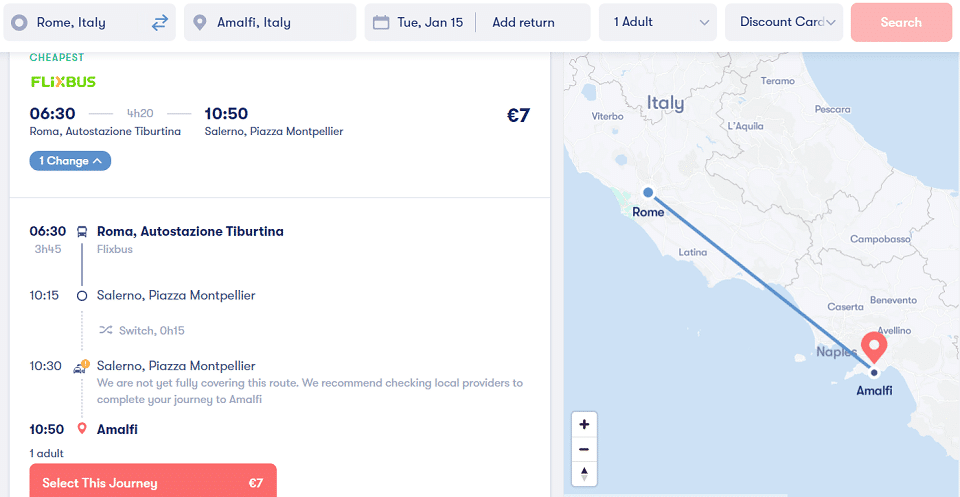 You can reach Positano from Rome by travelling from the Rome Tiburtina train station (on the Metropolitana subway blue line) by bus. This option is the cheapest one, since one-way ticket price starts from 7 euro per person.
For Amalfi the single route bus departs daily at 7 am and arrives at noon
For Sorrento there are two routes, one of them departs at 7 am and another one at 3 pm
Private Driver
Using a service of private driver is the most convenient option to discover towns of the Amalfi Coast. However, sometimes it is difficult to drive the road and there are problems with car park finding since there are always many tourists, especially in summer months. Despite the fact that it is the most expensive option, you will be able to enjoy each city with the maximum comfort and without spending time on different buses and trains. For instance, for one of the best transfers from Rome to Naples you can use the service of Sergio&Partners with the best driver and our close Italian friend Sergio. One-way transfer price is 360 euro.  Naples is the best city where to start your journey to the Amalfi coast. More info here
By Ferry
There are no direct ferries from Naples to the Amalfi Coast. However, you can take a ferry to Sorrento and the to travel to Positano and Amalfi.
Note: ferries function from mid-May to September
By Car
If you plan to get from Rome to the Amalfi Coast by car, the distance is 274,6 km. The ride will take around 3.5 hours. The option is convenient, but you have to consider toll roads and difficulties with parking, since you are going to visit one of the most touristic Italian spots. However, considering this option, you will save time on waiting for trains and buses.
To drive from Rome, take the A1 Autostrada (toll road) to Naples and then the A3 Autostrada
Follow the direction toward Sorrento and then take the SS 163 (Via Nastro Azzuro) to the Amalfi Coast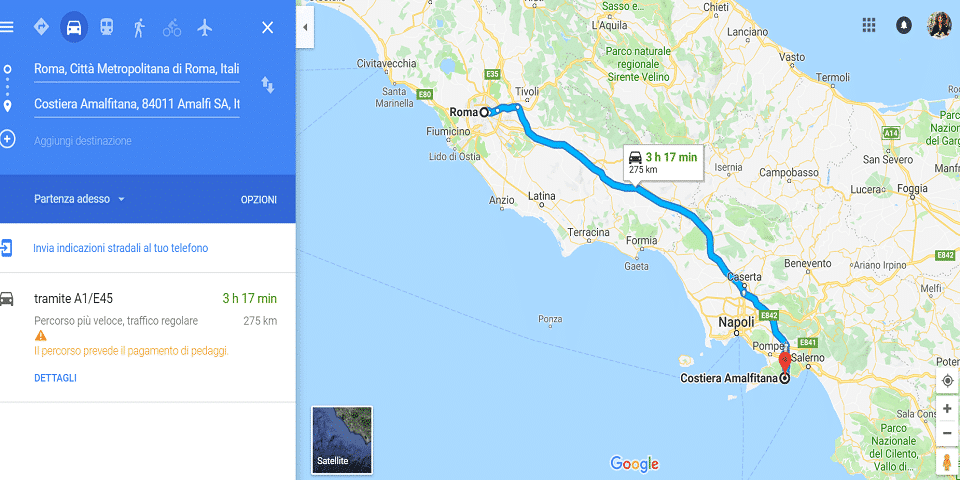 You can rent a car with rentalcars.com. Prices for car rental from Rome Fiumicino airport start from 10 euro per day
By Plane
Despite the fact that Rome and Naples located near each other, it is still possible to travel among these cities by plane. However, do not expect it to save you time over the train. You have to consider transport time and cost to and from two airports. So, it can take between 3 to 4 hours to travel between Rome and Naples by plane. Most popular airlines for this option are Alitalia and Vueling. Prices for round-trip start from 100 euro.
This option makes sense if you are already at the Rome airport
What to See
Visit Sorrento – a town on the Northern part of the coast with amazing buildings, lemon parks, observal decks, and shops. It is also kown for its production of Limoncello
Visit Positano – one of the most picturesque towns on the southern arm of the Amalfi coast. It is best viewed from the sea and famous for its coloured houses
Visit Praiano – the town is less visited by tourists. It hugs the moutainside and offers amazing views on the nature
Admire the Amalfi Cathedral. It is a major attraction of the town located in the Piazza del Duomo
Relax on the beaches of Maiori and Minori – two neighbouring towns nearby the town of Amalfi. Maiori is split in two parts and there are amazing sands with the clear water
Take a boat tour into the Grotta dello Smeraldo Cave. It is one of the most beautiful caves in Italy located in-between Amalfi and Praiano
Visit the historical centre of Salerno. It is the largest town of the coast with many beautiful locations, cozy bars, local shops and many things to discover
Visit the Ferriere Valley – a protected area in the province of Salerno. There are lots of natural sceneries and you can do hiking or cycling there
Visit the island of Capri – one of the most popular destinations on the Amalfi coast. It can be reached via ferry from several of the coastal small towns. There are amazing beaches with mountain views
Visit the Sirenuse islands. This is the small island chain in-between Capri and Positano. They are part of the Campanian Archipelago named after the mythological Sirens, who supposed to live there many centuries ago
Where to Stay
The Amalfi Coast is one of the most popular touristic destinations, known all around the world. There are different options where to stay on any budget and preferences:
Chiaro di Luna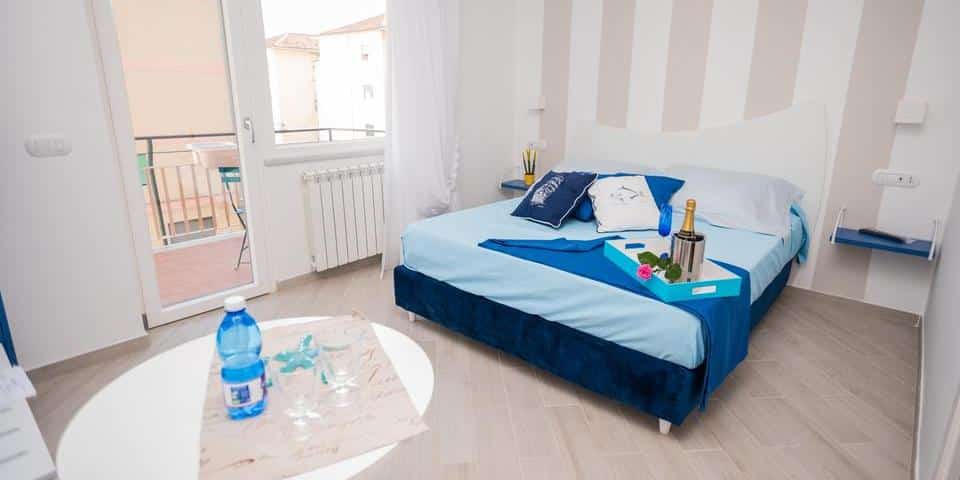 Chiaro di Luna located in Maiori in the Campania region. It offers accommodations with free WiFi. This bed and breakfast located in 37 km from Sorrento and 20.9 km from Salerno. This option is amazing for budget tourists
The price per night for room for 2 people starts from 60 euro
Ancient Estate Il Trignano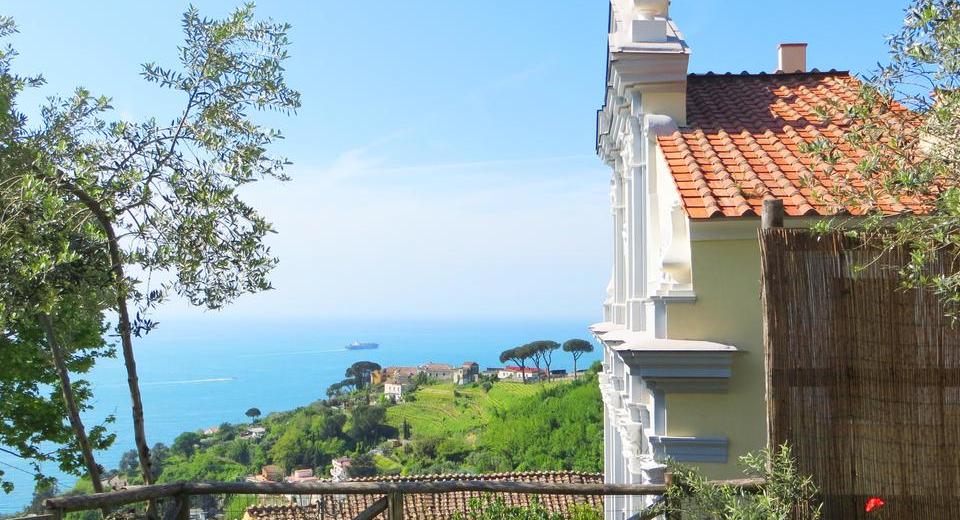 Ancient estate "Il Trignano" is a villa for 5 people with a terrace and sea views. Moreover, there are barbecue facilities, a garden, mountain views and free WiFi. There are 2 bedrooms, a bathroom, a kitchen with dining area and a dishwasher.
Price for the villa per night starts from 100 euro
Hotel Eden Roc Suites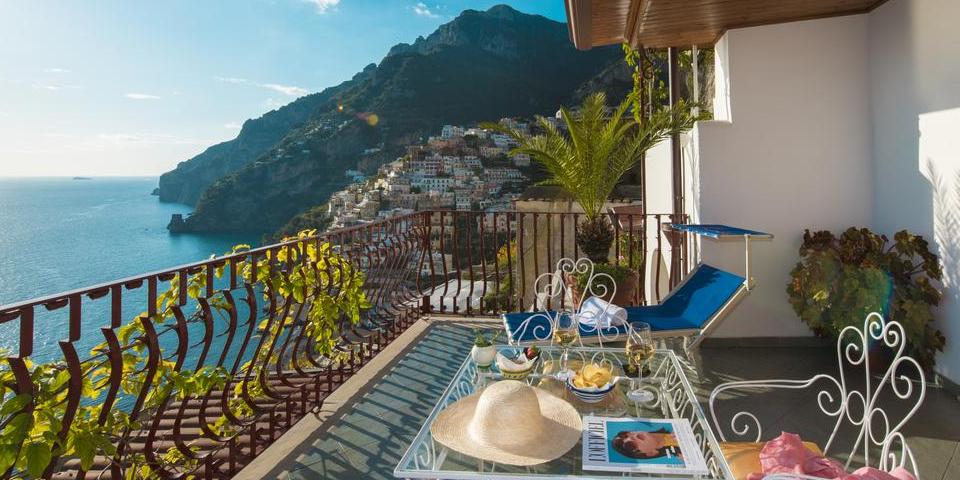 Hotel Eden Roc Suites is a 4 stars hotel. It is set in a panoramic location in Positano. There is a pool, a spa, and rooms with a sea-view terrace. Moreover, there you will find a restaurant, a gym, and a sun terrace.
Price per night for a room for 2 persons starts from 200 euro
Hotel La Lucertola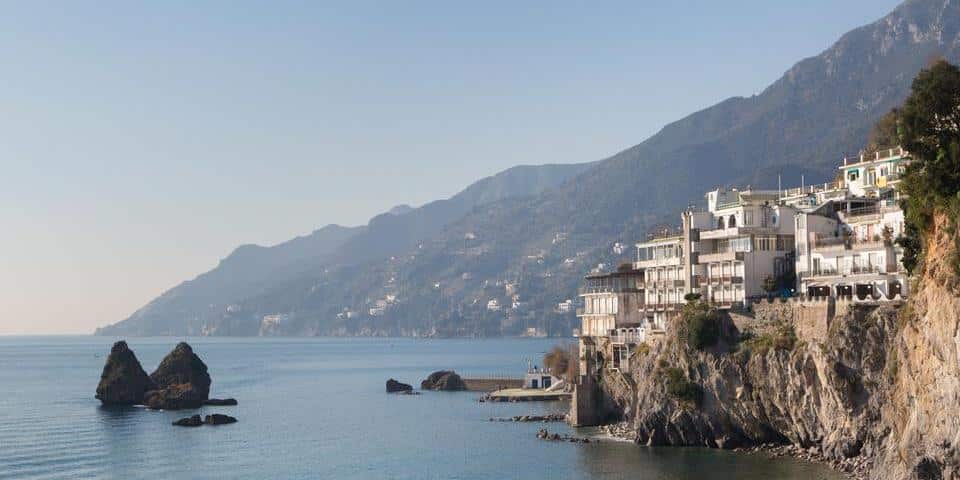 La Lucertola is a 4 stars hotel located on the cliffs of Vietri sul Mare. There are modern rooms with balconies overlooking the Gulf of Salerno. Moreover, there is a private beach with bar.
Prices per night for a room for 2 persons start from 50 euro
Aquaboutique Wellness and Spa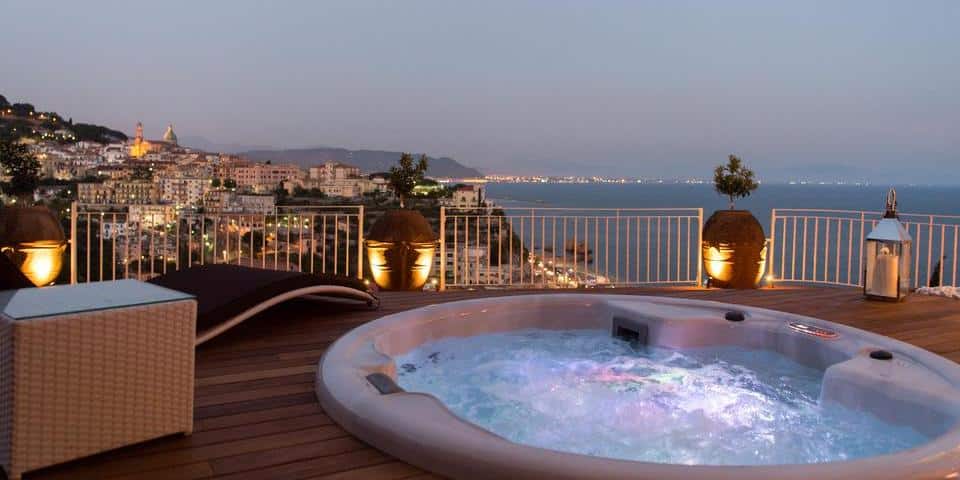 Aquaboutique Wellness and Spa located on one of the top picks in Vietri sul Mare. Guests can enjoy the hammam in the property. You can book a room including a special spa package for your unforgettable holiday.
Price per night for a room for 2 persons start from 150 euro