Getting from Rome to Capri is one of the most popular routes among travellers. The distance is 265 km. Undoubtedly, the most convenient option is to take a fast train from Rome to Naples and then one of the ferries that go to Capri. Also, there are direct buses that go to Naples for a cheaper price, but with a longer route. The journey will take from 1 to 6 hours.
Here's the list of options on how to get from Rome to the famous Capri Island:
From Rome to Naples
If you want to get to Capri from Rome, first you have to reach Naples.
Trains
If you are travelling from the Rome Fiumicino Airport, take the Leonardo Express shuttle train to the Termini railway station. Then, you can take a train which goes to Naples (Napoli). The same works with Rome Ciampino airport: once you arrived, take a bus or taxi to Termini station and take a train to Naples from there. Note: there are different types of trains that run between Rome and Naples:
Eurostar Freccia Rossa (TAV): considered as the most convenient option, but also the most expensive. In less than two hours you will arrive to Naples' Piazza Garibaldi station. Moreover, the train departs every hour and usually it is quite punctual. The ticket price is about 50 euro
Intercity: it takes about two hours to reach Naples by this train with the ticket price starting from 18 euro
Interegional: the feature of these trains is that they stop at every station, so the journey from Rome to Naples will take about four hours. The ticket price is cheap, about 10 euro, so this option is perfect for budget tourists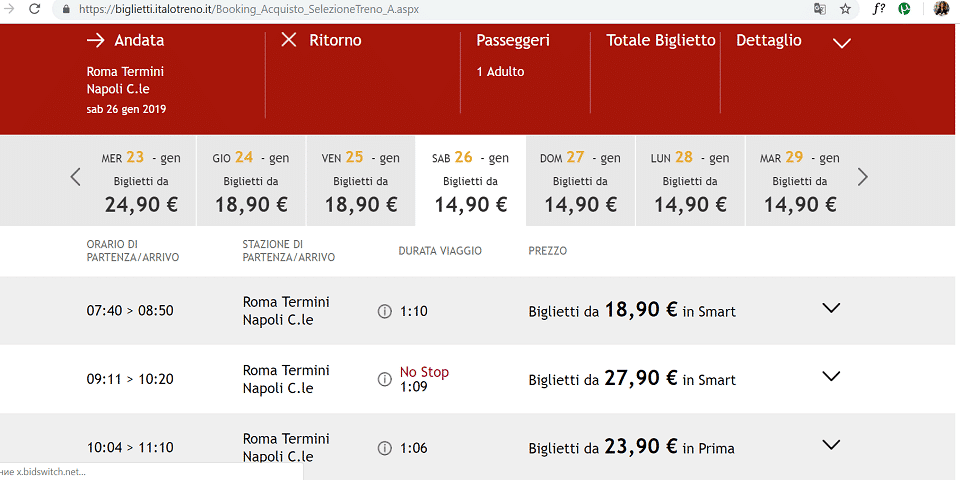 You can purchase tickets in the station or online on the Italo or Trenitalia websites. Prices for tickets are much lower if you buy them in advance. Moreover, if you buy high-speed train tickets in advance, there are often special offers available. However, such kind of tickets is non refundable
Buses
Getting to Naples from Rome by bus is the cheapest option. One-way ticket prices start from 9 euro. You can buy a ticket with Flix Bus. The journey will take about 3 hours: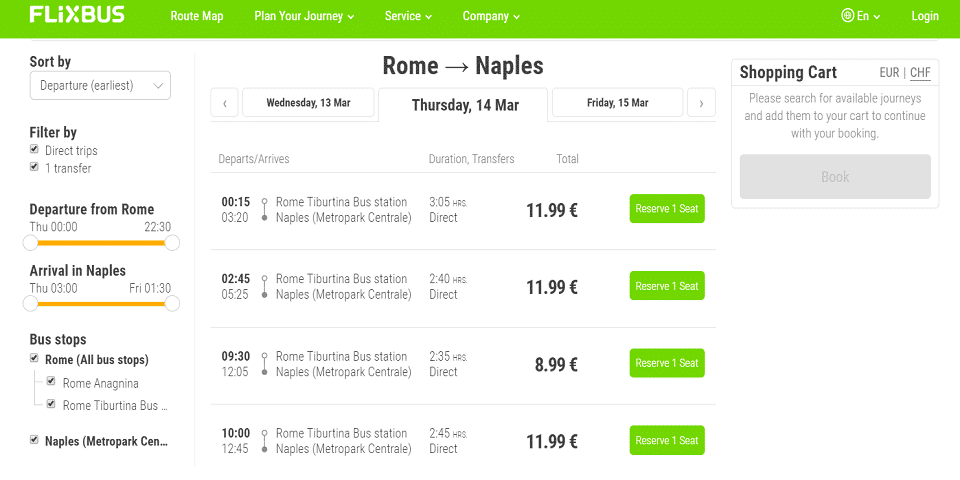 Car
If you plan to get from Rome to Naples by car, the distance is 225 km. The ride will take around 2.5 hours. The option is convenient, but you have to consider toll roads and difficulties with parking, since you are going to visit one of the most touristic Italian spots. This option works only in case if you are going to stay in Naples and plan to visit Capri for a day-trip.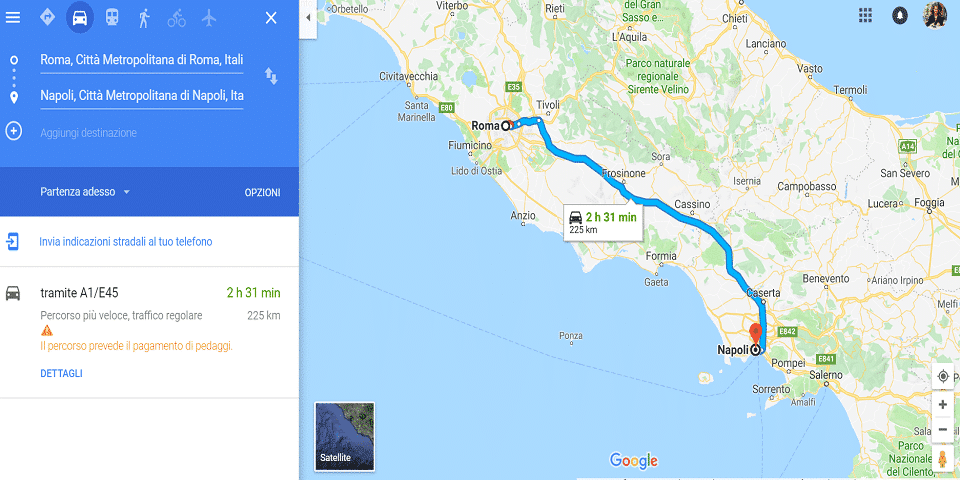 Private Transfer
Of course, you can book a private transfer from Rome to Naples. An average price for the private driver from Fiumicino airport to Naples is from 350 to 400 euro. For one of the best transfers you can use the service of Sergio&Partners with the best driver and our close Italian friend Sergio. One-way transfer price is 360 euro.
Ferry from Naples to Capri
Ferries from Naples to Capri depart from two ports: the Molo Beverello and the Calata Porta di Massa.
The Molo Beverello's location is opposite to the Maschio Angioino. All high speed ferries depart from this port. The ticket price is around 20 euro
The Calata di Massa located in a km to the east. Ferries and slow ferries depart from there. The ticket price is around 15 euro
You can take the Alibus bus which stops at both ports and departures from the airport of Naples
Here you can find schedules for ferries to Capri. They change often, so double-check a few days before your departure. Also, you can purchase tickets directly at the pier of departure, but you should better arrive earlier during the months of July and August since there is a change that all tickets will be sold out. You can book tickets online. Moreover, you will have to stop at the ticket desk before boarding to pick up your tickets. Each passenger has a small surcharge for baggage.
The journey from Naples to Capri by ferry will take:
Slow Ferry: 80 minutes
Ferry: 50 minutes
High speed ferry or Catamaran: 40 minutes
Getting to the Port from the Naples Airport
First option of getting to the port from the Naples airport is to take a bus outside the exit of Terminal 1. There is the Alibus shuttle, which departs for the port of Naples, stopping at both the Calata di Massa and Beverello ports. Ticket price is about 5 euro and you can buy it directly on board. The journey will take about 40 minutes
The second option is to take a taxi outside the exit of Terminal 1. There are fixed fares to the ports – about 20 euro
Getting to the Port from the Naples Train Station
You can use one of numerous public transportation options to get from the Naples Central train station (Piazza Garibaldi) to the Molo Beverello port. However, the easiest way is to use the subway or underground system. You need to take Line 1 in the direction of Piscinola and get off at the Piazza Municipio stop. Another option is to take a taxi. The price will be about 10 euro.
Helicopter Transfer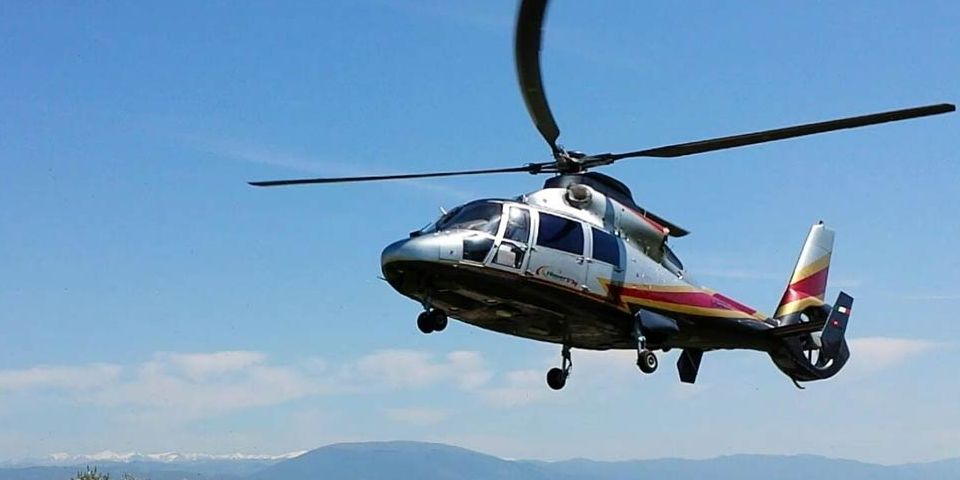 One of the most unforgettable experiences and the fastest ways to reach Capri from Rome is by booking a transfer on helicopter. It will take only 1 hour to reach the destination! If you are interested in taking such an unusual kind of transfer from Naples to Capri, the flight will take only 20 minutes. However, this option is the most expensive one since prices start from one thousand euro.
Things to Do
Rent a boat to discover Capri from the sea and enter the Blue Grotto. Boat tours depart from Capri's port, Marina Grande and continue along the southern shore of the island
Take a cocktail on one of the piazzas. This is the best way to enjoy the atmosphere of the city during the sunny weather
Climb to Monte Solaro, which is the island's highest point
Visit one of local restaurants to try Italian dishes or seafood plates
Do a photoshoot while exploring the island's nature
Try one of the water sports
Visit the charming botanical Gardens of Augustus
Tour the ruins of the Roman emperor's palace
Relax on the beach
Swim in the Green Grotto
Where to Stay
The island of Capri is one of the most famous touristic spots. There are numerous options on where to stay on any budget.
Villa Ietra Salata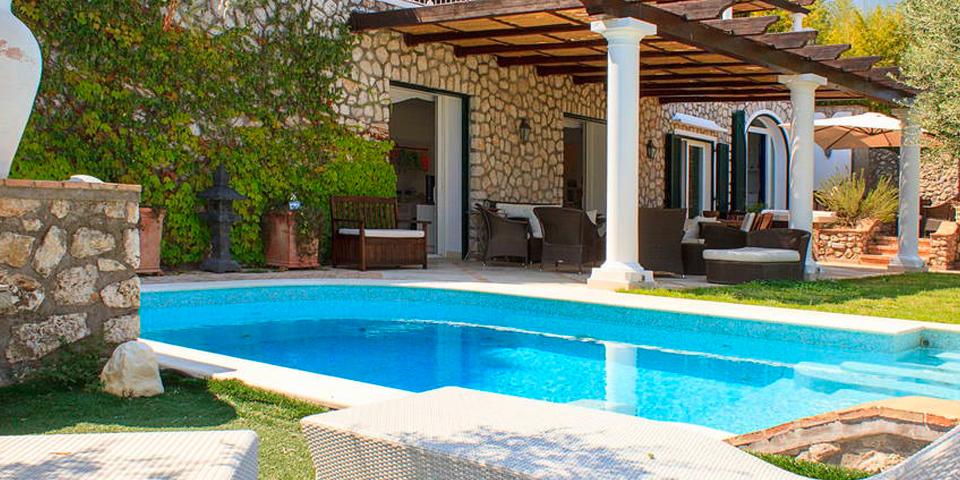 Villa Ietra Salata is a luxury villa. It features a private pool, a kitchen and sea views. There are 4 separate bedroom, 4 bathrooms with free toiletries and a hair dryer. Moreover, a continental breakfast is available every morning at the villa.
Price per night for the whole villa starts from 1500 euro
Capri Tiberio Palace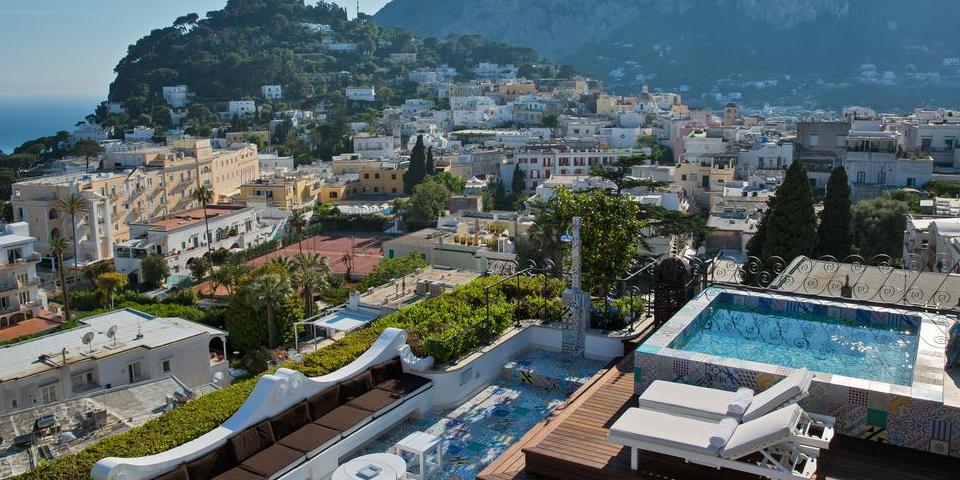 Capri Tiberio Palace is a 5-star hotel located in a 19th-century building. It offers elegant rooms with LCD satellite TV. Also, it features a panoramic rooftop terrace.
Price per night for a room for 2 persons starts from 700 euro
Hotel Senaria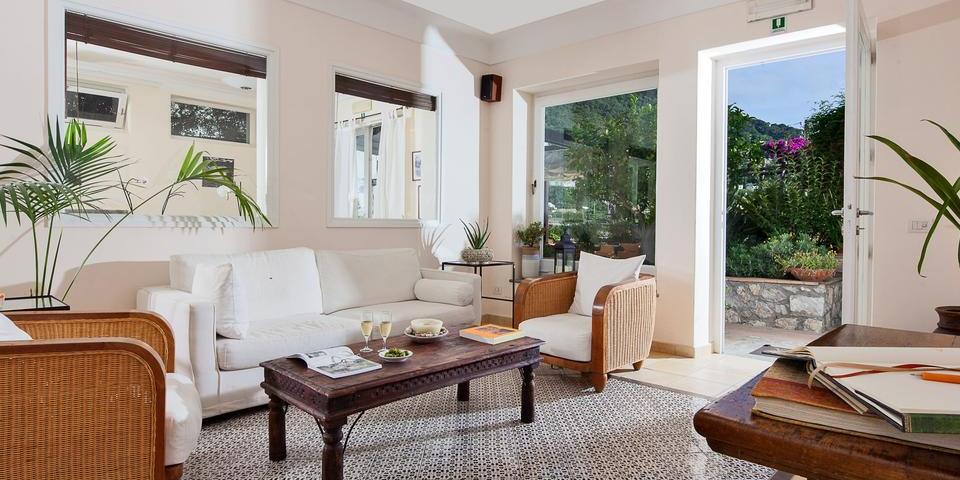 The Hotel Senaria is located in a peaceful location and has an amazing atmosphere.The property combines classic Mediterranean architecture with modern elements. Most rooms have a terrace or balcony.
Price per night for a room for 2 persons starts from 110 euro
Capri Dolce Vita
Capri Dolce Vita property offers charming rooms. It is located in the main square of the island, Piazzetta. Each room at Affittacamere Capri Dolce Vita has a mini-bar, a desk and safe. Some of them have a private balcony. This is one of the top-rated properties of Capri.
Price per night for a room for 2 persons starts from 100 euro
Casa Boutique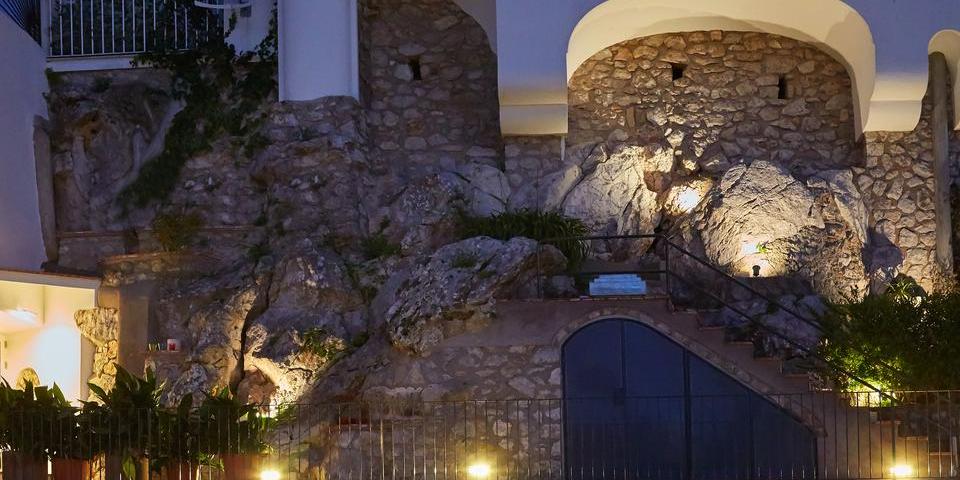 Casa Boutique located 183m from Piazzetta di Capri. The property offers rooms with a flat-screen TV and a kitchen. The property is one of the top-rated places among tourists.
Price per night for a room for 2 persons starts from 100 euro
Capri Blue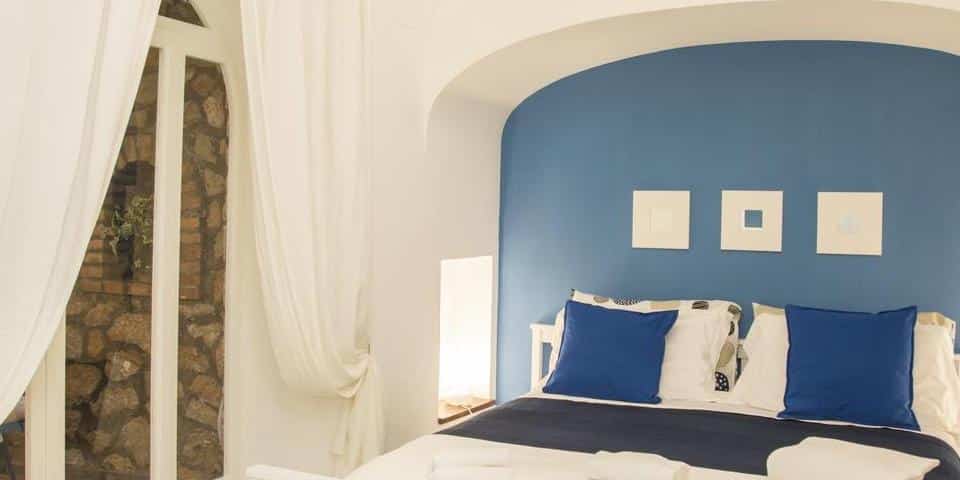 Capri Blue located in 100m from Piazzetta di Capri. There is free WiFi and beautiful design of the accommodations. Some units are air-conditioner and include a siting or dining area. There is a private bathroom in each room and all amenities are offered.
Price per night for a room for 2 persons starts from 80 euro