Rome has over 350 bus lines with working hours from 5.30 am to midnight daily and with tickets (bigletti) that also applicable for the tram and metro and are valid for 100 minutes. Also, you can use night bus services that function along the core routes. The major bus terminus is in front of Termini Station.
What You Need to Know
Talking about Termini station, there is the major public transport hub for the Rome's city center. If you buy a bus ticket, you can also use it on the Metro/subway or tram.
Since the Metro is not that well-connected to the historical center, a bus is the most convenient and cheapest way to reach any point of the city
Honestly, buses are usually not checked by ATAC workers (only at the beginning, middle and the end of each month some buses are checked) and many locals use them as free rides. Of course, you can also try to skip the ticket purchase, but be careful, in case if ATAC worker will catch you, the fine starts from 50 euro.
Undoubtedly, public buses are the best option for short journeys and usually used as a feeder service to the Metro and train networks.
How to Find the Way You Need and Bus Maps
The link to the official bus map of central Rome is here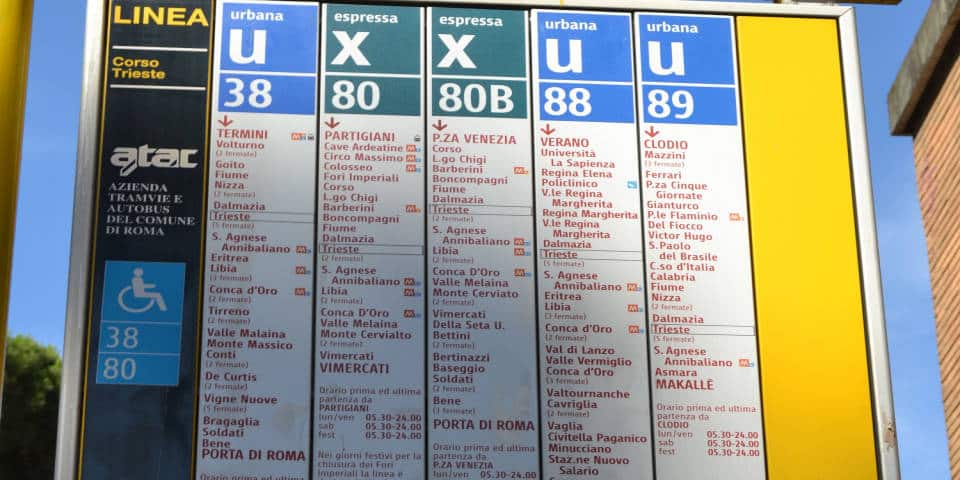 Fortunately, you will always find a wide selection of routes going to the point you need, so that there is no high need in a bus map
Moreover, each bus stop in Rome has the routes with a clear explanation. There, you will find major stops along the way of all buses.
Most buses in the city run daily from 5.30 am to midnight. Those buses that run during the night time have route numbers prefaced by an "N."Don't expect to get a seat during the day time because frequently buses are crowded. Moreover, don't expect that the transport will come on time.
Useful Information
Tickets
Bus tickets are interchangeable with metro tickets. You can purchase one at machines at all metro, bus or train stations. There, you will find self-service machines with different options for tickets: single ride, 24 hour-tickets, 3-day or 7-day passes.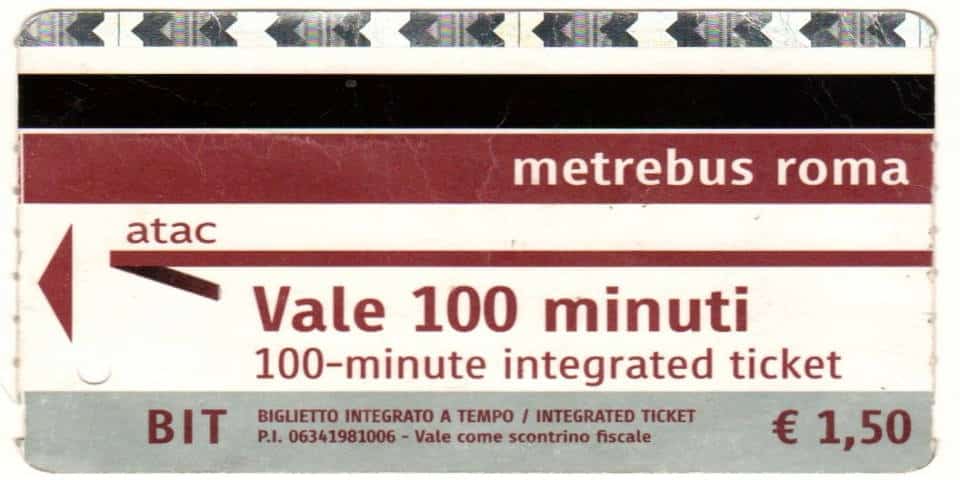 Prices
The price for standard ticket is 1.50 euro and it is valid for 100 minutes for bus, metro and tram.
A 24 hour ticket is available for 7 euro
A 48 hour ticket is available for 12.50 euro
A 72 hour ticket is available for 18 euro
A one week ticket is available for 24 euro
Those under 10 ride free
Roma Pass holders have unlimited use of the public transport while their pass is valid
How to Get From Termini Station to the City Center by Bus
Buses:
40, 64 (to the Tiber, Vatican)
170 (to Ancient Rome, Aventine/Testaccio)
71, 492 (Tridente, Upper Tiber Bend)
Buses 40 and 64 are mostly used by tourists because they go to the Vatican, passing Piazza Venezia, and Largo Argentina. Then cross the river to Piazza Pia, right next to Castel Sant'Angelo.
The Minibuses: 116,117, 119
Buses that are also frequently used by tourists:
Bus no. 116 runs across the historical center from Galleria Borghese, through Villa Borghese Park, down Via Veneto past the Spanish Steps and the Pantheon to Piazza Navona. Then, it pasts Campo dei Fiori, goes along the Tiber river to a stop near Castel Sant'Angelo and after, near St. Peter's square. The 116T bus has the same route, but including stops near the opera house and other theaters in the streets southwest of Termini and it doesn't work on Sundays.
Bus no. 117 (Monday-Saturday) runs north-south from Piazza del Popolo, down Via del Corso, through Piazza Venezia and goes through all main ancient sites like Roman Forum, Imperial Fori, and Colosseum. Then, it goes up anlong the Esquiline and Quirinal Hills, passes San Clemente church and San Giovanni in Laterano and goes back north by a different route with Santa Maria Maggiore, the Trevi Fountain area, and the Spanish Steps.
Bus no. 119 is the version of the 117, but diverts from Via del Corso to head across the river to Piazza Cavour then back. It goes through Largo Argentina and before returning north past the Spanish Steps to Piazza del Popolo. However, the bus doesn't continue south past of all Ancient Rome as 117 does.
Other Frequent Routes for Tourists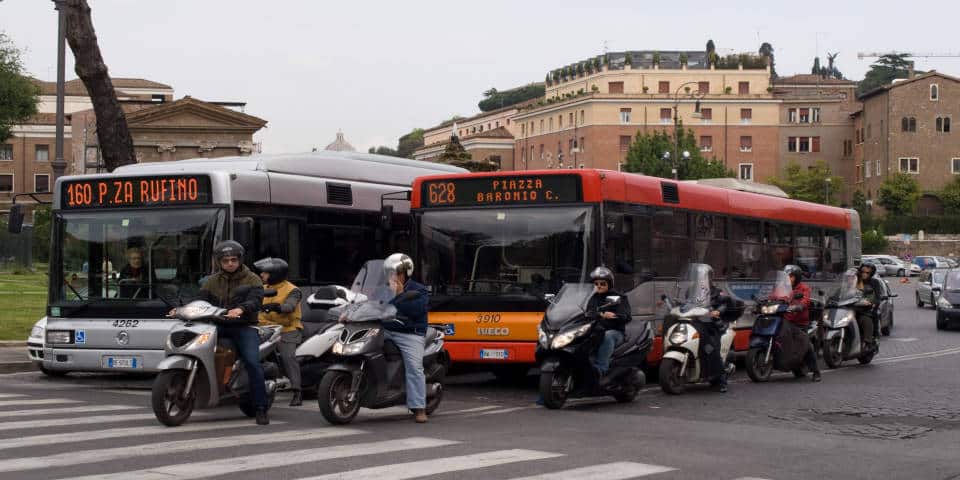 62 – Repubblica – Spanish Steps – Piazza Venezia – Argentina – Vatican
81 – Vatican Museums – Piazza Imperatore (Spanish Steps) – Piazza Colonna (Trevi Fountain) – Piazza Venezia – Circo Massimo – Colosseum
60 – Termini – Piazza Venezia – Colosseum – Circo Massimo
H – Termini – Piazza Venezia – Argentina – Trastevere
8 (Tram) – Piazza Venezia – Argentina – Trastevere
Airport Bus Services
You can find cheap buses that run to both airports, Ciampino and Fiumicino, and go from the Termini Station. There are several bus lines, where the leader among them is Terravision Bus.
Types of Buses
Urban lines (U): Most of the buses. They start between 5 am and 6:30 am and finish at midnight
Night buses (N): These lines operate while the urban lines "rest" between midnight and 5:00-6:00 am
Express (X): These lines are for the outskirts of Rome
Exact (E): These lines link the centre with the surrounding neighborhoods and have fixed timetables
Overall, it is convenient to use public buses in Rome because you will reach any point of the city and the system works enough well, except the fact that frequently buses are late.