Taxi in Rome has reasonable rates which mostly depend on the traffic. You can find a car at taxi stands, train stations, airports, call for a taxi or order it via one of the apps. Moreover, taxicabs licensed by Rome City Council are white and have a sign bearing the word "TAXI" on their roof. However, there are many pros and cons in getting a taxi in Rome.
Phone number of the official taxi is 060609
What you have to know about taxis in Rome
It is important to know that sometimes taxi drivers can understand different languages, but at the same time, they can "accidentally" forget about fixed rates or even cheat on you to make more money. Yes, it is true: you have to pay more attention to details if you use a taxi in Rome because often taxi drivers cheat on tourists.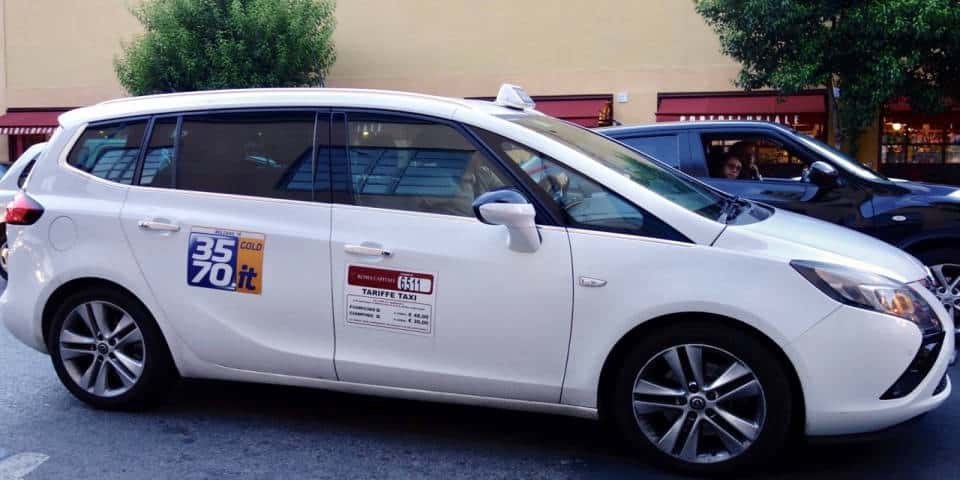 The taxi usually comes in 3-5 minutes after the phone call, so be sure that you are ready to go. Otherwise, you will have to pay more if the taxi waits for you. Moreover, the driver turns on the meter once he answers to your call.
If you arrive at a taxi stand and there are no taxicabs, you can wait there because cars will turn up soon. However, it might be a problem to pick up a taxi during major holidays, bad weather days, and in case of taxi strike.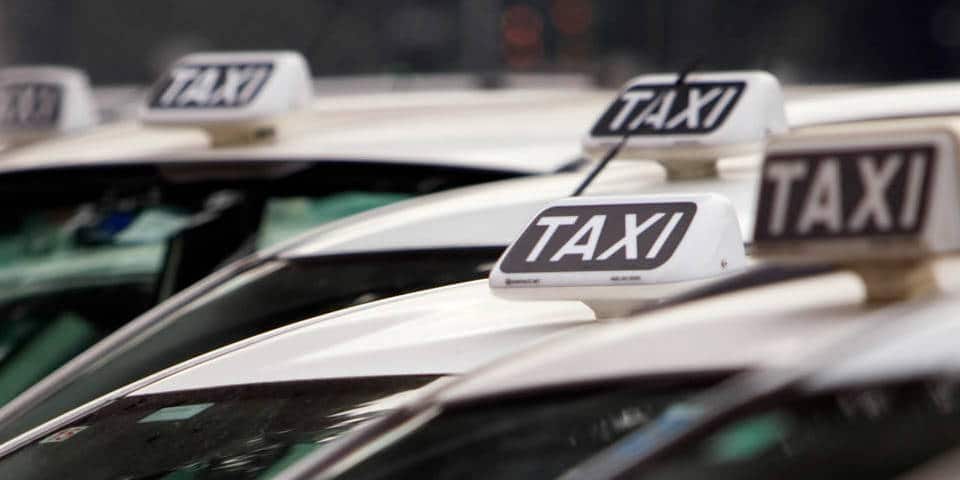 You should know that some taxis are small and others are midsized sedans or minivans. So, don't forget when you order a taxi to explain additional details about your route as the number of luggage and how many people you are. Moreover, if you feel that you've been cheated in case you've booked a taxi via Cooperative Radiotaxi 3570, you can write your complaint on their website.
Fare details
Set Fares
On departure during weekdays (6 am  – 10 pm)  is 3 euro
During weekends (6 am – 10 pm) is 4.50 euro
On departure at night (10 pm – 6 am) 6.50 euro
Hourly Rates
Hourly rate Euro/per hour applicable for a speed less than 20 km/per hour €27
Taximeter Rates
Tariff 1 for speeds higher than 20 km per hour: € 1,10 per km
Tariff 2 for speeds higher than 20 km per hour: € 1,30 per km
Tariff 3 for speeds higher than 20 km per hour: € 1,60 per km
T1 becomes T2 when an amount of 11 euro added to the initial set fare on the taximeter display; from this moment the second fare rate turns to (T2 = 1,30 euro) until the taximeter shows another added amount of 13 euro; from this moment the third fare rate works until the end of the ride.
Reduced Fares
A 10% reduction of the amount displayed on the taximeter in the following cases:
–  journeys to hospitals in Rome
– for women travelling alone at night
Main Taxi Stands
Largo Torre Argentina (between Pantheon & Trastevere), Piazza Fiume (Villa Borghese), Piazza Venezia, Piazza G. Belli (Trastevere), Piazzale Ostiense, Piazza S.Silvestro (Fontana di Trevi), Piazza dei Cinquecento (Termini Station), Piazzale della Stazione Tiburtina, Metro A Anagnina, Piazzale della Stazione del Lido (Ostia), Piazza Risorgimento (Vatican)
Useful Tips
When you get a taxi, make sure the taxi meter is switched on time you started your ride.
Always ask about the receipt with details of the journey, thee license number, the fare and the driver's signature.
Remember that taxi drivers can't refuse service or select passengers. Moreover, they can't carry more passengers that indicated in the vehicle's logbook.
If you take the official taxi, you don't need to tip. However, no one minds if you will decide to do it.
At both Termini Station and Fiumicino airport you will meet many people asking if you need a taxi. You should better ignore them and take a white metered taxi or to order a private transfer in advance.
One hour waiting time is 27 euro
In a controversial situation, I advise you to save the bill and write the complaint to the Commune of Rome: to save the form of complaint choose "Modulo reclamo taxi inglese"
There is a 10% discount for single women at night
Cost of taking a taxi to or from one of the airports in Rome
Technically, there is a fixed price from Ciampino and Fiumicino airports to the city center or vice versa, which is 30 euro (including luggage) from/to Ciampino airport and 48 euro from/to Fiumicino airport and drivers cannot charge more from you. However, there can be surprises, and you should better clarify the price before taking a taxi.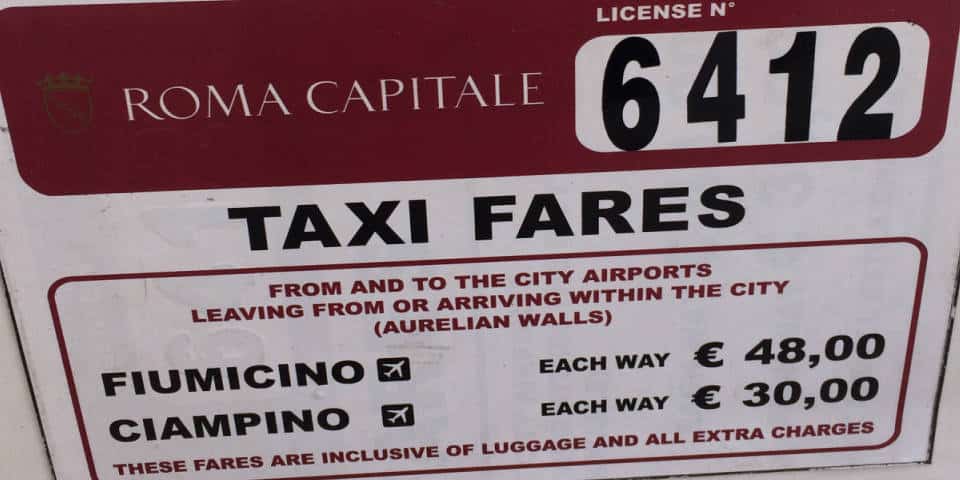 The fixed cost for the taxi fares from Fiumicino and Ciampino airports is valid only to Rome Aurelian Walls (The historical center of Rome).
So that make sure that you are taking a taxi to the City of Rome. If your destination is outside the Aurelian Walls, the price of the trip is metered and may increase up to 60 euro.
From Tiburtina station to Ciampino by taxi: 35 euro
From Fiumicino (Leonardo da Vinci) to Ciampino airport: 50 euro
Again, you always have to pay attention to the details, such as: there are prefixed rates, which you can read at the cab parkings of the airport; to get more clients, drivers may try to go very fast, so don't be afraid to ask them to slow down.
Can you pay for a taxi in Rome with a credit card?
All official taxis of Rome have POS machines, according to the law. So, you should be able to pat with a credit card. Moreover, there is a chance that you won't be able to pay with American Express, which is unpopular in Italy because of high fees.
Sometimes POS machines mysteriously "out of order," so you should better be able to pay in cash.
Uber
It is not the best idea to use Uber service in Rome because there are only UberBLACK, UberLUX, and UberVAN options, which are expensive. Don't forget that the price of Uber trip may vary according to the time of the day and traffic. Moreover, you can check the approximate cost of your trip in the app if you have wi-fi.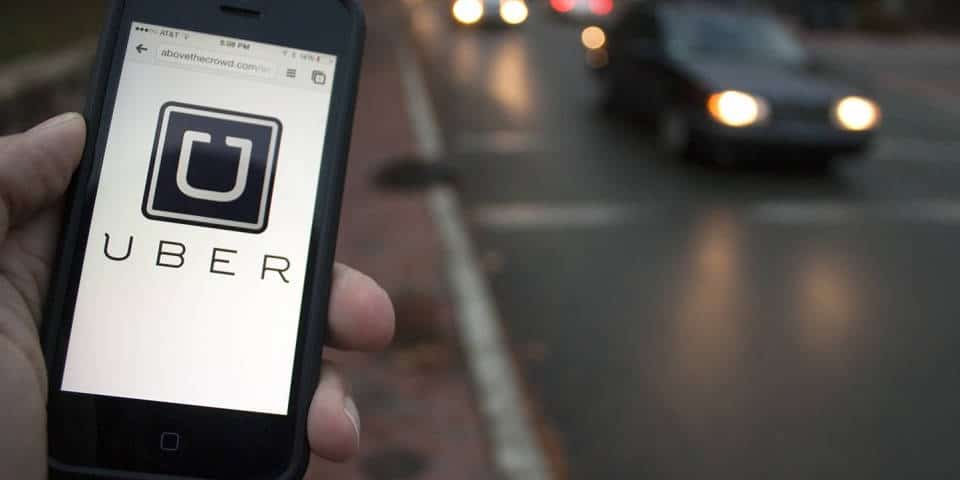 MyTaxi
My advice for you is to download MyTaxi. The app allows you to order a taxi without speaking in Italian and it always tracks the route. Moreover, you can check the payment information and to pay with credit card, PayPal or cash when you reach your destination. Finally, MyTaxi often offers discounts for the journeys and this app is very comfortable in use.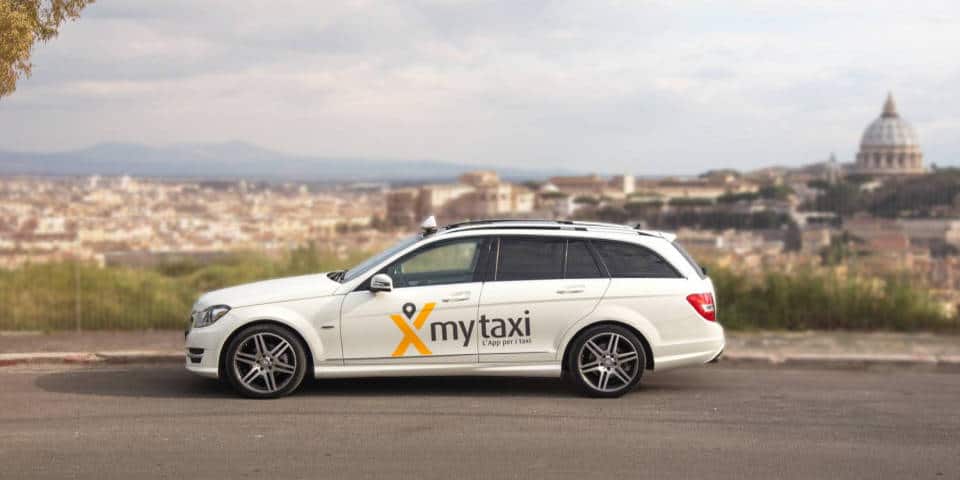 Private transfer on Mercedes
Phone: +39 349 639 70 19
Website: www.rome4.us
Price to/from Fiumicino airport: 50 euro (no additional payment for luggage)
Price to/from Ciampino airport: 45 euro (no additional payment for luggage)
Of course, among all transport options, the most comfortable and secure way to get from/to the airport or any other point of the city is private transfer. You can order a private transfer from our website rome4.us. The driver, Sergio, will meet you at the airport and with him you will be able to reach any point of the city in a fast and comfortable way.
Rent a car
You can use www.rentalcars.com which connects its clients to the biggest brands in car hire. This website allows one to find the best car options. Also, there is a possibility to rent a car in advance. For most car hire companies, the age requirement is between 21 and 70 years. On average, the minimum price of car renting per day starts from 25 euro.
To book your car, all you need is a credit or debit card. When you pick the car up, you'll need:
Your voucher / eVoucher, to show that you've paid for the car.
The main driver's credit / debit card, with enough available funds for the car's deposit.
Each driver's full, valid driving license, which they've held for at least 12 months (often 24).
Your passport and any other ID the car hire company needs to see.
Different car hire companies have different requirements, so please make sure you check the car's terms and conditions as well.
Was this article useful? Write in comments about your experience with taxicabs in Rome!