On one of the lowest hills of Rome stand the oldest public museum in the world – The Capitoline Museums. Its construction was commissioned by Pope Sixtus IV in 1471, who transferred his antique bronze collections as a gift to the Roman people and located them on the Capitoline hill.
The museums are owned and operated by the municipality of Rome
Our private guided tour to the museums will start from the Palazzo dei Conservatori, where we find and talk about such incredible masterpieces as:
Boy with Thorn, also called Fedele (Fedelino) or Spinario;
Gilded bronze statue of Hercules of the Forum Boarium
The symbol of Rome – an original sculpture of the Capitoline Wolf (Lupa Capitolina), who raised twins Romulus and Remus
Medusa, marble sculpture of the eponymous character from the classical myth by Gian Lorenzo Bernini
On the upper part of the palace, we will reach the Halls Horti Lamiani, with the impressive Bust of Commodus as Hercules. Moreover, there are two sculptures representing a marine Triton, known as the Torso of Triton or Sea Centaur
Buildings of the Capitoline square are interlinked by an underground gallery beneath the piazza. This is how we are going to move to the Palazzo Nuovo. The palace adorned as a huge residence of Roman patrician and decorated with wonderful Roman mosaics and busts of ancient philosophers and poets. Moreover, we will discover worldwide known masterpiece, the statue of Capitolone Venus. The Capitoline Gallery contains paintings in nine different halls, were we will admire works by Titian, Rubens, Reni, and many other artists.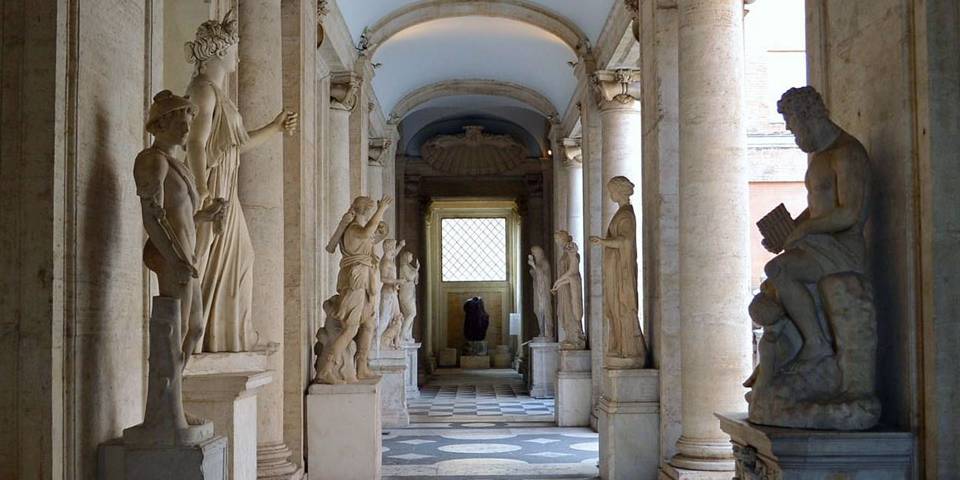 I recommend this individual tour to all history and art lovers
Organizational details
Price for the group of up to 3 participants: 200 euro (+25 euro for any additional participant). Max 7 people per group. This is an individual tour only for you and your group.
Duration of the tour: 4 hours. We will skip the line at the entrance
Ticket price: 8.50 euro per person
Beginning time: 1:30 pm, on Tuesday and Saturday the tour starts at 5 pm
Meeting point: in the middle of the Capitoline square, under the statue of Marcus Aurelius. Here is the point on the map;
Rome museum or tourist passes are valid for the museums visiting