We are going to start diving into my favorite Trastevere neighborhood with the introduction to Italian history on the peak of the highest hill of the Eternal City, where locals enjoy wonderful panoramas. This is the spot with the most delicious and inexpensive Roman bars and restaurants.
This private walking tour is ideal during first days of your Roman holidays since after it, I am sure, you are going to have lunch and dinner only in Trastevere
During this tour you will discover:
The story of unification of Italy and achievements of national hero, Giuseppe Garibaldi
Where shootings of the most beautiful movie about Italy "The Great Beauty" (La Grande Bellezza) and scenes of "Spectre" about James Bond took place
Interesting facts about the grandfather of famous Trevi Fountain – the Fountain of Acqua Paola. Also, you will learn how to recognize authors of architectural masterpieces (fountains, churches)
Where to eat the best Italian pizza in Trastevere and the story of its creation

Where the love of famous Raphael Santi used to live
My favorite restaurants and bars where I usually have a dinner and invite friends. You will find out places where you can pay 30-45 euro per two for an excellent dinner with wine, while other tourists pay 50 and more euro in touristic places
Where Roman guys do marriage proposals to their lovers. The tour starts on the Janiculum hill, where we will see magnificent panorama of Rome and views of the Vatican
At the end of the tour, you will have a special:
Tasting of Italian Delicacies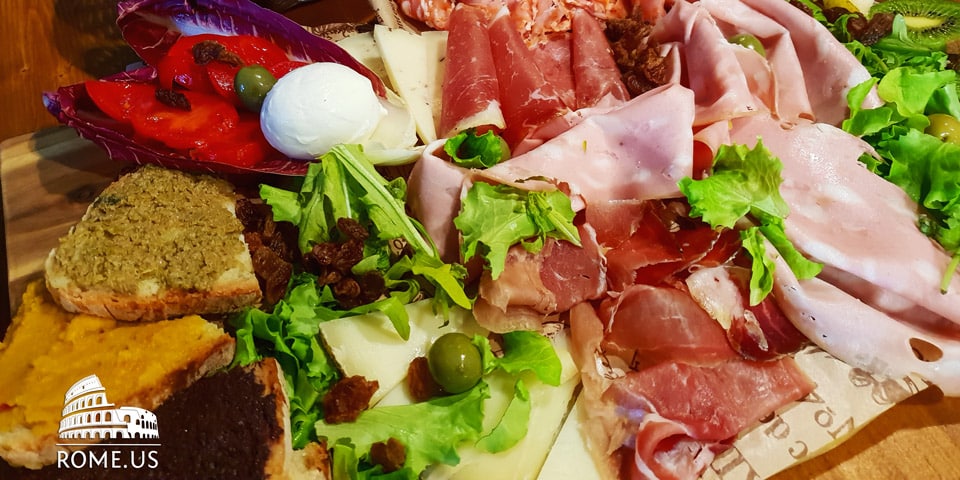 In the last part of the tour, we will visit one of the best bistro restaurants in Rome, Bottega Fienaroli. The owner of the restaurant, Giacomo, is in love with Italian cuisine. He will meet you with a glass of excellent wine or crafted beer, as well as with cutting cheeses (formaggi) and meet (Italian prosciutto) from different regions of Italy.
Organizational details
When we can have this tour: any day when the tour guide is available
Beginning time: 6 pm or 4.30 pm by agreement
Meeting point: observation deck in Piazza Garibaldi near the monument dedicated to Giuseppe Garibaldi
How to get there: the most convenient way to get to the observation deck is by taking a taxi for 8-15 euro or by taking bus №115 or №870 to Piazzale Garibaldi stop. Another option is to walk by foot if your hotel or apartment located in Trastevere area or somewhere nearby. If you are going to take a taxi in Rome, try our taxi calculator 
Duration of the tour: 2-2.5 hours
Price for a group of up to 3 participants: 175 euro for 2-2.5 hours
Maximum number of participants: 6 people, for 4th, 5th, and 6th participant an additional payment is 25 euro per person. (For instance, for 5 particiapnts 175+(2х25)=225 euro) – there will be no other tourists except your group, since our tours are individual
All answers to questions you may have you can find in the section "F.A.Q."
Mini-photoshoot: available during the tour for an additional payment of 75 euro
Tasting of Italian delicacies: the plate of Italian traditional delicacies (cheeses, meet) is included in the price of the tour. Also, each participant of the tour will get a glass of wine or beer as a mini present from Giacomo
On Mondays and in August: instead of delicacies in Bottega Fienaroli, we are going to try pizza in one of the best Roman pizzerias and the real Italian gelato (ice cream)