You can easily get from Rome to Civitavecchia since there is an excellent train service between the Eternal City and Rome's Cruise Port. The core service functions twice per hour and it takes around 70 to 80 minutes to travel the full route. However, do not expect punctuality from Rome's public trainsportation and regional trains. The most convenient way is to get by train from Roma Termini station, but there are also other direct trains from popular stations as Roma Trastevere and Fiumicino Airport.
Here's the list of options on how to get from Rome to Civitavecchia Cruise Port:
By Private Transfer
Taxi and private transfers from Rome to Civitavecchia Sea Port is one of the most expensive options. For instance, private transfer from Rome to Civitavecchia costs 115 euro for one-way trip. However, it is the most comfortable way to reach the city and enjoy your journey with a maximum comfort. As an alternative, you can book taxi online.
By Train
Getting from Rome to Civitavecchia port by train is the most convenient and cheapest option. The Rome Fiumicino airport has its own train station, while Rome Ciampino airport is connected with the Ciampino station by shuttle bus ATRAL. Since there are no direct trains, from Fiumicino airport station you have to take the train to Roma Trastevere or Roma Ostiense station and change the line in the direction of Civitavecchia. The journey will take around 2 hours with the price of 12.60 euro (8 euro + 4.60 euro).
From Rome Ciampino airport, first, take the shuttle bus ATRAL to the Ciampino station. Your journey will take only 5 minutes with a cost of 1.20 euro. From the Ciampino train station, take the train to Roma Termini (1.50 euro, trains depart every 12 minutes). You can buy tickets on board. Then, from Roma Termini station, purchase a ticket to a regional train for 5 euro (1 hour 20 minutes) or an Intercity train ticket for 11 euro (55 minutes) or Freccia Bianca for 15 euro (45 minutes).
You can buy train tickets online
Description of the train lines in Rome:
FL1: runs between the Fiumicino airport station and Roma Trastevere or Roma Ostense
FL4: train line between Ciampino Station and Termini (and other towns of the Castelli Romani)
FL5: train connecting several stations in Rome as Roma Termini, Ostiense, Trastevere and Roma San Pietro station with Civitavecchia train station
Tickets
You can buy train tickets at both Civitavecchia and Rome Stations at ticket desks or ticket machines. Credit cards are acceptable and you can choose among several languages, while buying a ticket from a ticket machine. Most frequencies between the Rome Cruise Port and Rome city center are by local stopping train. Also, there are infrequent inter-city trains that run non stop between Civitavecchia and Termini Station. Here's the list of prices:

If you buy a ticket for the local trains, do not forget to stamp it in any of the ticket machines on the station
Rome Stations for Travelling from Civitavecchia
The central station of Rome is Termini Station, which is the main public transport hub for Rome in the city centre. The trains stop at S.Pietro (40 mins), Trastevere (50 mins), Ostiense (55 mins) and finally Termini (70 mins). From Roma Trastevere station you can also go directly to the Fiumicino airport, while from Ostiense you can take the Rome Metro and go directly to the Colosseum or Spanish Steps.
From Civitavecchia Train Station to the Cruise Terminal
From Civitavecchia train station you can take a local Argo bus or walk towards the port. The Argo buses station is in front of the train station and they run every 20 minutes. The journey will take 10 minutes and the ticket costs 2 euro. You can purchase a ticket at the news-stand or at the bar inside the station.
You can also walk to the port by foot from the Civitavecchia station. The entrance of Varco Fortezza is located 600 m away
Access to the Cruise Terminal
An access to Rome Cruise Terminal is only allowed by:
Port mobility shuttles that leave from the Largo della Pace or from the parkings
Taxi/private transfer service authorized by the Civitavecchia Port Authority
Here's the map of the Rome Civitavecchia Port: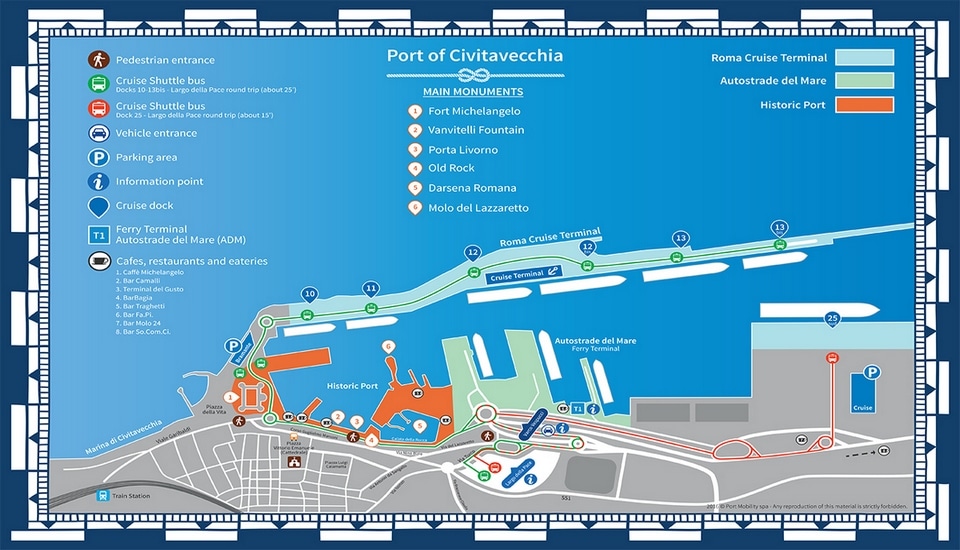 Moreover, the shuttle service on the territory of the Port of Civitavecchia to the cruise terminal is free of admission. Be ready that there is a possibility of delays
The address of the port is Prato del Turco, 00053, Civitavecchia
By Car
If you choose to get to Civitavecchia from Fiumicino Airport (Leonardo Da Vinci Airport) by car, it is in 60 km from the port and a drive takes 50 minutes, while Rome Ciampino Airport is in 85 km from the port, so the journey will take about 1.5 hour.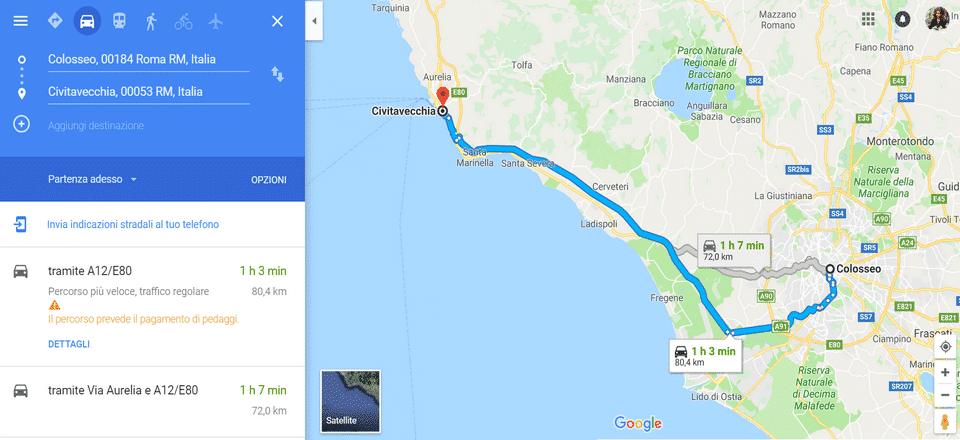 Day Trip to Rome
If you have only one day in Rome, there are plenty things to discover. The city with more than 2000 years in existence won't leave anyone indifferent. While exploring its main sites, don't forget to try famous Italian gelato, eat pasta and pizza in Trastevere area, and visit churches located almost on every corner of Rome. You can repeat our itinerary from the vlog with top 30 things to see in Rome:
Of course, the most famous attractions are the Colosseum, Spanish Steps, Piazza Navona, the Pantheon, Roman Forums, Vatican, and many other churches, squares and monuments. Despite the fact that Rome is full of interesting attractions and points of interest, most of them located nearby each other. Undoubtedly, it is the city that you have to discover by foot. Pay attention to details, enjoy sunny weather and amazing Italian food.
Better plan your trip in advance!
We are waiting for you in Rome 🙂