The Colosseum (Colosseo) is one of the most popular sites in the world with thousands of tourists who come to Rome to visit it every year. Despite the fact that it is not difficult to reach this attraction by public transport, you may spend hours of waiting in a queue to come inside. The same with each popular site of Rome, as for instance, Saint Peter's Basilica, you should better plan your visit in advance and come in the morning time. The Colosseum opens daily at 8.30 am, so just come prior to its opening time to enjoy the amphitheater without crowds of tourists. You can buy tickets online.
Do not trust tour guides near the Colosseum who promise you to skip the line if you don't want to pay double price
Price
The price for the entrance to the Colosseum is 12 euro per person + 2 euro for the reservation. It is active during 48 hours and you can visit the Colosseum, Roman Forum and the Palatine hill using this ticket. Moreover, there are several ticket desks located in the area of the site and you can buy ticket in the morning time before the opening time. The Colosseum works daily from 8.30 am. It is closed on 1st of January and 25th of December. 
Discounted ticket will cost 7.5 euro, which is valid for EU citizens aged from 18 to 24 years. EU citizens have the possibility to visit the Colosseum for free! Residents of the European Union under the age of 18 and after 65 years can pass through a special entrance to the amphitheater free of charge.
Book tickets by phone: +39 (0) 6 399 677 00
Online: www.coopculture.it
Reservation in advance costs 2 euro, but it helps to avoid long queues at the ticket office
Note: You can visit the Colosseum by booking one of the Underground Tours to the amphitheater. These tours are also available in the evening, when the official selling of tickets to the Colosseum is stopped and the whole arena will belong only to you. Underground tour's feature is in its narrow corridors and secrets from the time of ancient Roman Empire that you will recognize from your tour guide. Ticket price is included in the tour. Options of underground tours to the Colosseum and more details are here
Working Hours
The Colosseum is open daily throughout the year, but there are particular holidays when it is closed.
From January 2 to February 15, the amphitheater opening hours are from 8.30 am to 4.30 pm with last admission at 3.30 pm
From February 16 to March 15 it works daily from 8.30 am until 5 pm with last admission at 4 pm
From March 16 until last Saturday of March, the Colosseum works from 8.30 am until 5.30 pm with last admission at 4.30 pm
From the last Sunday of March to August 31, working hours are from 8.30 am until 7.15 pm with last admission at 6.15 pm
From September 1 to September 30 the Colosseum works from 8.30 am to 7 pm with last admission at 6 pm
From October 1 to last Saturday of October, opening hours are from 8.30 am to 6.30 pm with last admission at 5.30 pm
From the last Sunday on October to December 31, the Colosseum works from 8.30 am to 4.30 pm with last admission at 3.30 pm
The Rome Italy Colosseum works every day during the year except from Christmas Day and New Years Day
Roma Pass
You can use your Roma Pass to visit the Roman Colosseum along with many other sites. As an option, you can visit the amphitheater one hour prior to its closing time, during its last admission time. Usually, crowds are gone and time queuing for the entrance is minimal. On average, the Colosseum is mostly crowded from afternoon to 3.30 pm. However, you should go online to check tickets for Roma Pass holders.
How to Purchase Tickets
There are several options where to buy tickets to visit the Colosseum without standing in long queues.
The Colosseum can accomodate up to 3000 people at once
First, you can buy a guided tour so you will skip the line and recognize many interesting facts about the site where famous gladiator games took place in the period of ancient Roman Empire. Second, you can buy a ticket in the morning in one of followong ticket desks:
from Palatine Hill located in Via San Gregorio 30
Piazza Santa Maria Nova 53
To buy tickets online you have to visit website of the Colosseum: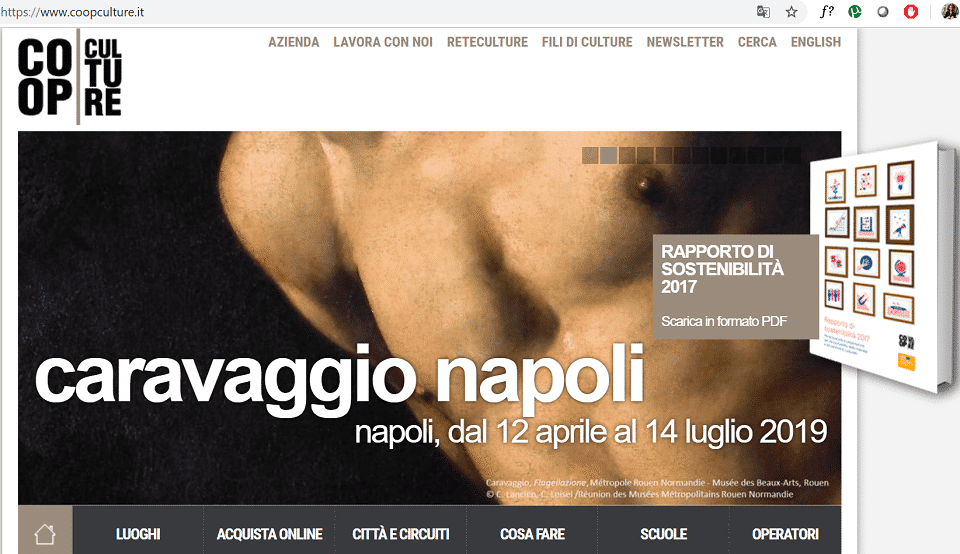 Switch the language to English and press "buy online" button:

Then you have to choose "Rome Colosseum" window: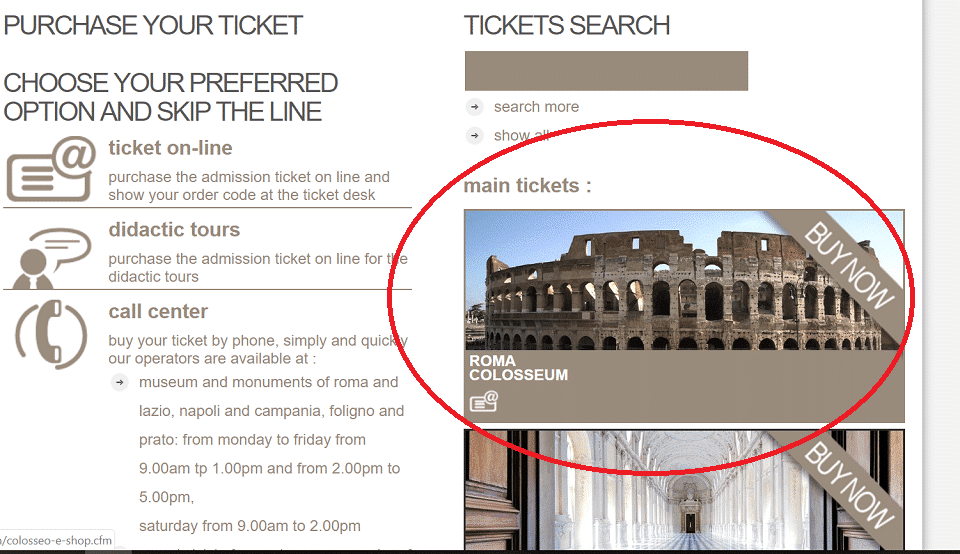 You will see detailed description of prices and kinds of tickets: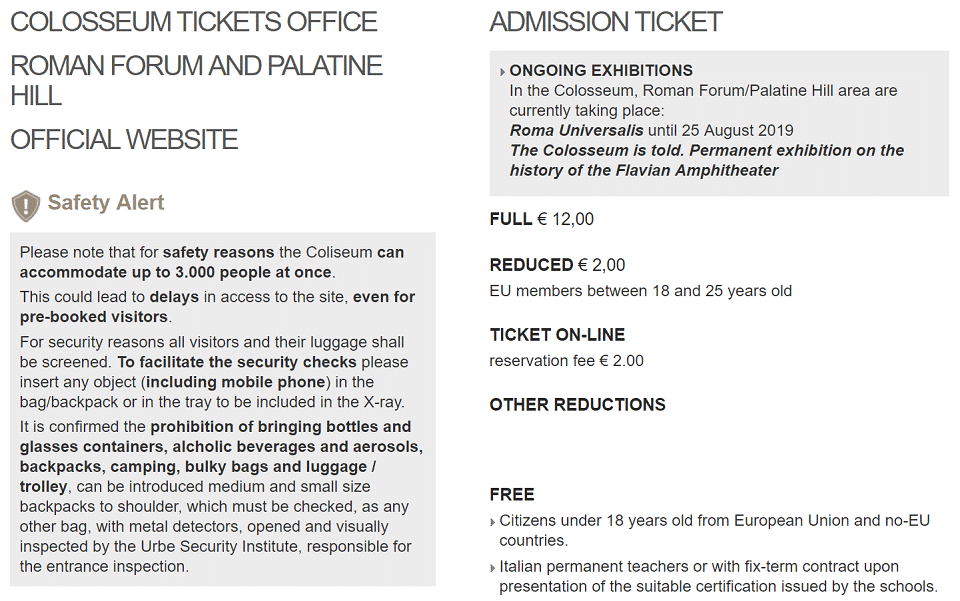 Scroll this page a bit and you will see "buy now" button: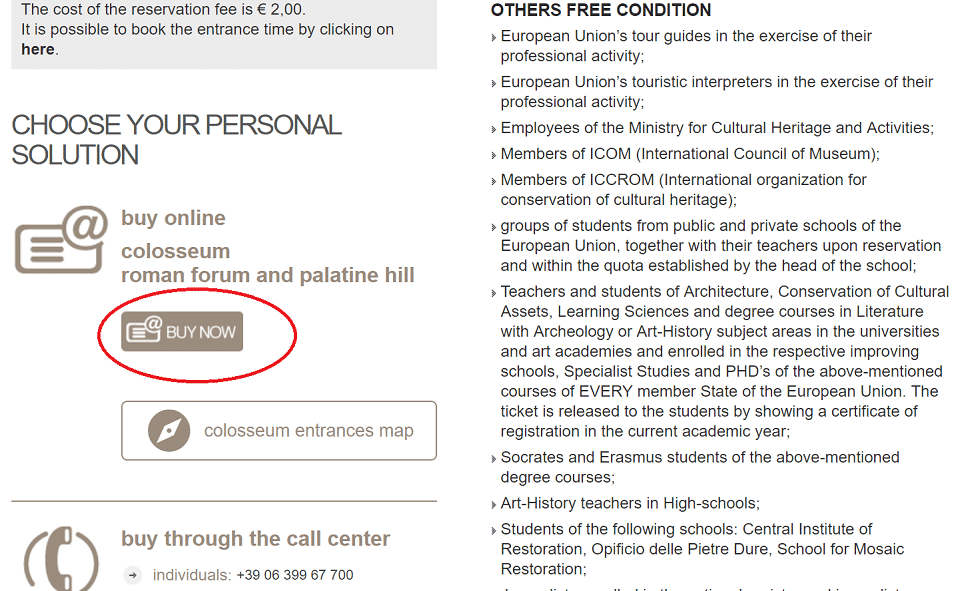 Then the website gives all options of the tickets available to visit the Coliseum: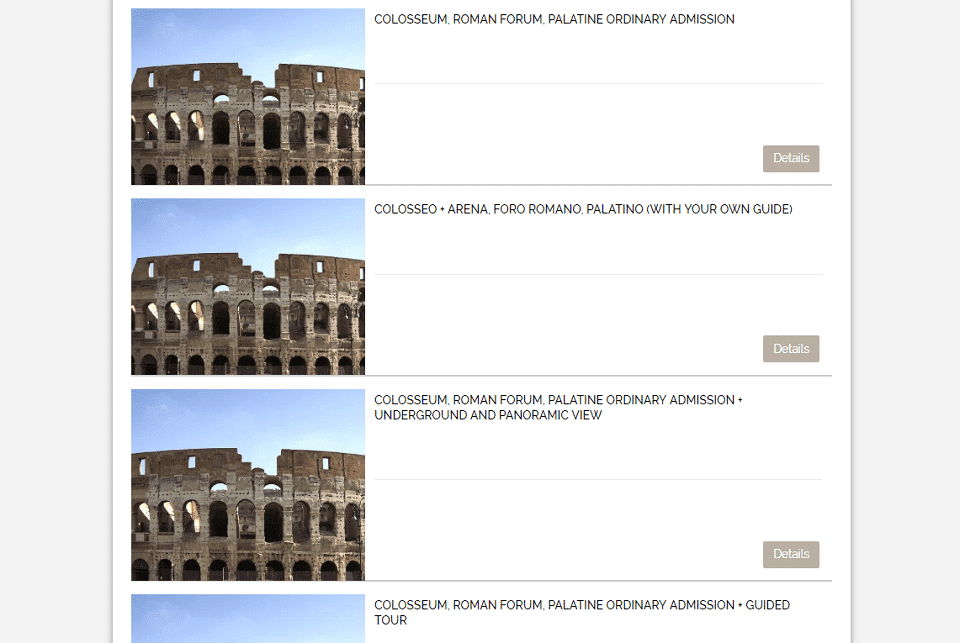 We will try to buy basic tickets/ordinary admission (12+2 euro) that allow entrance to the Colosseum, Roman Forum and Palatine Hill: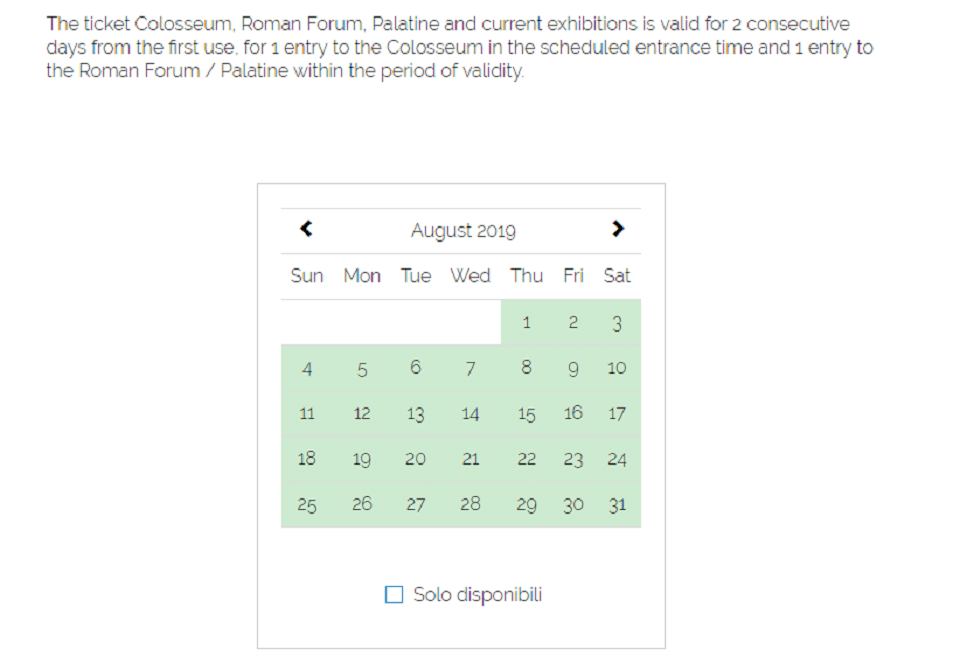 Choose any date and time that you are interested in and you will see the number of tickets available: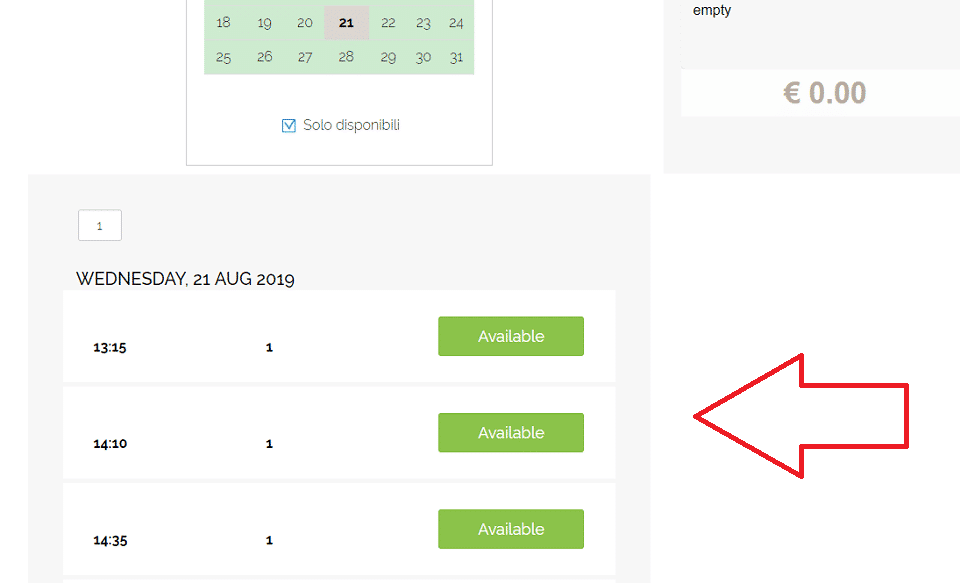 Let's try to buy a ticket for August 21 and choose 13:15 entrance time. You need full price ticket (if you are not EU citizen). After selecting the number of tickets press "add to cart".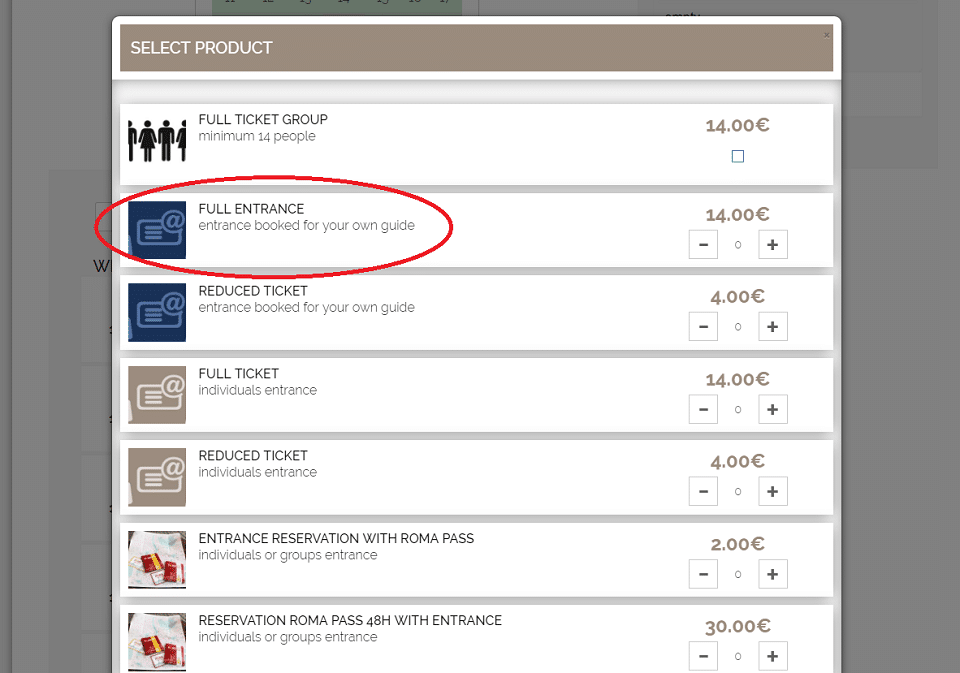 Then you have to press "check out" to pay for your ticket: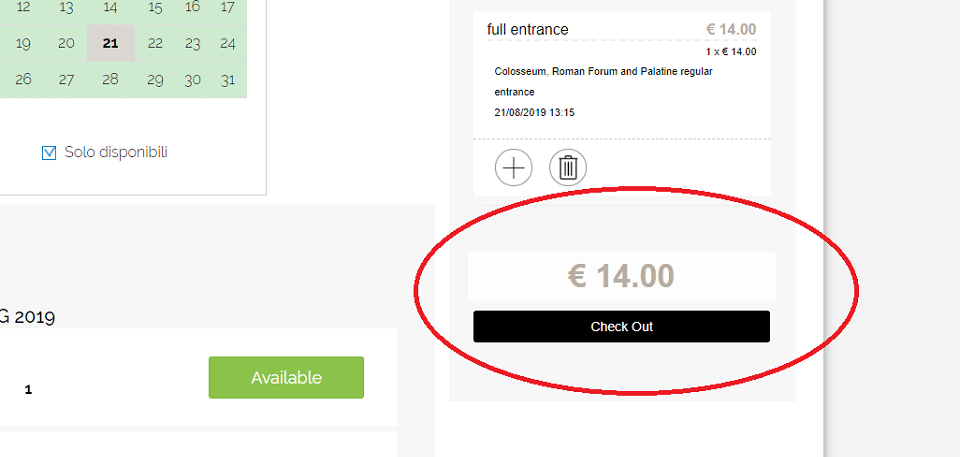 Now insert personal info details: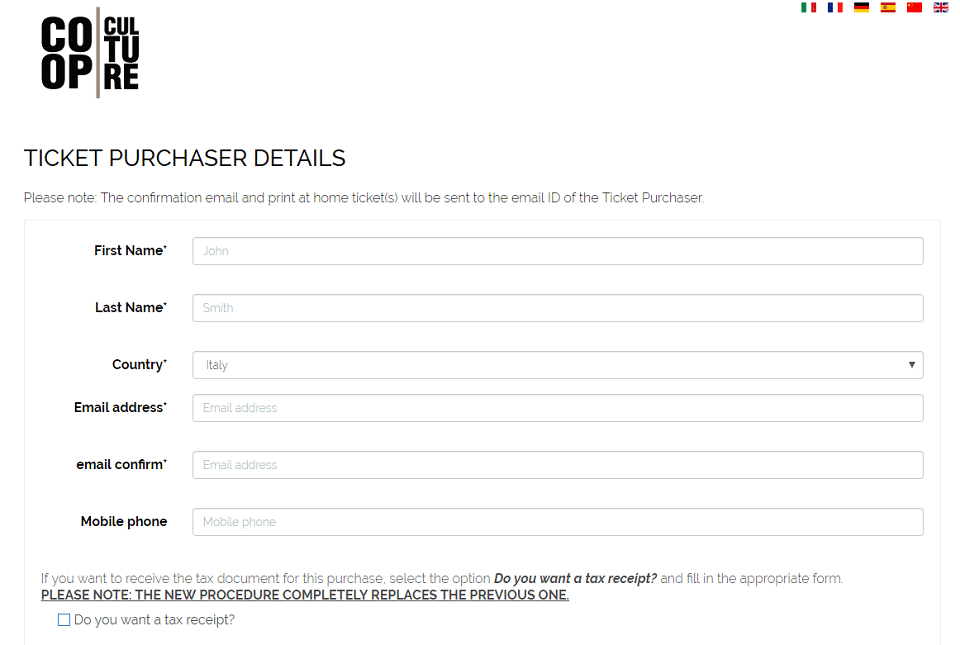 Choose preferenced payment option and press "buy now". In less than half an hour you will receive an email with your booking code.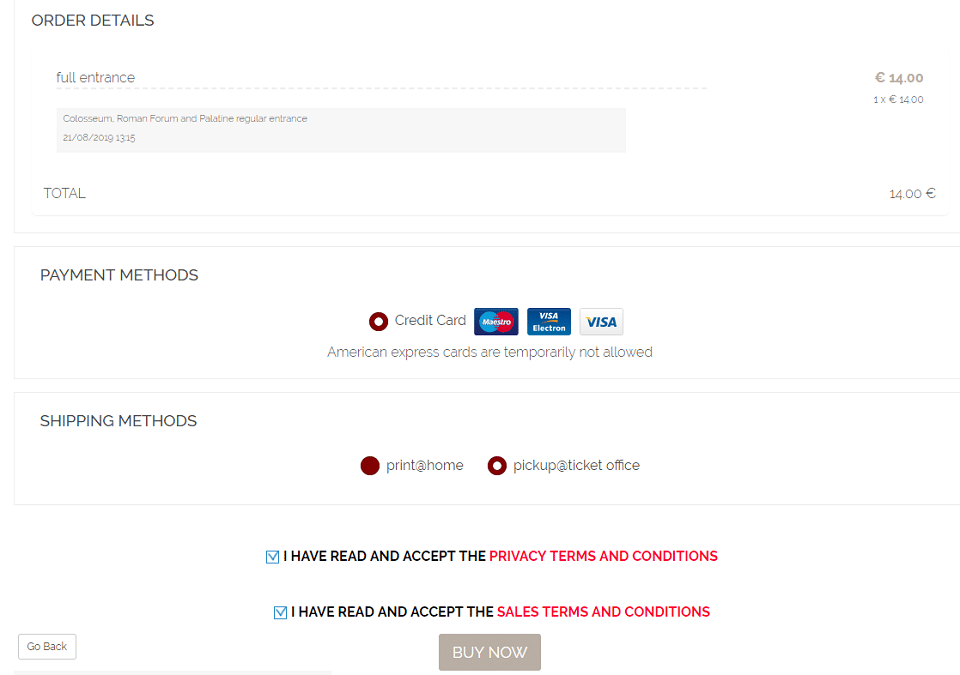 Note: you don't have to buy tickets for children under 18 years old. You will get ticket for your child at the counter desk (2 euro per child) right before entering to the Colosseum, when your tickets will be checked
Plan B
If there are no more tickets on the official website of the Colosseum, you can purchase one on the website of our partners: www.tiqets.com for 18 euro.
Have a nice experience during your stay in Rome! Don't forget that it is much better to explore the Eternal city in the morning time or late in the evening when there are no crowds of tourists and no heat.