There is a variety of group and individual guided tours to the Colosseum in Rome. We recommend several options that would be excellent for your trip according to the experience of our team:
Group Tours
These group tours are provided by official guides of the Colosseum, Roman Forum and Palatine Hill. It is good to consider these options since they allow to visit parts of the Colosseum that regular ticket holders do not have access to.
Ancient Rome Tour: Colosseum Underground, Arena and Forum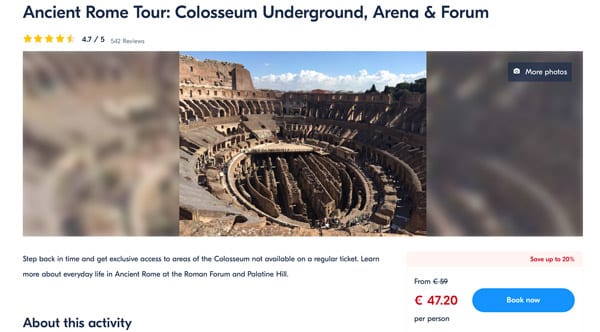 Ancient Rome group tour with an official guide of the Colosseum. You will explore areas that are not available for regular ticket holders, including the underground level where wild beasts kept before battles with the gladiators. Moreover, there you will learn about innovative techniques that engineers used to build the amphitheater. After the short break you can visit the Roman Forum, which was the most significant site in the period of ancient Roman Empire. Also, you will have an access to the Palatine hill, where imperators and notable families used to live. The duration of the tour is 2.5 hours and the price starts from 59 euro per person. Moreover, you will have skip-the-line entrance ticket and taxes.  Headsets will be provided. The guided tour is provided in several languages and you can cancel your reservation 24 hours prior to the tour without any admission fee.
Rome: Colosseum Underground Evening Tour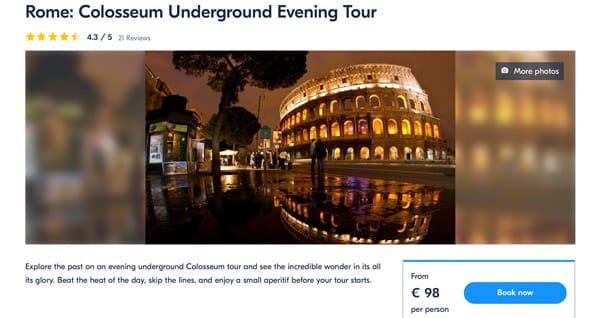 Colosseum Underground Evening Tour is a unique opportunity to start the tour at 7.30 pm or 9 pm. You will have a chance to take some beautiful panoramic photos of the ancient amphitheater and areas that surround it. With a professional guide, you will discover interesting history of ancient Rome. Moreover, there are no crowds since you will have skip the lines ticket and the Colosseum at this time of the day will belong only to your group. The tour starts with an aperitif! Headsets provided to each participant. Also, the price starts from 98 euro per person for 2 hours duration of the tour. Easy cancellation is provided.
Individual Tour
Another option to visit one of the most important sites of antiquity is to take an individual tour around ancient Rome with rome.us. During the tour you will visit the Colosseum, Roman Forum, Palatine and Aventine hills, Circus Maximus, see the ancient aqueduct and many other interesting sites from the period of the Roman Empire. The tour is provided in English and Italian languages and the professional tour guide will show you hidden gems of the Eternal City without long lines and waiting in a queue. It is the most comfortable way to explore Rome since there will be only your group during this private tour.
Price of an individual tour: 250 euro for a group of up to 3 participants, 4 hours – 200 euro, 3 hours – 150 euro. This is a private tour only for your group without additional tourists