Sicily is the sunny island located at the southern part of Italy. Getting there from Rome isn't difficult and the most convenient option is by air. Moreover, you can get there by a train on a ferry or usual ferry. The distance between Rome and Sicily is 494 km. This air travel distance is equal to 307 miles. It will take from 1 to 14 hours to get from Rome to Sicily.
Here's the list of options on how to get from Rome to Sicily:
By Plane
One of the most popular options is to travel from Rome to Sicily by plane with Ryanair from Fiumicino airport to the airport of Trapani and then taking a train to Palermo. Price for one way ticket starts from 19 euro and it takes 1 hour 15 minutes to reach Palermo from Rome by plane. It is always better to book tickets in advance for cheaper prices.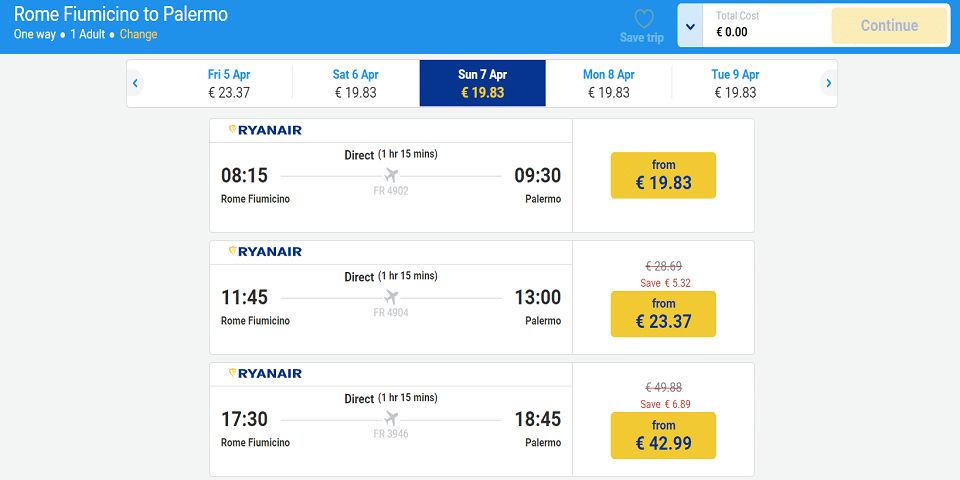 Another airline which offers flights to Sicily from Rome Fiumicino airport to Palermo is EasyJet. There is a flexible ticket cost about 70 euro for a one way ticket. The best fare offered from this airline will be about 30 euro for one way ticket. Also, Catania to Rome flights are provided by Wind Jet with the price of 30 euro or for flex tickets about 60 euro total. Here's the example of available flights provided by Wind Jet to Catania from Rome: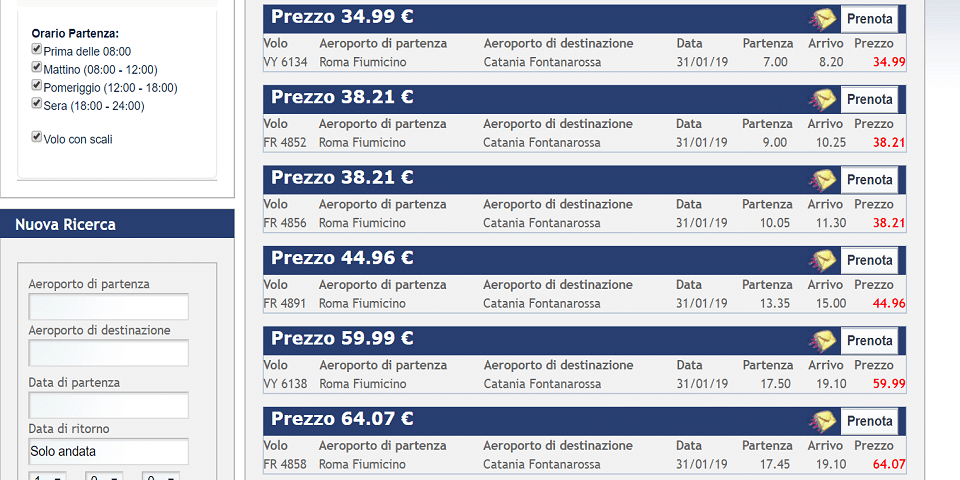 "Partenza" means departure, "arrivo" means arrival and "prezzo" is a price.
By Train on a Ferry
You can also take a train on a ferry from Rome to Messina. The journey will take about 8 to 10 hours. The train on a ferry ticket costs about 40 euro one-way. There are also many Italy rail links from Rome to Palermo via Messina with many other train options going between Messina and Palermo. Travel time is about 3.5 hours and the price is 11 euro one-way. To make reservation online go to Trenitalia website.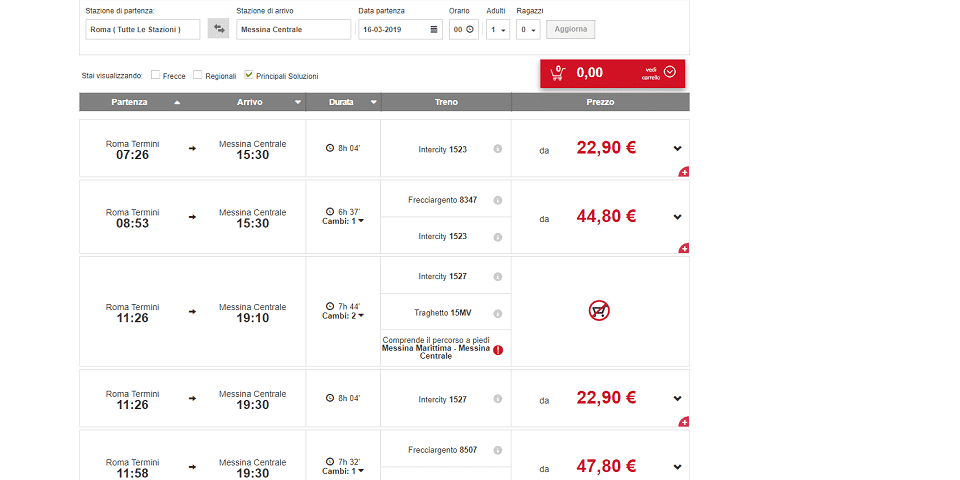 There are also hourly trains between Messina and Taormina, Sicily's major resort to the south, taking 1 hour and costing 4.50 euro each way
By Ferry
Another option is to take a train from Rome to Naples or Salerno and then take a ferry to Messina. A train link from Naples takes 5.5 hours with an average price of 35 euro. You can buy a ticket to get to Sicily by ferry. Also, you can get from Rome Civitavecchia port to Palermo in 14 hours with prices from 40 euro per adult.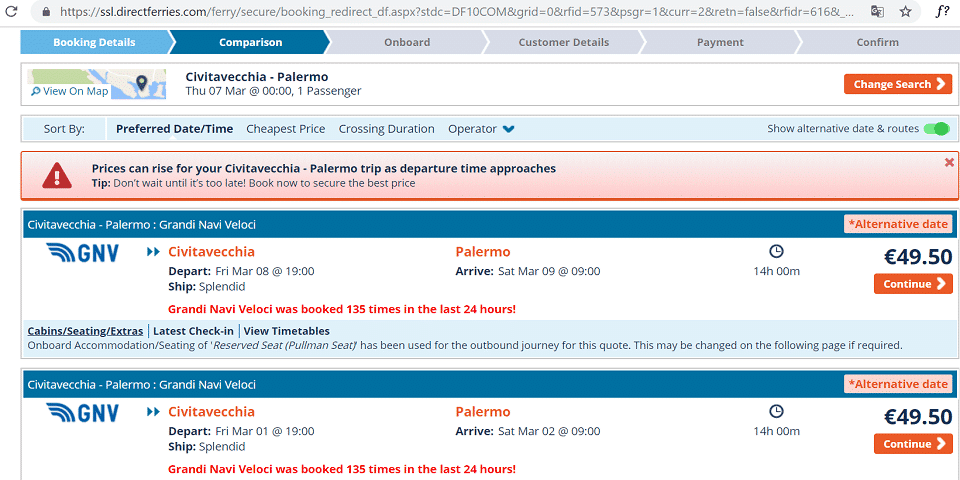 By Car
Yes, it is possible to get to Sicily from Rome by car. The route originates from the highway through Calabria and, crosses the Stretto, on one of the ferries. You have to buy your ticket at the port and get in line with all other cars to get on board of the ferry.
What to Visit
Mount Etna (Monte Etna) – the main attraction of Sicily, created by nature itself. This is the largest active volcano in Europe located in the eastern part of the island
The second natural attraction of Sicily is the cave, bearing the name "Ear of Dionysius" (Orecchio di Dionisio). The cave is located near the city of Syracuse.
Botanical Garden of Palermo. Today, the garden covers 10 hectares. There you can see a huge variety of tropical plants, cactus groves, a variety of beautiful lilies and much more
When arriving in Agrigento or Selinunte, you can get into the world of ancient Greece. In Selinunte the ruins of the unknown temple are of the greatest interest. It is assumed that it was once dedicated to the great Zeus and was like the Parthenon in Athens. Today, on the site of the temple, only one column has been preserved. There are many other remains of ancient temples in the city
The road between Selinunte and Agrigento is very picturesque. It is mainly surrounded by deserted beaches and rare fishermen settlements. The most amazing place on this road is the Valley of the Temples – an architectural complex made up of temple buildings from 5-4 centuries BC. The whole valley is divided into two parts – east and west
The oldest temple in Sicily – Tempio di Ercole is located in the eastern part of the valley. Once upon a time it was a magnificent vault on 38 huge columns. The Temple of Concord (Tempio di Concordia) is preserved in a much better condition
A striking detail of the western part of the valley is the Temple of Olympian Zeus (Tempio di Zeus Olimpio). The majestic temple is considered the pearl of the ancient Greek architecture of Sicily. The height of its columns was once 15 meters. However, due to rains and winds, they eventually began to grow into the ground
What to See in Palermo
An important attraction of the island is the city of Palermo – the capital of Sicily and the main city of the province of the same name. The number of its attractions is such that it could well be enough for a small European state.
The main attraction of the city is considered to be the Royal Norman Palace (Palazzo dei Normanni). Looking at its western part, you will see the Norman fortress, and on the south side you will see a typical Renaissance building. Previously, the palace was the residence for kings, and today it houses the government of Sicily
The city of Taormina, located in the province of Messina amazes tourists with fabulous beauty. Medieval palaces and monuments of Greek-Roman architecture can be found there at every turn
Also, Syracuse was founded by the Corinthians in 734 BC. Since then, the city has preserved many monuments of history
Sicilian Food
Sicily has a distinct cuisine that's steeped in history and became world-famous. Sicilian food is a really mixed – a fusion cuisine that's influenced by French, Arabic and North African settlers. When in Sicily, you should definitely try:
Arancini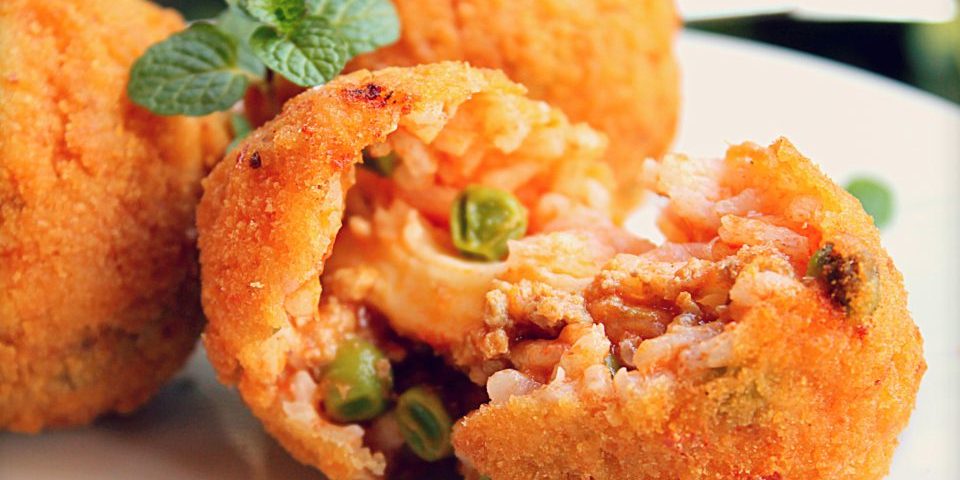 Arancini is a ball of creamy risotto rice that's breaded and deep-fried. This is the iconic Sicilian dish! This is a perfect snack while walking around the island's streets.
Pasta alla Norma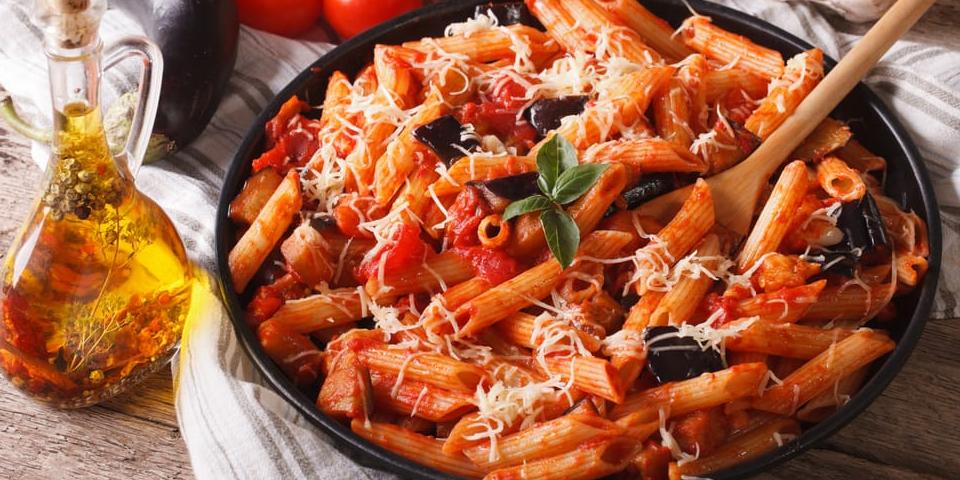 Pasta alla Norma is probably the best representation of Sicilian cuisine. It is made of local tomatoes, aubergines, garlic, basil, and salted ricotta. Must try! Perfect for vegetarians.
Pasta con le Sarde
Pasta con le Sarde is the fishy version of Pasta alla Norma. It contains fresh sardines, salted anchovy fillets and wild fennel mixed in a sauce with an addition of pine nuts, raisins and saffron. The taste is amazing.
Caponata
Caponata is an example of external influences over Sicily's cuisine. The recipe can chage from one chef to another, but it must always contain aubergines, pine nuts, raisins and plenty of vinegar. It is usually served as an antipasto (starter).
Dolci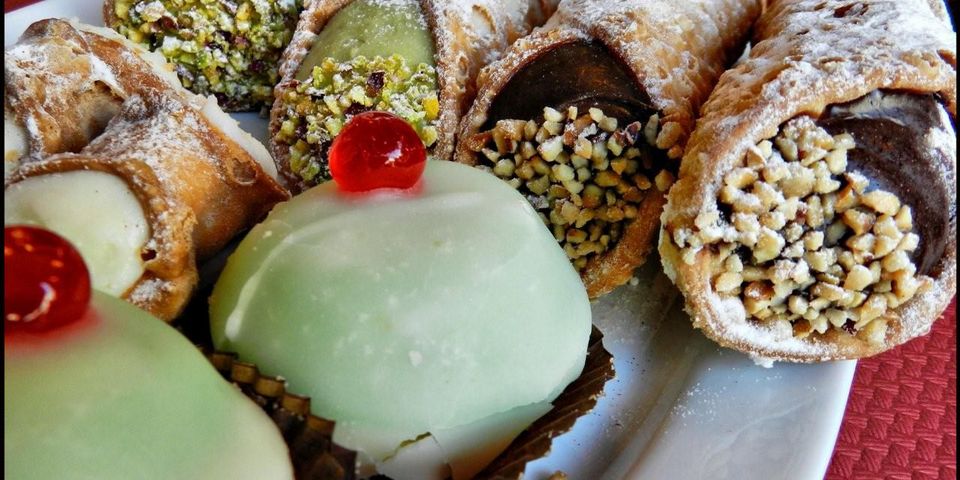 When in Sicily, you should definitely try: cassata, cannoli and granita. Sicilian sweets are amazing and incomparable! For instance, cannoli are little deep-fried pastry tubes piped full of creamy ricotta. Cassata is a Sicilian sponge cake flavored with chocolate, citrus fruits, marzipan and ricotta cream. Then, granita is an ice with flavors. Typical flavors are almond, coffee and watermelon. You have to eat it with a spoon, so it is not slush.
Where to Stay
Plan your trip to Sicily for at least three days! There are so many things to see and to try 🙂
Verdura Resort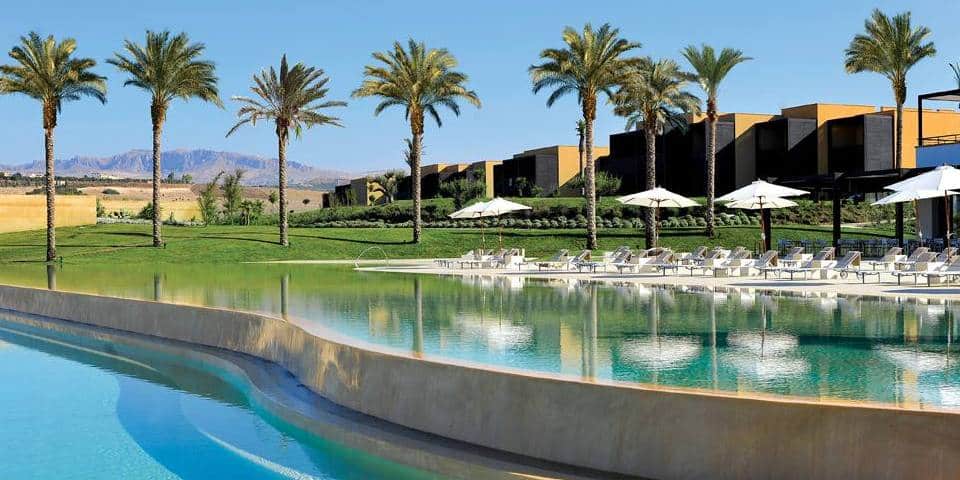 Verdura Resort is a high-rated luxury hotel located in Ribera. The resort is on 230 hectares of olive groves and Sicilian countryside. It offers a private beach, 3 golf courses and amazing sea views.
Price per night for 2 people starts from 400 euro
NH Collection Taormina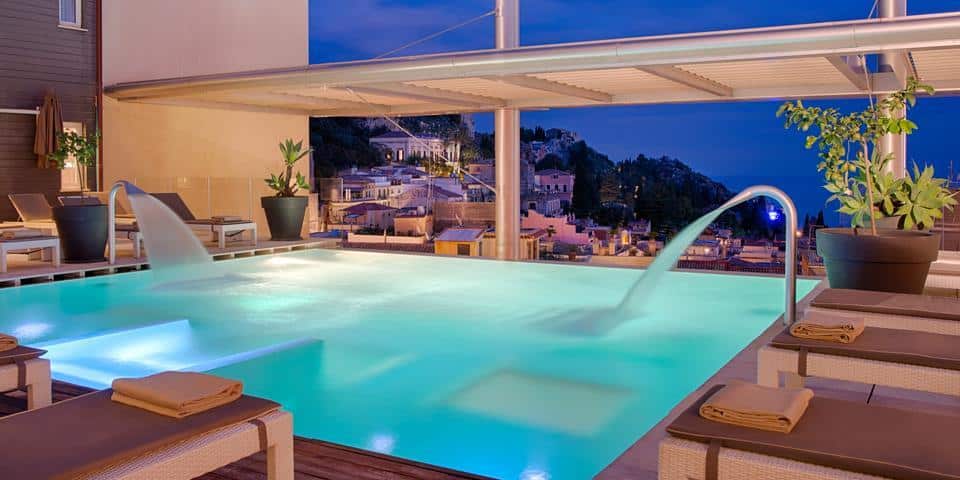 NH Collection Taormina features a roof-top terrace with a cocktail bar and panoramic views. It is set in the heart of Taormina. There are spacious rooms, a modern wellness center, and an infinity pool overlooking the bay.
Price per night for 2 people starts from 350 euro
Hotel Santa Isabel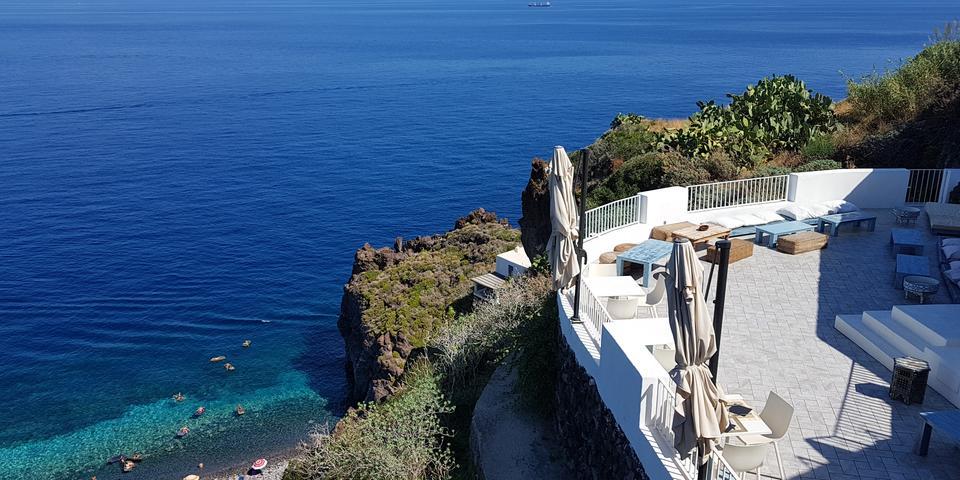 Hotel Santa Isabel is on the high rocky coast of Malfa on Salina Island. The town center is only in a 10-minute walk away. The hotel offers modern, spacious suites with a private bathroom and free toiletries.
Price per night for 2 people starts from 150 euro
Elysium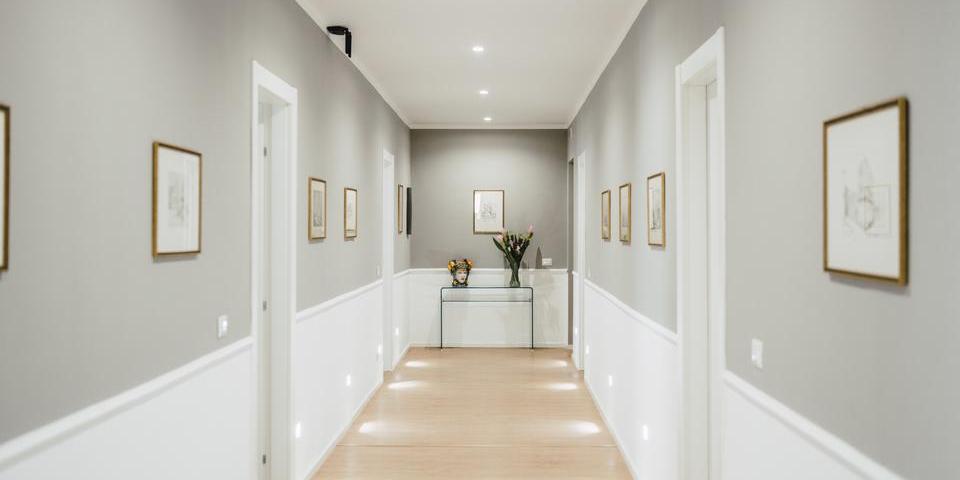 Elysium B&B is in Messina, few steps from Sant Elia Church. There is a buffet breakfast served daily. Moreover, all rooms are spacious and feature air conditioning and a flat-screen TV.
Price per night for 2 people starts from 50 euro
Exclusive Rooms Palazzo Natoli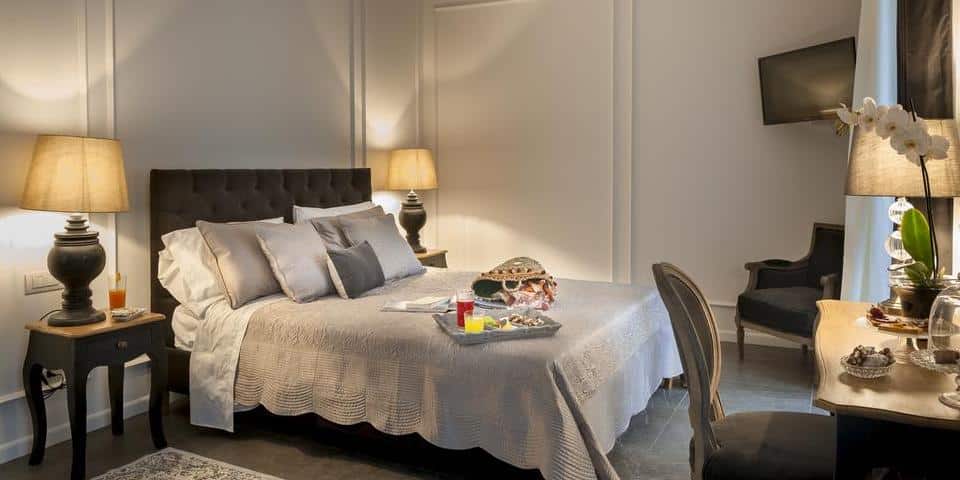 Exclusive Rooms Palazzo Natoli located in Palermo. It offers rooms with free WiFi. Moreover, the property is close to well-known attractions as Teatro Massimo and Via Maqueda.
Price per night for 2 people starts from 150 euro