To get from Rome to the Cinque Terre there are two main options: take the train, or drive a car. Despite the fact that there are some regional buses, none of them will get you directly to your final destination. The distance between Rome and the Cinque Terre is 457 km. Getting a high-speed train is the most convenient and fastest option to reach the Cinque Terre National Park. The journey will take from 3.5 to 7 hours.
Here's the list of options on how to get from Rome to the Cinque Terre:
By Train
Each of the five villages of the Cinque Terre has its own little train station. There are several options on how to get from Rome to the Cinque Terre by train:
Train to Monterosso
Monterosso is the biggest town of the Cinque Terre. You can buy tickets from Rome to Monterosso on Trenitalia website. The train takes from 4 to 5 hours, depending on the train you choose and its cost. Usually, prices vary from 30 to 60 euro per one-way ticket.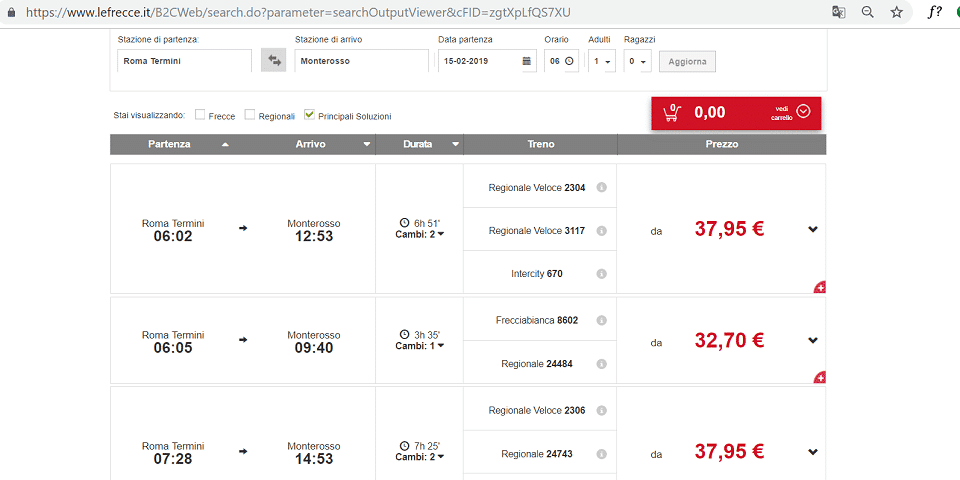 Don't forget to validate your train ticket in a ticket machine
Train to La Spezia
You can get to La Spezia from Roma Termini or Ostiense railway station. You need a train, preferably high-speed one, to La Spezia centrale station. The price for one-way ticket starts from 20 euro. The same train goes to Genoa and the journey will take 3-4 hours. Then, transfer to a regional train for the short ride to one of the Cinque Terre villages, where Riomaggiore will be the first stop. 
Here you can find regional trains to the Cinque Terre schedule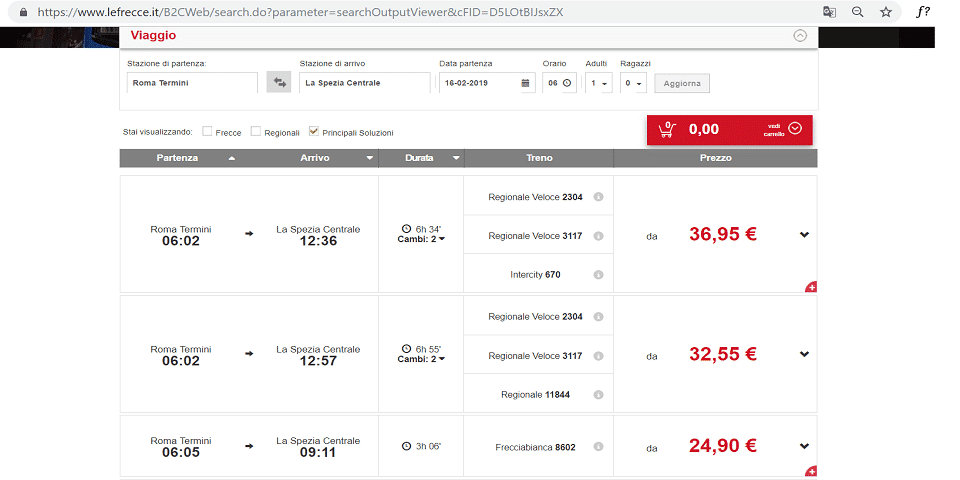 During the summer you can take a ferry from La Spezia's harbor to the Cinque Terre. The Consorzio Marittimo Turistico runs summer boats as well as excursions along the coast.
Here's the Cinque Terre map: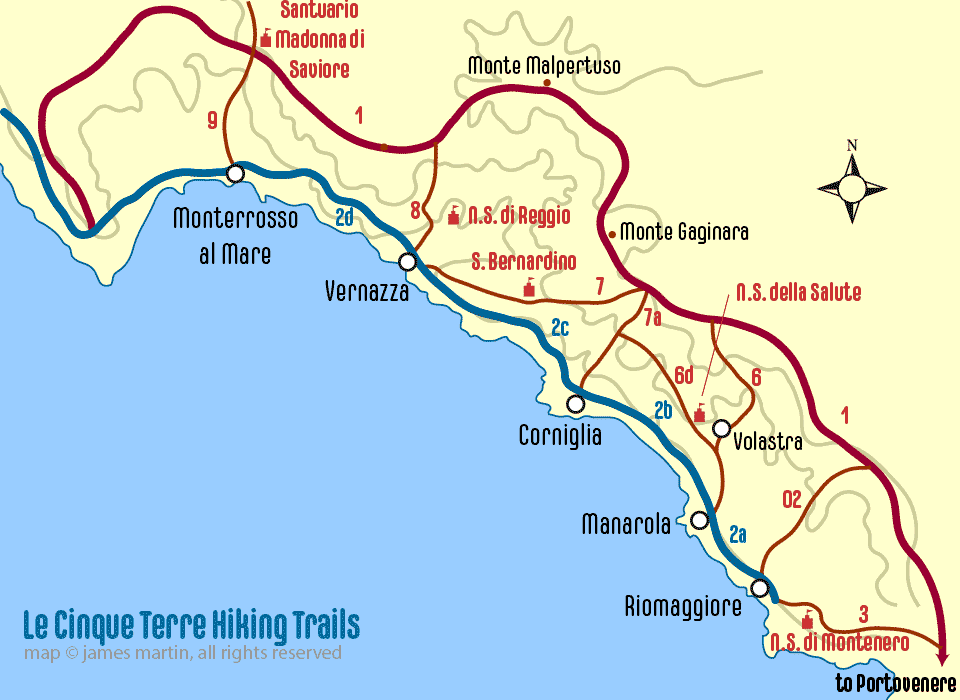 Train to Genoa
Frecciabianca high-speed trains run between Roma Termini and Ostiense railway stations and Genoa's Piazza Principe railway station. It takes 4-5 hours to reach Genoa and about 5 hours if you catch Intercity train. Trains are scheduled about every two hours during the day from 6 am to 6:30 pm. Also, there is a night train, the Intercity notte, which leaves from Roma Ostiense about midnight and the journey takes 6 hours. One-way ticket cost from Rome to Genoa starts from 25 euro. Then, there is a train line that runs from Genoa through the Cinque Terre. You have to take the local train toward La Spezia and get off at your destination.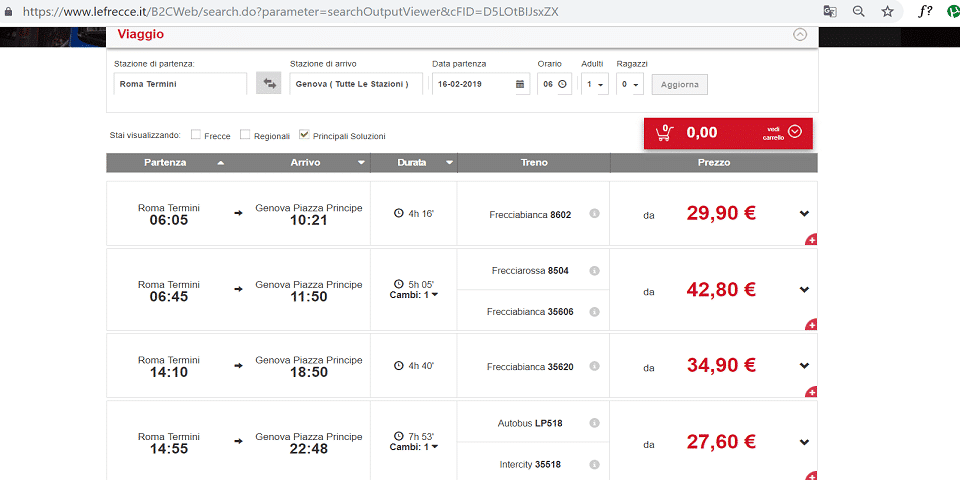 Note: the regional trains are usually very crowded
By Bus
You can take a bus from Rome to La Spezia and then a regional train that goes to the Cinque Terre. However, even if this option is cheap (15-20 euro to get to La Spezia by bus), it takes more than 5 hours to reach the destination and there are few buses per day. You can buy bus tickets with Flix Bus. Consider that buses depart from Roma Tiburtina bus station: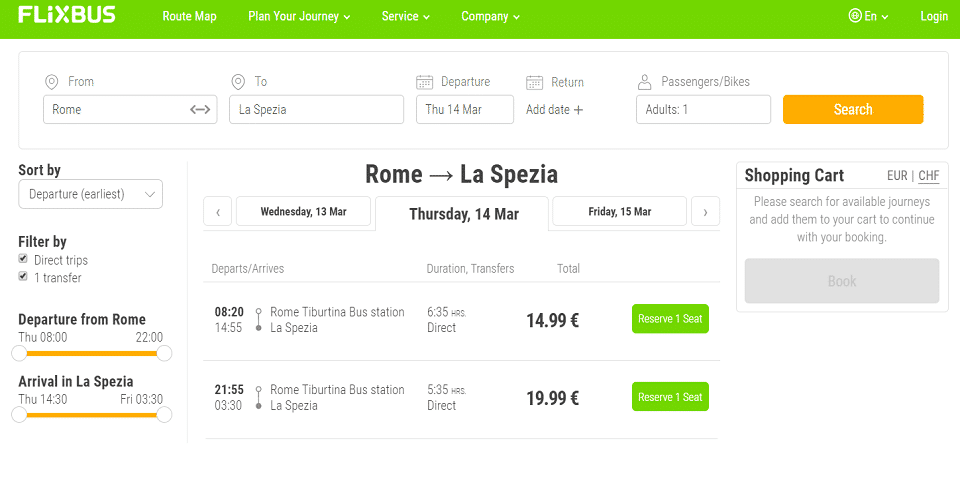 By Car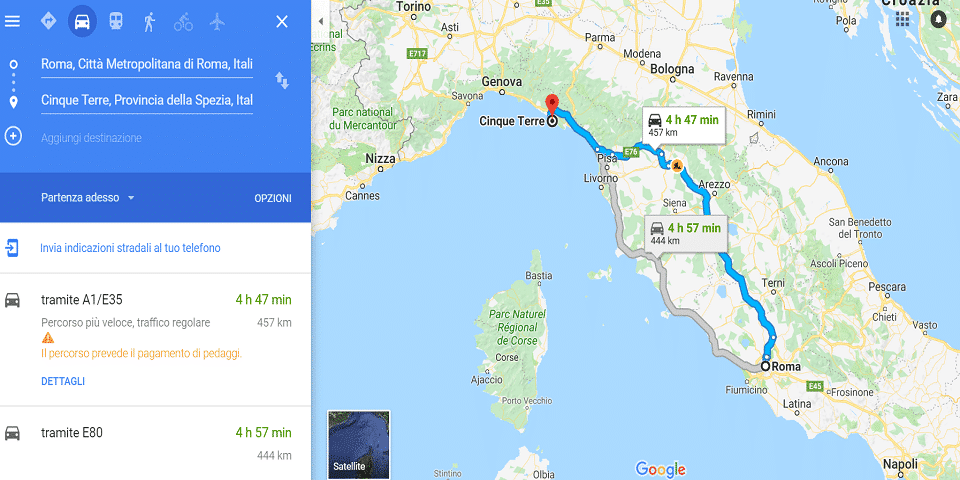 Getting from Rome to the Cinque Terre by car is not the most convenient option since the roads are narrow, some of them are tiny and twisting. The journey is nearly 300 miles and do not forget about the toll roads. An approximate time of journey is 4.5-5 hours, if there is no traffic. You need to take the A-12 Autostrada in the direction of Livorno-Genova and take the Carrodano-Levanto exit. Then, follow the signs to the Cinque Terre (sometimes labeled as Monterosso) until you get closer to the five towns.
Things to Do
Water Sports. There is a crystal clear sea and the National Park of the Cinque Terre has numerous sailing schools and companies that rent out kayaks and wind surfing equipment. Also, you can try scuba diving there
Hiking. The area of the Cinque Terre is famous for hiking. You will find there 120 km of paths that are mostly easy to navigate and do not require any special equipment. However, there are also more difficult paths that can take up to one day of hiking
Cycling. It is also popular among visitors to hire a mountain bike and cycle throught the region. You will find there different paths with various difficulty levels
Visit the event from the 8th of December to the 31st of January called Manarola Nativity in Manarola. More than 15 thousand bulbs light up the Hill of Three Crosses to make a nativity scene
Food and wine. The region's specialty is wine, where one of the most famous is Sciacchetra, which is a sweet wine. Usually, this wine is among one of the most popular souvenir options. Also, there are many amazing seafood restaurants
Where to Stay
It will definitely take more than one day to explore all five towns of the Cinque Terre. Here's the list of options on where to stay during your trip:
Hotel Stella Della Marina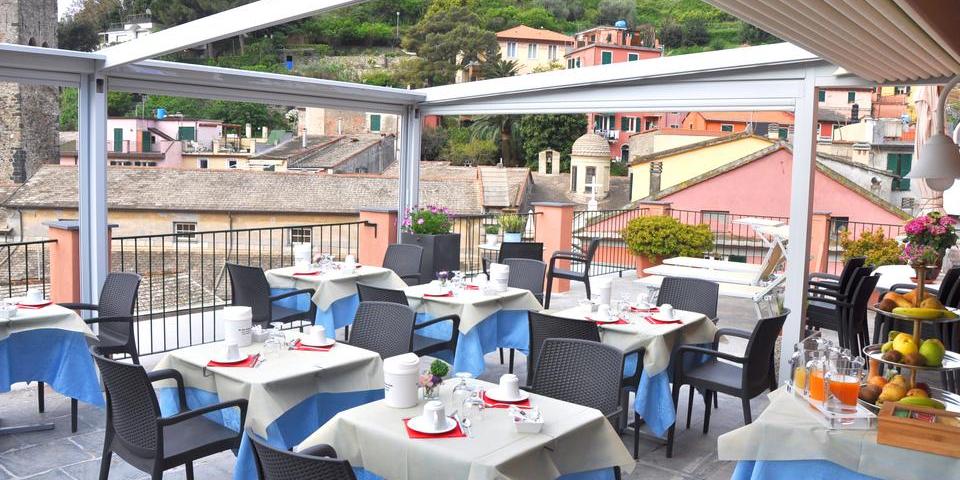 Hotel Stella Della Marina located in the center of Monterosso, part of the Cinque Terre Regional Park on the Ligurian coast. It features a rooftop terrace with sea views, sun lounger and tables. Moreover, breakfast is served daily in the property and guests can enjoy drinks in the bar.
Price per night for a room for 2 people starts from 95 euro
Villa Argentina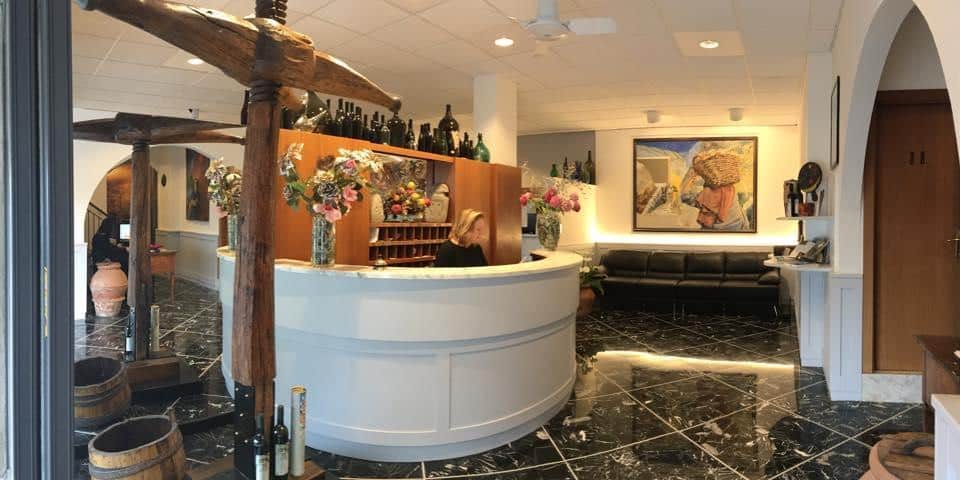 Hotel Villa Argentina located in a 10-minute walk away from Riomaggiore Train Station. There is a buffet breakfast, which can also be served in your room. Moreover, you can easily reach other villages of the Cinque Terre, such as Levanto and Monterosso, easily by boat or train.
Price per night for a room for 2 people starts from 150 euro
Grand Hotel Portovenere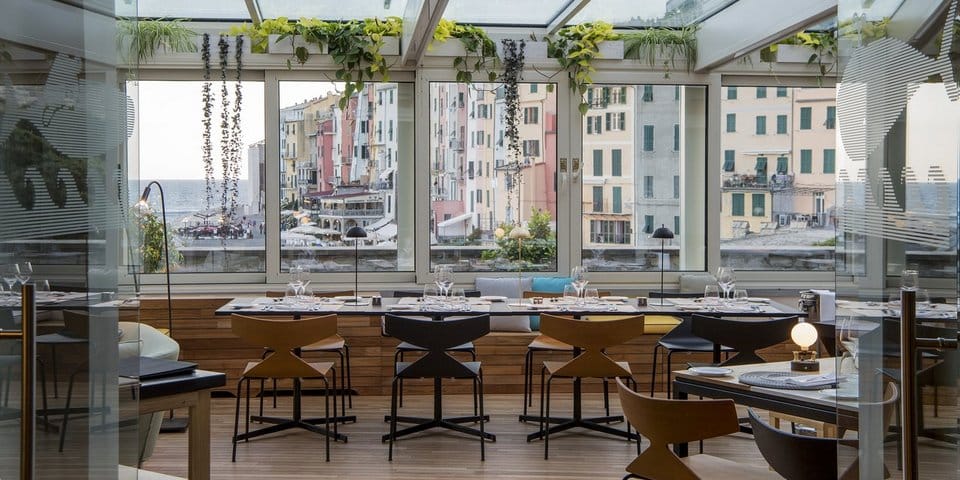 Grand Hotel Portovenere is a 5 stars hotel with a terrace overlooking the small port and Palmaria Island. It is set in a 17th-century monastery. Moreover, the hotel located in a few steps from the town center. You can enjoy a buffet breakfast on the panoramic terrace.
Price per night for a room for 2 people starts from 300 euro
Hotel Porto Roca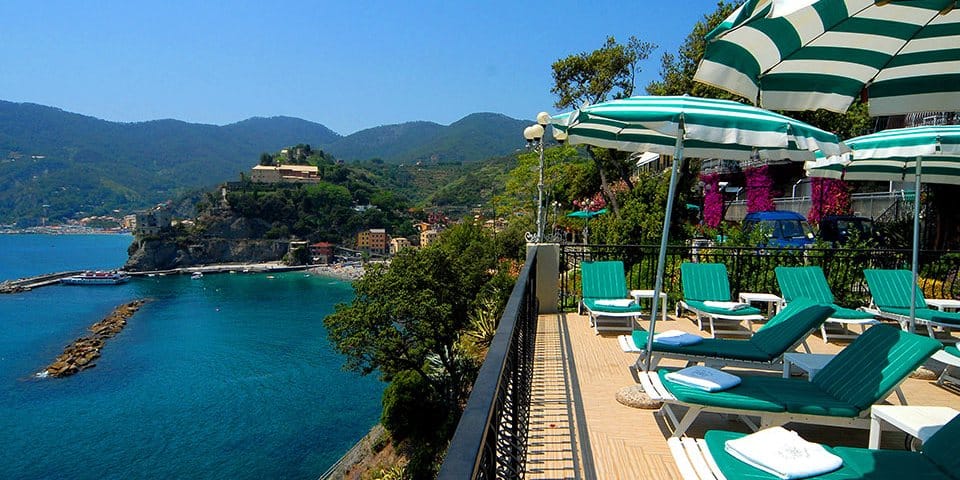 Hotel Porto Roca is a 4-stars property with a panoramic cliff-top location with impressive sea views. It is located in a 5-minute walk from Monterosso center. Moreover, famous Blue Trail of the Cinque Terre starts there. The hotel offers free chairs and parasols at the beach below.
Price per night for a room for 2 people starts from 200 euro
Park Hotel Argento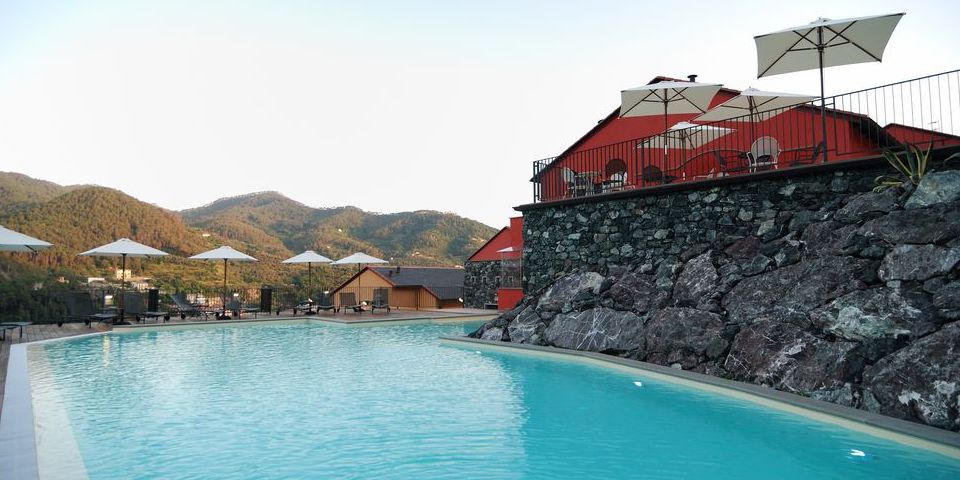 Park Hotel Argento offers a free wellness center and a panoramic terrace with large, outdoor hydromassage pool. It is located in 800m from Levanto Train Station. All rooms are bright and spacious with cool tiled floors and modern furnishings.
Price per night for a room for 2 people starts from 250 euro