Assisi is one of the most charming Italian cities. It is definitely worth to visit this Umbrian city for a day-trip from Rome. Moreover, it is easy to reach Assisi from the Eternal city, where high-speed train is the fastest and most convenient option. The distance is 174 km. You can also travel by bus or car. The journey will take from 2 to 7 hours.
You can discover many interesting things about what to do in Umbria and how to get there from Rome in our vlog:
Here's the list of options on how to get from Rome to Assisi:
By Train
If you are arriving at the Fiumicino airport, you have to take the Leonardo Express shuttle train to the Termini station, located in the center of Rome. Moreover, you can connect to trains to Assisi. These shuttle trains run at least once in 30 minutes and it takes about half an hour to reach Rome. The price for one-way journey from the airport to Termini is 14 euro. 
There are many direct trains, both fast and slow regional that run from Rome Termini station to the Assisi station, located in the valley near the center of Assisi in Santa Maria degli Angeli. Among high-speed trains (Alta Velocita – AV) are the Frecciarossa, Frecciabianca and Intercity. You can buy tickets online on the website of Trenitalia. Prices start from 10 euro for one-way ticket and it takes about 2 hours to reach Assisi. Here's the example of prices and time schedule from Rome to Assisi: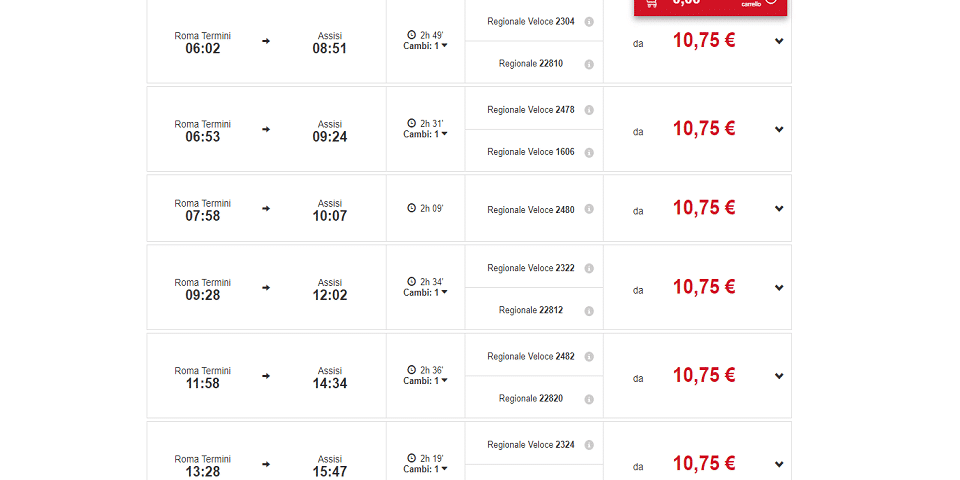 Also, there are trains with a change in Foligno, which is a small Umbrian city, about half an hour from Assisi. Of course, it is better to purchase tickets for the direct train.
Note: it is better to buy tickets in advance since prices may become higher up to 50 euro one-way. Plus, don't forget to validate your ticket in a ticket machine
Once you arrive at the station in Assisi, you can take a local bus (line C) and reach the center of town in 10 minutes ride. In addition, bus tickets are sold in the newspaper stand. Your stop is called Piazza San Pietro, if you want to visit the Basilica or Piazza Matteotti, if you are going to visit main streets of the city first. If you want to take a taxi, the cost will be about 15 euro to reach the center of Assisi.
By Bus
You can take Flix Bus to get from Rome to Assisi. However, there are few buses per day and it takes 6-7 hours to reach your final destination. Buses depart from Tiburtina bus station and prices for one-way ticket start from 18 euro, which is not cheaper than fast train fares.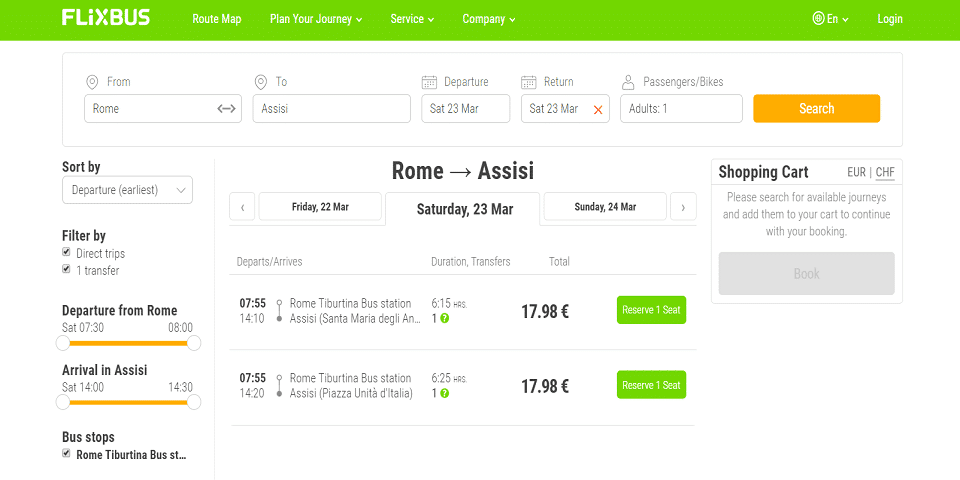 By Car
Getting from Rome to Assisi by car is also very convenient. It will take a bit more than two hours to reach your final destination. Do not forget to consider toll roads and parking costs. There are no problems with parking in Assisi, but it may be a bit pricey if you are going to leave your car for the whole day there. Here's the map: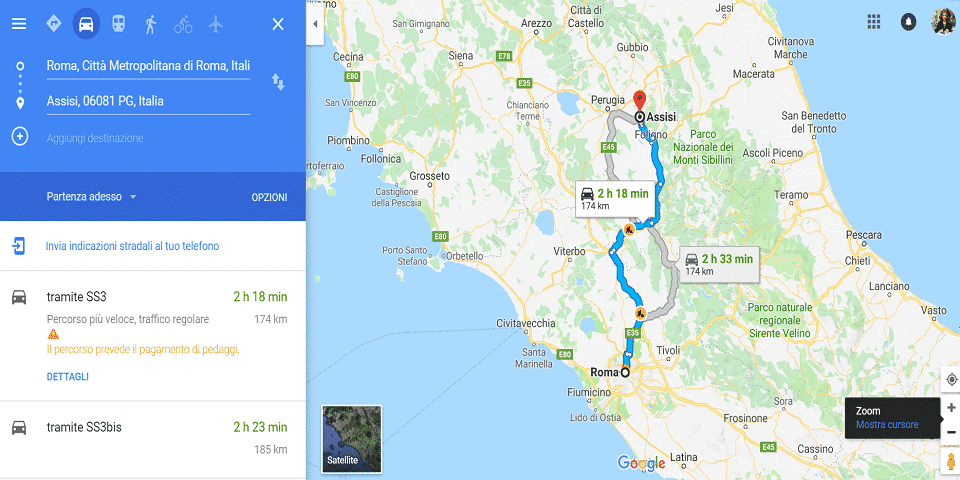 Things to Do
Visit the Basilica of Saint Francis (Basilica di San Francesco), which is one of the best-known Basilicas in Italy and a must-see during your trip to Assisi
Admire the Temple of Minerva (Tempio di Minerva), located in Piazza del Comune. It is a temple dating back to ancient Rome which was converted with time to serve as a Christian church. Now it is the church of Saint Mary above Minerva. The whole facade and columns survived more than 2000 years!
Visit the Basilica of Saint Clare (Basilica di Santa Chiara), which is decorated with white and pink stripes made out of stone from the Mount Subasio. It has its name from Saint Clare, the saint who lived in Assisi
Visit Palazzo del Capitano del Popolo, which dates back to the 13 century. The palace was used as the seat of local politics and the abode of the so-called Captain of the People. Moreover, it was renovated in 1926
The Cathedral of Saint Rufinus (Cattedrale di San Rufino) is one of the most notable buildings of Assisi. It is dedicated to the patron saint of the city and is Assisi's duomo
Walk along Via San Francesco, which is also dedicated to Saint Francis. There are Palazzo Giacobetti, a palace from the 17th century, which contains the Bible of St Louis of Toulouse and many other buildings from medieval period
Visit Convento di San Damiano, founded by St Francis and St Clare. It is located where St. Francis is believed to have received the message from God to "go forth and rebuild my house," words that he took literally and rebuilt the little church with his own hands
Visit Roman Forum and Museum. The entrance is through the Romanesque crypt of a church. There are many interesting ancient artifacts
Visit local restaurants. Yes, Umbria is famous for its amazing local food and wines!
Consider short trips to nearby cities as Perugia. Umbria is the greenest region of Italy, so you can visit its towns and admire fascinating nature on your way
Where to Stay
If you would like to explore towns of Umbria region, it makes sense to stay in Assisi for more than one day. Here are several excellent options where to stay during your trip:
Nun Assisi Relais and Spa Museum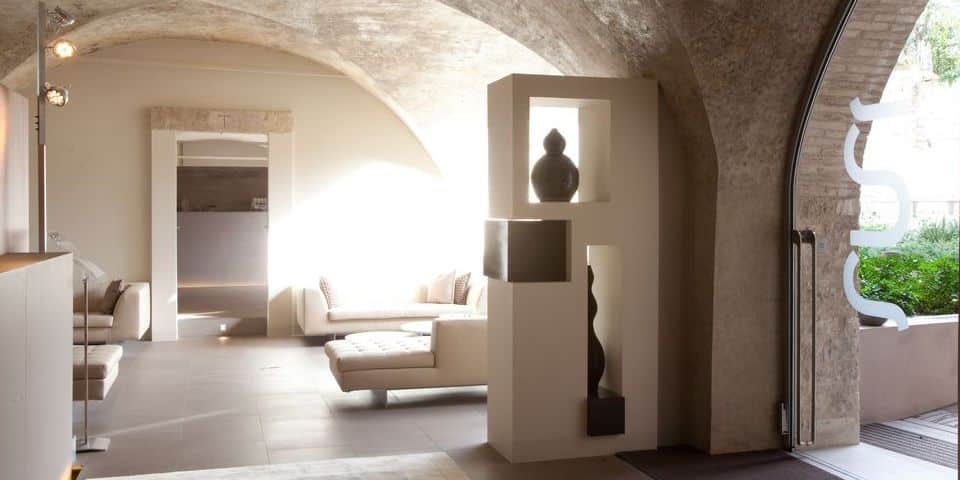 Nun Assisi Relais and Spa Museum located in a renovated nunnery. It is a 5 star hotel with panoramic views of Assisi and Mount Subasio. Moreover, the hotel offers a spa set in Roman excavations. All rooms are beautiful and spacious.
Price per night for 2 people starts from 350 euro
Villa Serena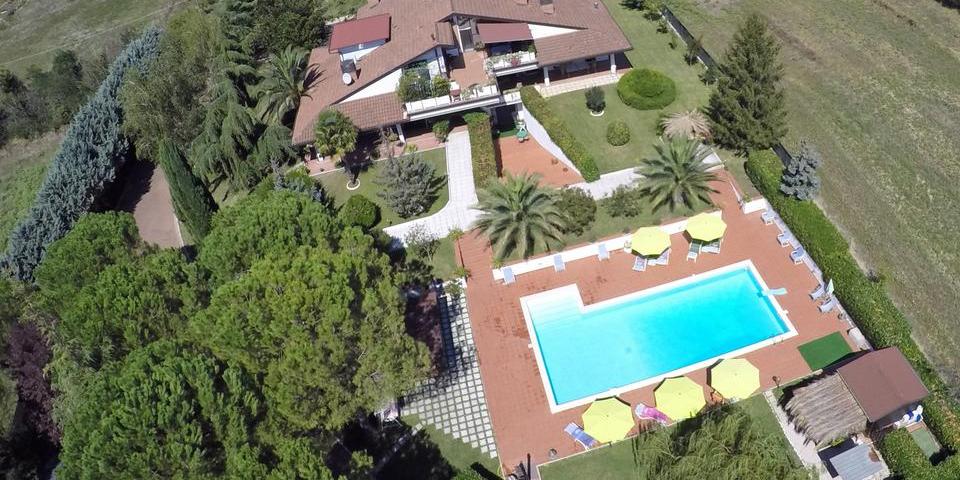 Villa Serena features a private pool and mountain views. Moreover, there are amazing garden and grill facilities. Guests can use the spa and wellness center with an outdoor swimming pool, a hot tub and sauna. Also, there is a children playground on the territory of the villa.
Price per night for 10 people starts from 500 euro
Hotel Giotto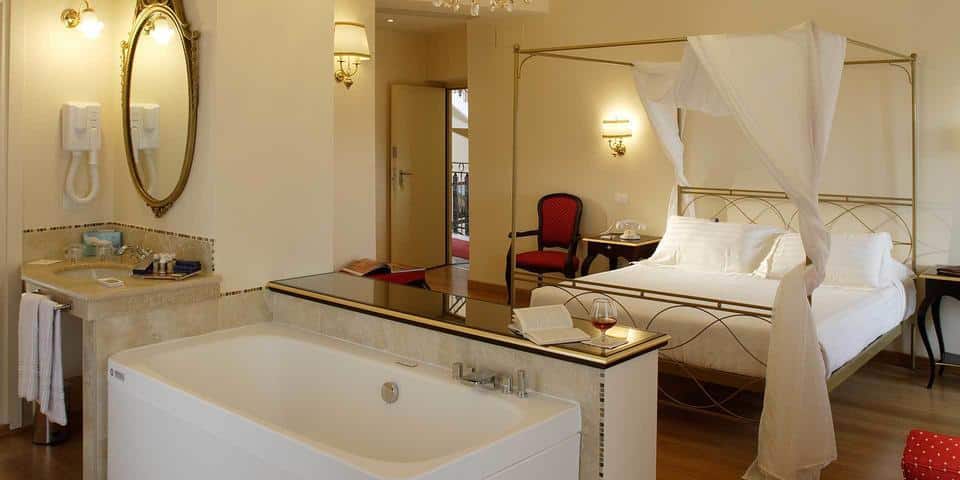 Hotel Giotto is set in the Medieval quarter of Assisi. It is a 4 star hotel located near the Basilica of Saint Francis. There are elegant restaurant, wellness center, and impressive panoramic views.
Price per night for 2 people starts from 110 euro
Hotel Sorella Luna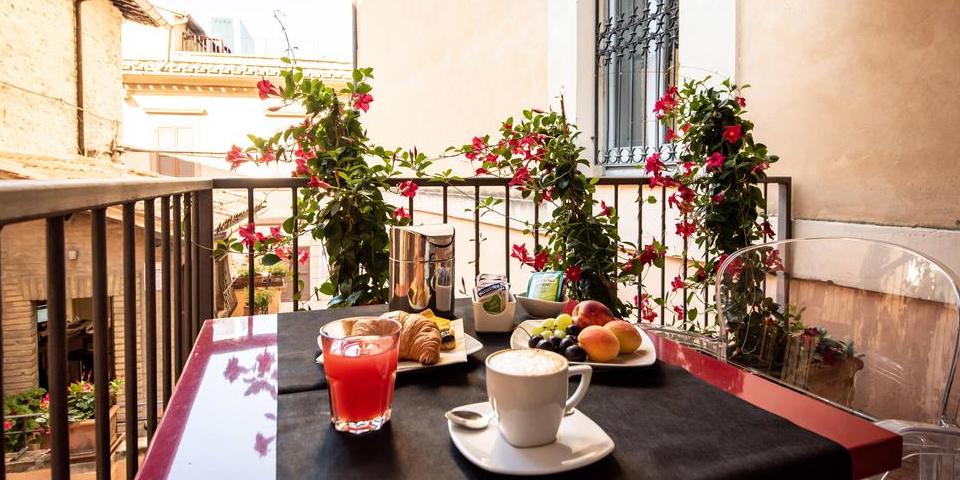 Hotel Sorella Luna located nearby famous Basilica of Saint Francis. There are spacious and elegantly decorated rooms. Moreover, the property features a communal terrace full of flowers and plants, and equipped with tables and chairs, where you can enjoy a buffet brakfast.
Price per night for 2 people starts from 60 euro
La Casetta de Sotto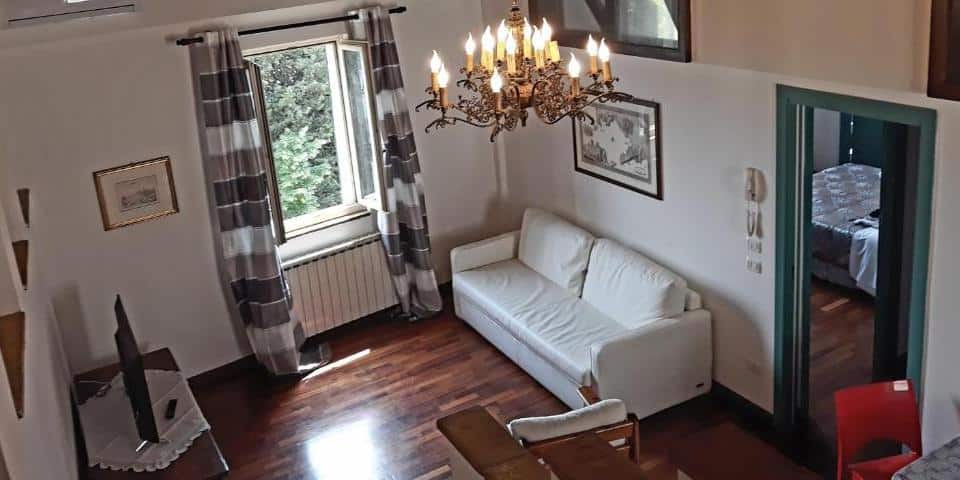 La Casetta de Sotto property features a terrace. It is a high-rated option for budget tourists. The property also provides a patio. This apartment consists of 1 separate bedroom, 1 bathroom, and a seating area. Guests like it for its design, atmosphere and central location.
Price per night for 2 people starts from 60 euro
Tell us about your experience in Assisi! 🙂