Street food concept is popular in Rome, especially sliced pizza, tramezzini or suppli (fried rice balls). However, you can also find shops with food from different countries for a cheap price. It is important to note, food trucks are not that famous in Rome and most of the time you can meet them near main sites of the city or near bars and night clubs. Here's what to eat in Rome if you want to pay less, but still enjoy high quality products:
Food Factory
Food Factory is a special place located in Trastevere area. You can choose among a variety of Italian dishes with an amazing quality, but still pay less than in any other place, especially when we are talking about such a central location. There are famous Italian parmigiana, lasagna, different vegetables, a variety of pasta, plates of the day and really tasty desserts. Food Factory is highly recommended for visit, since it is a unique place where you can eat high quality food for low price.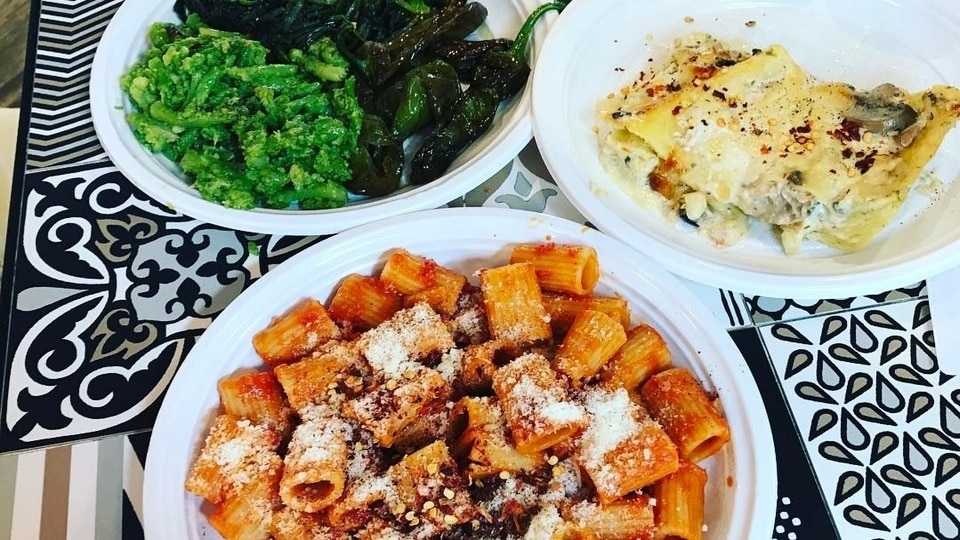 Address: Piazza di S. Cosimato, 49, 00153
Working hours: 11 am-10 pm
Dar Poeta Alla Scala
As you may know, Dar Poeta considered as one of the best pizzerias in Rome. However, they also have a take away street food shop with various kinds of pizza slices, hot dogs, and drinks. Undoubtedly, among all street food shops, Dar Poeta Alla Scala offers incredible pizza in terms of price and quality. Their design is original because walls are full of photos with guests from different countries.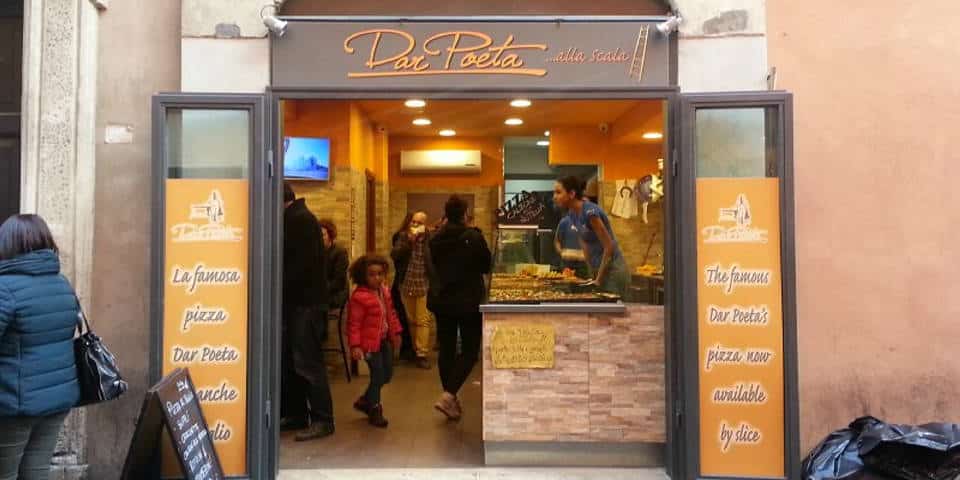 Mammo Street Food
Located in Trastevere, Mammo is famous street food among students and tourists. First of all, they do American coffee with cream and syrup on the top, which is uncommon for typical Italian cafeterias. Secondly, they have an excellent choice of bagels, panini, sandwiches, baguettes, and desserts. Students love this place because of discounts offered for them. Moreover, Mammo offers breakfast and aperitivo for a cheap price, where breakfast starts from 3 euro, and aperitivo costs 6 euro.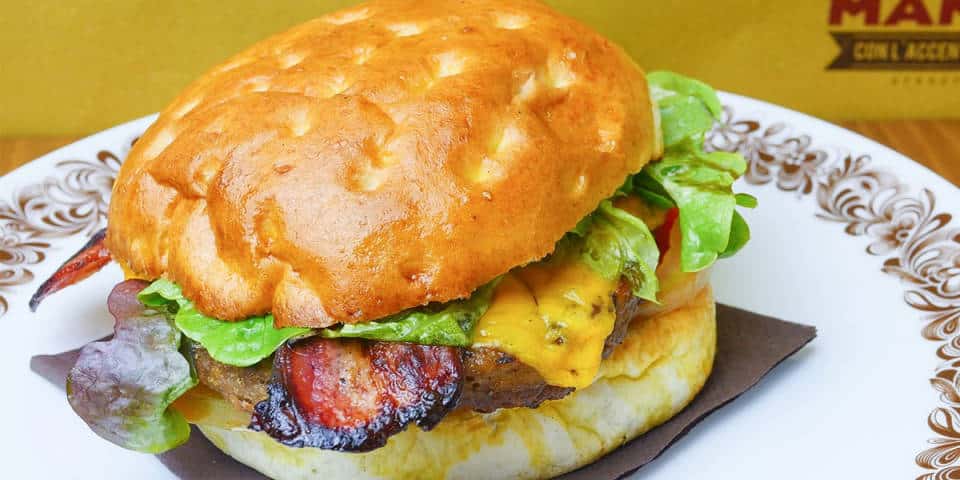 Trapizzino
Trapizzino was created by Stefano Callegari in 2008 and is an invention that connects old famous recipes with modern format. Stefano mixed the triangular shape of the typical tramezzino with pizza Bianca. Additionally, the recipes for the trapizzini created after an extensive research. Today, you can find more that 20 variations of trapezzini and choose one that you mostly like. If you are hungry, this is an excellent choice and its taste is incomparable.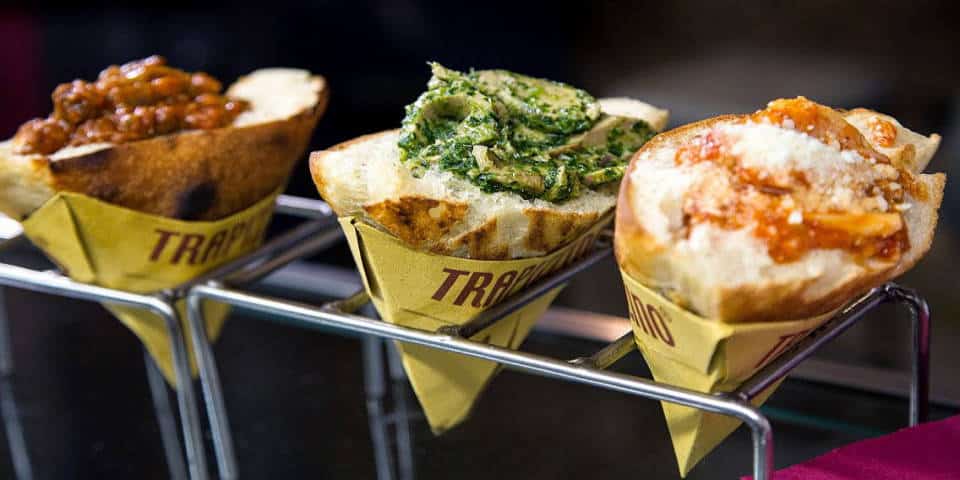 Address: Via Giovanni Branca, 88 (Testaccio); Piazzale Ponte Milvio 13
Working hours: 12 am to 1 am
Website: www.trapizzino.it
100 Montaditos
Talking about 100 Montaditos means talking about a unique product, in which quality and originality are the distinctive elements. Their traditional bread is always hot and crunchy, prepared according to the exclusive formula and offered at an irresistible price. Moreover, you can choose among 100 varieties of ingredients for your montadito. Finally, this street food is incredibly cheap and delicious. Highly recommend!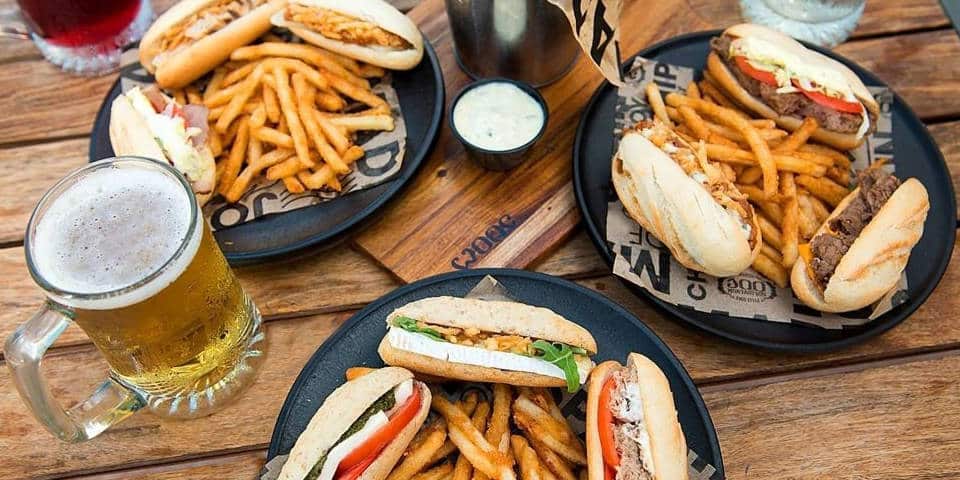 Address: Via Galvani, 89, Testaccio (and 9 more points)
Working hours: 11 am to 11 pm, on Wednesday and Saturday until 12 am
Website: www.italy.100montaditos.com
La Casa Del Suppli
Want to try suppli made by thin and crunchy breading, filled with rice, stringy mozzarella, and meat sauce and covered by sour sauce? The best suppli of Rome are in La Casa Del Supppli. You will never forget this taste! Also, they cook an excellent pizza.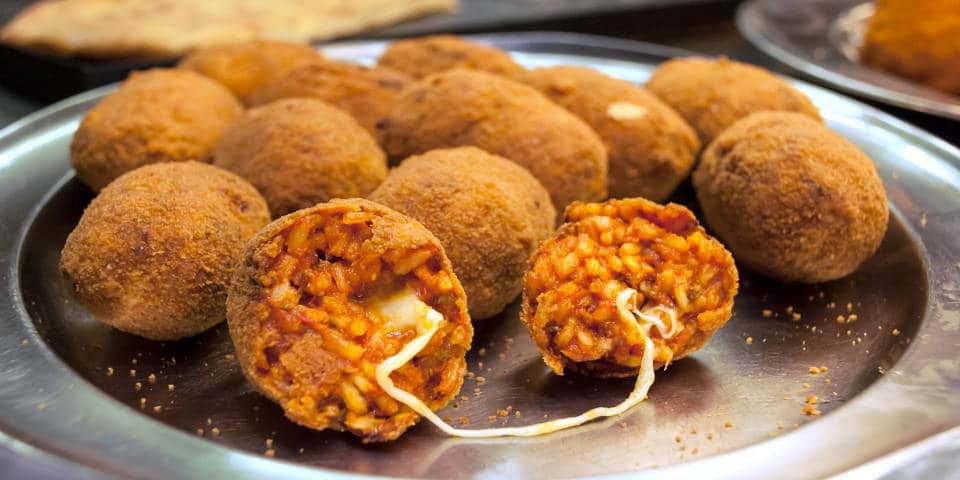 Address: P.zza Re di Roma, 20; Via S. Francesco a Ripa, 137
Working hours: 10 am to 8 pm (closed on Sunday)
Website: www.lacasadelsuppli.it
La Boccaccia
In the last 5 years, I've tried sliced pizza in more than 40 street food shops. La Boccaccia goes in top 3: high quality, wide selection of pizzas, excellent service, and cheap price. Moreover, the quality of pizza they make is apparently better in compare to any other "Pizza al taglio" place.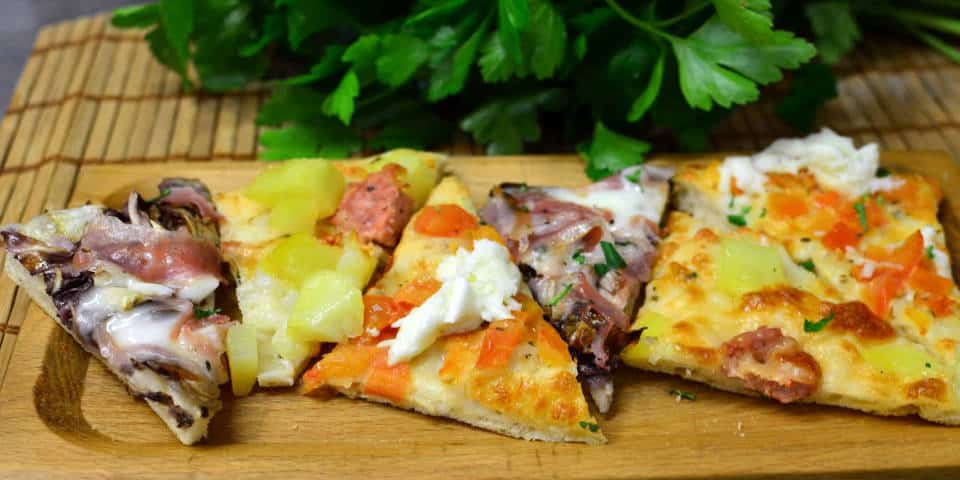 Donkey Punch
"Donkey Punch" or "Nel buco del Mulo" is the sandwich shop and alehouse located in Trastevere. They serve fresh products and you can choose ingredients for your Panini. This place is also famous for its rock'n'roll design and it is always full of guests in the evenings. Moreover, they have a wall covered with photos of their guests and bright moments.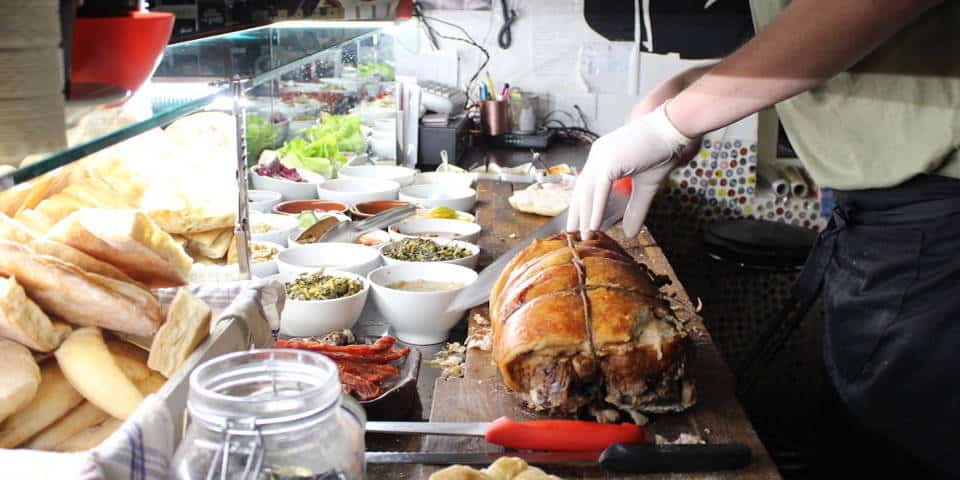 Pizza&Mortazza
Pizza&Mortazza is another excellent "pizza al taglio" or sliced pizza street food. However, they sell pizza from a small mobile Ape cart and to identify their location you have to check one of their social networks. Pizza&Mortazza is already popular among tourists and locals. Additionally, their philosophy is in creating economic, but tasty and quality snacks. There, you will find a great variety of pizzas.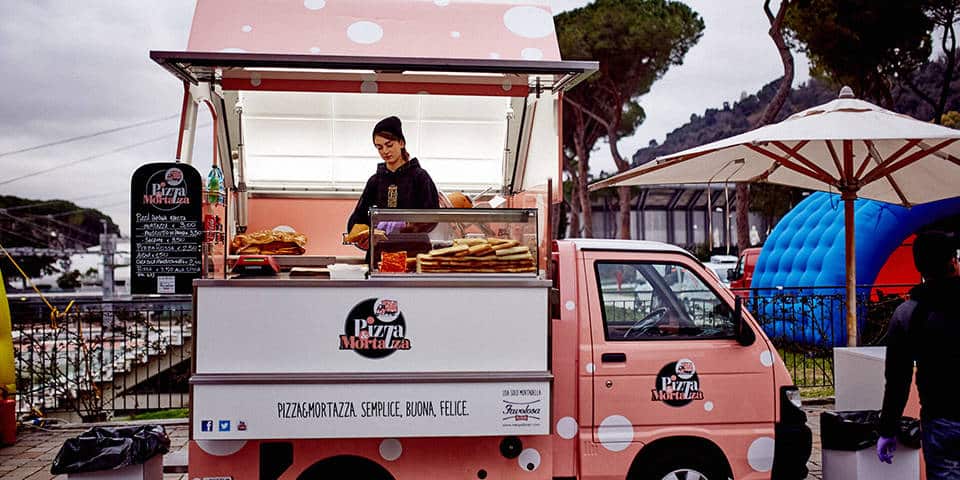 Pico's Taqueria & American Grill
Pico's is not just street food place: you come there to enjoy food, drinks, and unique atmosphere. They have a great variety of burritos, quesadillas, nachos, burgers, waffles, and many other delicious things. If you are tired from Italian pizza and pasta, Pico's is always ready to help you for a reasonable price. Moreover, ususally there are discounts, such as every Tuesday 3 tacos + 1 corona beer for 7 euro.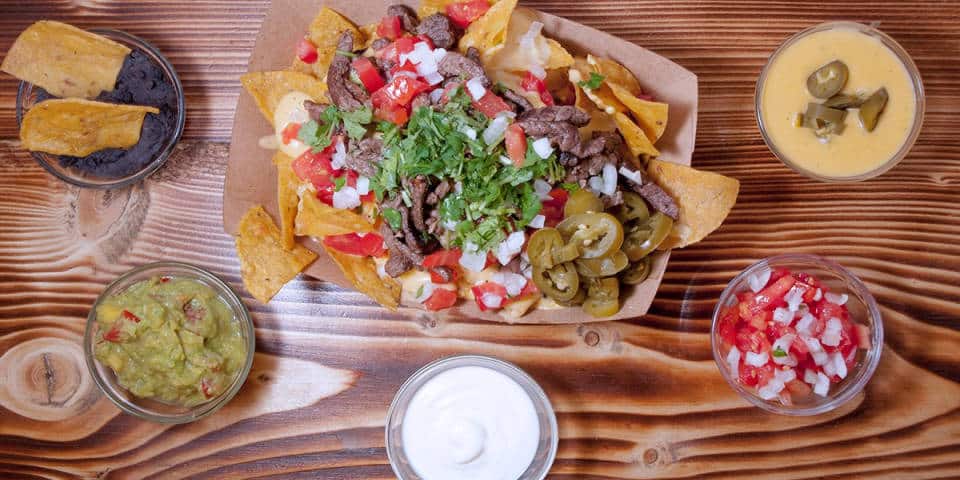 Roman street food is rich in diversity and great in terms of quality. Despite the fact that the Eternal City isn't cheap at all, there are many options where you can save money on food, but still remain satisfied.